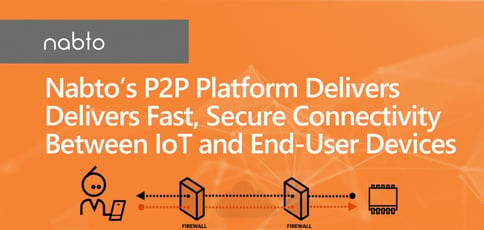 TL; DR: Nabto helps companies take their products to the next level with secure, peer-to-peer (P2P) connectivity between end-user client devices, such as smartphones and PCs, and notoriously resource-strapped Internet of Things (IoT) devices. The company enables better data security, low latency, and faster connectivity without the need for firewall configuration or hassles with dynamic IP addresses. By continuously improving its P2P-based platform, Nabto is furthering its mission to improve the way companies handle remote control, monitoring, and maintenance of IoT devices.
As an end-user, following a few simple instructions to connect your iPhone to your smart thermostat feels nothing short of magical. After all, you've just wielded the power to control your comfort levels with a small, in-hand device. You're a technical wizard.
But behind the scenes, this process is traditionally enabled by an approach known as the database-driven Internet of Things (IoT). Using this technique, connections between end-users and IoT devices are sent to cloud databases on centralized servers that store and process data.
In other words, any connection between your mobile phone and IoT device (like a smart thermostat or surveillance camera) is facilitated via a remote server that stores data from your IoT device and commands. The same server, in many cases, also holds enormous data sets from other clients and devices.
Thanks to peer-to-peer (P2P) technology, there's now a faster and more secure way for companies to enable devices to make these connections — just ask the folks at Nabto. The company's unique P2P-based platform ensures that data is shared privately between the end-user client device and the IoT device only.
"Nabto provides full infrastructure to allow real-time, direct, secure communication between end-user client devices and IoT devices with minimum latency," said Karsten Viuf, Sales Director at Nabto.
The technology works for connections between all types of end-user devices (smartphones, tablets, PCs) as well as IoT devices (for example, surveillance cameras, thermostat or heating controls, alarm systems, and electrical controls).
Through its direct P2P connectivity to IoT devices, Nabto ultimately helps customers build apps for IoT remote control, enable high-performance P2P video streaming, and outfit existing apps with remote control capabilities. And they can achieve all these goals without worrying about firewalls or dynamic IPs.
Enabling Direct Connectivity Minus the Firewall Hassle
Carsten Rhod Gregersen, CEO of Nabto, developed the technology for the company and founded it in 2005. Entrepreneurship wasn't exactly new to the innovator, who had brought to life four other companies and has more than 15 years of experience as CEO of several software businesses.
"One of Carsten's customers came to him at the time and said, 'I can talk to my employees back at home when I'm traveling via Skype, I have direct connections through my firewall to my employees, but why can't I reach my servers?'"
The conversation gave Carsten an idea — he would build a P2P network to provide access to devices all over the world.
"It has been hard work since day one," Karsten told us. "We started the company with Carsten alone, and now we're a team of 11 people. Along the way, we didn't garner the attention of any gigantic customers; we've been traveling all over the world, meeting with people, phoning them, sending mail. And now we have a nice portfolio of clients."
Karsten stressed that Nabto is a unique solution. It was the first of its kind to hit the market, followed by a single Taiwan-based imitater and a handful of additional competitors over the years.
The Nabto platform stands out in that it provides direct P2P connectivity with no firewall or dynamic IP concerns and offers seamless communication of any content, from temperature data to resource-heavy audio and video streaming. Because data is shared directly between the end-user client and IoT device in the P2P IoT connection model, customers can expect a fast and secure connection, regardless of the content.
Pricing is transparent. Users must purchase a license for each individual embedded device (all devices are priced the same) and Nabto's base station server software, which mediates connections between clients and devices. The client software is free.
Users can choose to self-host the Nabto base station on-premises or pay a yearly hosting fee for Nabto to take on the task. On-premises base station licenses are more expensive than those through Nabto's hosting service.
"We have some customers with expensive IoT devices and others who use our technology for inexpensive video surveillance cameras," Karsten said. "But offer the same pricing model for all the products."
Delivering Privacy, Affordability, and Low Latency
In his role as Sales Director at Nabto, Karsten has the challenging task of explaining complex technical information to the CEOs of companies. Ultimately, however, the business case for P2P-based IoT technology revolves around four main concepts: low latency, cost-effectiveness, high privacy, and decreased time to market.
No one likes to wait on their IoT products to respond. According to Nabto, delays of more than 0.1 seconds can be detrimental to the user experience, making users feel like their actions, such as clicking on something, are useless.
"If you want to disable your smart alarm or open the smart lock on your door, you need it to be instant," Karsten said. "You don't want to stand there and wait a few seconds before the door opens."
Karsten told us that latency in many database-driven IoT solutions can last as long as five seconds or more. Latency in P2P-based IoT solutions, like that of Nabto, is far lower due to a direct connection between the client and device.
"Going directly from A to B is always a faster route than going from A to B to C," he said. "That's why P2P is the better choice for companies that need to ensure a low-latency, lightning-fast connection."
In terms of pricing, skipping that centralized server associated with hosting data in the cloud makes for a lower-cost solution overall. And, because P2P-based IoT solutions are more developer-friendly (no need for firewall configuration, among other worries), they decrease maintenance and development costs and lower time-to-market.
Data privacy is another relevant concern, particularly against the backdrop of laws such as the General Data Protection Regulation (GDPR). In the P2P IoT model, data remains under the user's control, unlike data stored in the cloud. In fact, no P2P IoT data is stored on a vendor's servers at all under this model. GDPR compliance is built-in by design.
The Vision: To Create the World's Best P2P IoT Platform
With 15 years of experience in business in a relatively new industry, Nabto also has the benefit of time on its side.
"Sometimes, customers hope they can try out a similar approach to our P2P IoT model until they find out how complex it actually is," Karsten said. "We've done this for more than a decade, and we have everything customers need to get up and running in a few hours. Of course, like with any technology, they know that they have to invest in it for a few weeks to a month, but then they have a working solution."
When it comes to internal development, Nabto's goal is to remain as focused on its core product as possible.
"We're not in the business of flashing lights and unnecessary features," Karsten said. "We try to improve constantly in terms of keeping up with the latest security threats and other concerns."
Advertiser Disclosure
HostingAdvice.com is a free online resource that offers valuable content and comparison services to users. To keep this resource 100% free, we receive compensation from many of the offers listed on the site. Along with key review factors, this compensation may impact how and where products appear across the site (including, for example, the order in which they appear). HostingAdvice.com does not include the entire universe of available offers. Editorial opinions expressed on the site are strictly our own and are not provided, endorsed, or approved by advertisers.
Our Editorial Review Policy
Our site is committed to publishing independent, accurate content guided by strict editorial guidelines. Before articles and reviews are published on our site, they undergo a thorough review process performed by a team of independent editors and subject-matter experts to ensure the content's accuracy, timeliness, and impartiality. Our editorial team is separate and independent of our site's advertisers, and the opinions they express on our site are their own. To read more about our team members and their editorial backgrounds, please visit our site's About page.