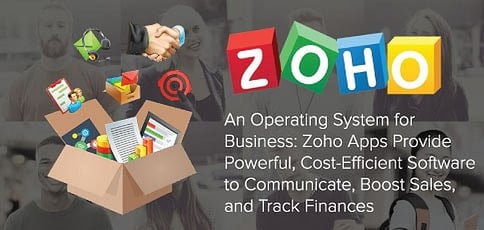 TL; DR: The Google Docs before Google Docs existed, Zoho now boasts a platform of 35 apps built to power all facets of business operations. From email to accounting and customer relationship management, Zoho's cloud-based apps give users a refreshing — and cheaper — alternative to the mass-market, one-size-fits-all products from Google, Amazon, or Microsoft. With an emphasis on products and engineering over sales and marketing, the privately-owned company takes the time to get things right. What's more, Zoho doesn't just talk a good game: The entire organization, all 3,600 employees in six locations, operates using only the very product suite they produce.
In 2006, before the Cloud was even conceived as the next "big wave" that would change the way business is done today — before Google Apps hit the market — a feisty Bay Area software company, Adventnet, rolled out a new division called Zoho.
Their first product was an online word processor called Zoho Writer. Convinced there was a potentially huge market for online software, Zoho unveiled a whole office suite, including the world's first online spreadsheet and presentation tool, Zoho Show.
The company has never looked back. Since renaming themselves Zoho Corporation, they now boast more than 30 business applications in the Cloud, including their award-winning CRM application, Zoho CRM. From e-mail to accounting to marketing automation, project management, and a lot more, Zoho's suite of products gives millions of users a powerful and inexpensive way to run their entire business in the Cloud.
With their emphasis on engineering and remaining privately held to maintain a unique culture and independence, Zoho is a fascinating company to observe. It's not all marketing hype: Zoho runs their entire 3,600-member organization from six locations on three continents on their own software. They've also created and implemented the software needed to run and manage their datacenter operations — clearly making Zoho a passionate software company!
The company's product strategy evolved over time. Although the cloud market was still nascent five years ago, Zoho turned that uncertainty into an opportunity. Sridhar Vembu, the company's Founder, visionary, and CEO, wanted to put all the apps together into a cohesive, integrated suite. "Businesses spend a lot of time and money doing software integration in order to have their operations work seamlessly — the elusive holy grail for any IT department — so we set out to deliver on this vision," Sridhar said.
One interesting business model that Zoho follows in their pursuit of engineering excellence is to hire internally. For example, one day Sridhar approached one of Zoho's seasoned Java developers to develop an accounting product (now called Zoho Books). He simply asked the developer to come back a month later with something figured out.
"This person had no background in accounting, no background in accounting software, and no real knowledge of the industry at all," said Ian Bruce, Zoho's VP of Business Development.
However, Zoho's dedication and commitment to their products and engineers enabled the product team leader to dive into the challenge of developing an accounting product without the fear of failing. He took the time needed to research the industry, reviewed in great detail the key features other accounting products had, and came back to Sridhar in a month with a project plan.
"It probably sucked a bit at the time, but it was in the ballpark," Ian said. "Skip ahead to now, though, and Zoho Books is an awesome accounting product. It's ahead in many regards to some of the leading players in the industry."
Today, Zoho Books runs in six countries and handles complicated tax regulations with ease. The accounting program is the flagship app in Zoho's Finance suite, which also includes invoicing and inventory tools, along with subscription and expense tracking.
Zoho has some other unique hiring practices as well. One major source of new talent is Zoho University, which recruits students from Indian high schools or colleges. These students often come out without the requisite skills needed to succeed in the IT workplace. Zoho U gets about 100 new students per year, where the 7-person faculty teaches them everything from basic programming skills to business basics, English, and eventually product development. Most of these students end up as employees working in customer support or on product teams.
"We don't put much emphasis on degrees or school pedigree. Our philosophy is that every motivated person has the potential to do something meaningful in an organization. Because of Zoho's long-term perspective on running their business, their employees have the runway to learn and evolve regardless of their origin or schooling," Ian said. "People don't get fired for mistakes or for lack of skill; this is probably why we have such a high retention rate and why our average product manager's tenure with Zoho is 8+ years."
From Infrastructure to Business, Zoho Makes Life Easier With Software
Originally known as AdventNet Inc., the company started in 1996 with an entirely different focus. Instead of productivity and business software for end-users, AdventNet sold OEM software to equipment manufacturers who built devices for the telecom industry, among others.
"We found a niche with Bay Area startups that were building the next-generation switches and routers, or very complex devices that ran on networks for service providers," Ian said. "They needed software to manage all that stuff, so we built an environment for them and did quite well."
This market eventually slowed, however, and in 2002 Adventnet chose to reinvent themselves by leveraging their expertise in the telecom market by creating software that could be sold to end-users in medium- and large-sized IT departments. They created a new division called ManageEngine, which today serves more than 100,000 customers worldwide.
Sridhar's commitment to continuing product development and maintaining their engineering culture led to what they've coined the Zoho Experiment. "We had a bunch of engineers that needed something to do," said Ian, "so the team decided to design and build an online business suite, starting with an online word processor. Why? Because no one else had done it, and it was a challenge the team felt could lead to interesting areas."
Zoho Writer became the first online word processor in 2006, roughly two years before Google Docs emerged.
"We thought we'd just run it for a year and see how it went," Ian said. "At the end of the first year, we had about 100,000 people sign up for the service. We figured that was enough to continue the experiment, so we ran the spreadsheet and presentation tool in parallel, along with the beginnings of a CRM app and a productivity suite."
If It Doesn't Exist, Make Your Own: Zoho Apps Cover All Business Needs
A decade after deploying Writer, Zoho features dozens of more programs bundled into categories such as sales and marketing, collaboration, finance, IT, and human resources.
Sales and Marketing: Engage Customers in More Meaningful and Efficient Ways
Led by their top-selling app, CRM, the Zoho sales and marketing suite includes 10 products that work together. These help customers seamlessly track and manage their sales and marketing efforts through data gathered from websites built on Zoho Sites, and leverage live interactions with prospects using Zoho Sales IQ or surveys from Zoho Survey. All these products aim to help close more deals in less time and provide improved productivity for sales and marketing teams.
Email and Collaboration: Empower Employees to Transform How They Work
Every business needs applications to help people work together. Zoho tackles day-to-day productivity with a group of products that emphasize an intuitive, minimalist user interface, encompassing email, docs, project management, chat, web conferencing, password management, and an enterprise social networking app (Zoho Connect).
Zoho Mail is the pride and joy in this category, offering up to 50 free mailboxes on its Free Plan, or starting at $24 per user per year for paid plans. The paid plans also come bundled with the Zoho Docs office suite and document management apps.
"From what our customers and partners tell us, it's a really good alternative," Ian said. "It's actually a better business email solution than Gmail. It's got a lot of modern flourishes and productivity enhancement features."
Finance: Get Paid with Powerful Management and Tracking Tools
Books hit the market in 2011 to lead Zoho's foray into the finance and accounting space. Designed for small businesses, the program helps organizations send invoices, follow expenses, monitor transactions, and track inventory.
Like all Zoho apps, Books integrates with a number of external programs for added flexibility and functionality. In addition to CRM and other Zoho apps, Books can be used with PayPal, Square, Authorize.net, Stripe, and a host of other third-party add-ons.
Creator: Simplify Complex Business Problems with Custom Solutions
Zoho's vision is to provide all the software any business needs to run in the Cloud — but if you don't find what you need from the impressive list of 30+ applications, there's always Zoho Creator to help you build what you need.
"Creator allows you to build applications from scratch in a matter of minutes, hours, or days using a cool scripting language (Deluge) and a drag-and-drop interface," Ian said. "It fills in where the other apps don't. Think of Creator as a tool for building both web-based apps or mobile apps that fit a particular business process. Usually, these are very specific for a particular business. They typically take a long time to develop and at a high cost. Creator simplifies the whole development process by greatly reducing the time and effort needed."
Free from Investors, Team Zoho Puts Products First
To create and update so many apps, it's no surprise that Zoho employs a strong engineering force. Roughly 80 percent of Zoho's 3,600+ employees are dedicated to developing and supporting a specific product.
Zoho can commit to an engineering-driven culture in large part because it has found so much success on its own — without any outside investment.
"Because we don't have to answer to anyone, as far as hitting revenue numbers or hiring outside consultants to dictate how we do things, we have the complete flexibility to shape our own destiny at our own pace," Ian said. "But that doesn't mean we aren't fiercely competitive. Zoho is extremely profitable and always has been from day one.
Unlike their competitors who typically flip the ratio and spend upwards of 80 percent of their earnings on staffing for sales and marketing, Zoho maintains a more frugal approach to both, instead investing heavily in product development and engineering.
"We built the brand very intentionally," Ian said. "We've always had a very frugal sensibility from the start and we really wanted to focus on the products. That's where our passion is."
Many Zoho hires tend to stick around for the long haul, according to Ian, who said most product managers have been at the company for at least eight years. "From a management point of view, this inherently gives our executive team a lot of trust in our ability to get things done because our teams have a lot of experience working together."
"We also feel that there is no shame in making mistakes and taking risks," said Ian, a 12-year employee. "You don't get fired at Zoho for trying something and failing. In fact, this is how innovation works: You try until you succeed."
Zoho Balances Business and Employees to Foster Room for Growth
Now with more than 20 million users worldwide, Zoho prides themselves on being at the leading edge of creating useful and relevant software that organizations need to stay competitive and cost effective. Beyond the products, however, Zoho remains passionate about their employees.
Here's another example of Zoho doing things a little differently than most companies: Ian told us about a longtime receptionist working at the main office in Chennai, India. One day, Sridhar came by to chat. After enquiring about her life and current responsibilities, Sridhar asked what she'd like to do at the company in the long-term. The conversation proved to be a fateful one.
"A year and a half later, she is now the Product Marketing Leader for one of our products," Ian said. "She has done extremely well. She's very passionate, extremely motivated, and doing great."
As evidenced by her story (and others) and Zoho University, Ian said the company has a knack for finding talent in the unlikeliest of places — and then getting out of their way with a "light" management style and not much of an organizational hierarchy.
"If you want to switch to a different track, or you make a couple of products that don't work, it's not a big deal," he said. "We're not tied to a single product, and we can afford to take our time. It's been very refreshing to work for a company where it's not just about the numbers. It's about getting something done. It's about having respect for the individual, where everyone counts. It's also about having the opportunity to build a different kind of company, one that has a heart and a soul that doesn't need to throttle employees in order to succeed. Happy employees lead to happy customers, and we have a lot of both."
Advertiser Disclosure
HostingAdvice.com is a free online resource that offers valuable content and comparison services to users. To keep this resource 100% free, we receive compensation from many of the offers listed on the site. Along with key review factors, this compensation may impact how and where products appear across the site (including, for example, the order in which they appear). HostingAdvice.com does not include the entire universe of available offers. Editorial opinions expressed on the site are strictly our own and are not provided, endorsed, or approved by advertisers.
Our Editorial Review Policy
Our site is committed to publishing independent, accurate content guided by strict editorial guidelines. Before articles and reviews are published on our site, they undergo a thorough review process performed by a team of independent editors and subject-matter experts to ensure the content's accuracy, timeliness, and impartiality. Our editorial team is separate and independent of our site's advertisers, and the opinions they express on our site are their own. To read more about our team members and their editorial backgrounds, please visit our site's About page.