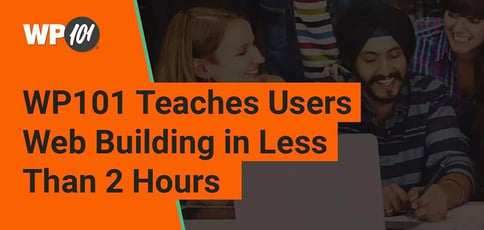 TL; DR: WP101 teaches WordPress users how to operate the CMS, its plugins, and related third-party builders with in-depth, objective-based courses. Its comprehensive curriculum allows users to begin building and designing their websites in less than two hours. As WordPress grows more complex, WP101 seeks to make web publishing easier and accessible for everyone. Its latest course, Elementor 101, takes users step by step through the WordPress page builder for a better user experience, no coding required.
During the COVID-19 pandemic, the world experienced a surge in website creation, and for good reason. As more customers flocked to the internet for purchases, businesses realized they needed to have a powerful website for brand messaging and operational support. At the same time, many people turned to online work, such as freelancing, to generate income, which often requires a website to showcase skill and sell services.
As a result, demand for web building services spiked. WordPress, which is known to power top online sites, including The New York Times, also saw a significant increase in new websites. This uptick made it a platform of choice for more than 43% of top sites on the web.
But things changed once the pandemic began to wane. While a significant number of workers in the biggest U.S. cities continue to work remotely, many people in midsize and small cities have returned to office work. For the first time in its history, WordPress's market share declined, dropping by 0.4% since February 2022. Although the decrease was not alarming, Shawn Hesketh, co-Founder of WP101, explained the dip highlights an underlying issue that WordPress may need to address.
"Based on the growing discontent with WordPress we're seeing and hearing from users, it's likely that people are simply choosing to build their websites with tools that are easier to learn and use. It's hard to argue with that growing perception since there is no uniform experience of WordPress today," said Shawn.
Since WordPress has multiple OS versions, it makes learning how to operate the CMS challenging. These different OS versions include other editors, so users don't have much consistency when learning how to design and edit their site.


"All of this has made it incredibly difficult to provide a uniform learning experience for WordPress beginners," said Shawn. "First, we must ask, "Which 'flavor' of WordPress are you using?" Only then can we provide training that matches what our students are seeing in their WordPress dashboard."
WP101 simplifies a user's WordPress journey by providing the education and background needed to build a site. WP101 courses cover tutorials for various WordPress plugins, including WooCommerce, Beaver Builder, and WPForms, among others. Its latest release, a 14-part Elementor course, teaches students how to use the third-party builder to create a pixel-perfect website without learning code.
Overcoming the Obstacles to the WordPress User Journey
WordPress has long been a giant in the web building industry. So much so that top brands, including Time Magazine, The New Yorker, and Disney, use it to power their online platforms. Its robust system has made it a reliable choice for many users. Businesses can blog, design, and manage all their content in one place with WordPress, no matter their background.
But as WordPress grew in popularity and evolved over the years, it also became quite complicated to navigate. Different WordPress websites run on various versions of the CMS, depending on when the user joined. Some people upload their posts using the Classic Editor, while others use the Block Editor or the Customizer, which was introduced with the release of WordPress 5.0.
"Adding to the complexity, the WordPress user interface you see when you log in is actually determined by the THEME you've activated on your site," said Shawn. "But until now, we were told that Block Themes were the future of WordPress. And where exactly does that leave site owners with a Classic Theme, who have been using WordPress for years?"
The shifts in OS updates have caused an enormous user experience conundrum and has made it difficult to streamline the web development process. Without a uniform user interface, new site owners will find it more challenging to learn the WordPress system, prompting many to turn to third-party builders.
"Many site owners find the out-of-the-box WordPress software either too limited or too complicated. If someone is using a third-party page builder plugin on their site, the user interface for creating and editing content is completely proprietary, depending on which product you're using," said Shawn.
Shawn told us WP101 receives numerous requests for training that doesn't only target WordPress itself but also covers popular WordPress themes and page builders. By creating training courses, WP101 helps users overcome the technical obstacles in their path and build professional-looking and easy-to-manage websites.
Helping Users Meet Their Goals with Objective-Based Courses
Since 2008, WP101 has assisted more than 3 million users along their WordPress development journey. Shawn told us that, over the past couple of years, requests for the Elementor course have outpaced requests the team has received for any other product.
"Despite the fact that there are thousands of Elementor tutorial videos on YouTube today, the individuals who have reached out to us comment that they appreciate our unique approach to teaching and the professional quality of the video tutorials we produce," said Shawn.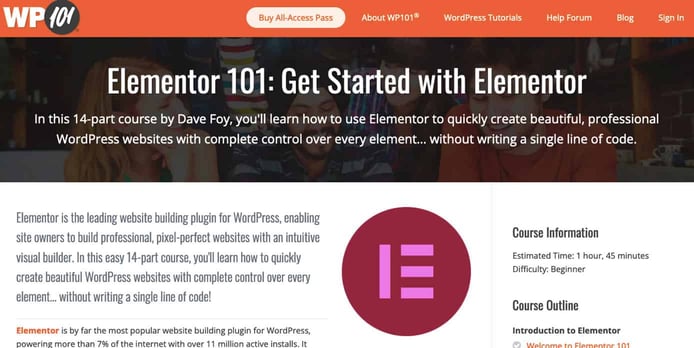 The company teamed up with WordPress educator Dave Foy to bring Elementor 101 to life. Together, they crafted an Elementor course that applies their shared passion for meticulous and objective-based learning. This Elementor training curriculum is definitely not a run-of-the-mill tour of Elementor's settings and options.
"Dave has created a course that walks viewers step-by-step through the exact process of creating a complete website, start to finish. At the end of this course, students will know how to use Elementor to create their own website — which is their ultimate objective," said Shawn.
WP101 users don't have to waste time looking for additional tutorials or information to learn about web building. The comprehensive WordPress tutorial courses allow website owners to achieve their objectives and begin designing in no time.
"In this case, they want to create a professional-looking website without learning how to code. And Dave's Elementor 101 course helps them to do just that, and in less than two hours," said Shawn.
Keeping the Mission of Democratizing Web Publishing Alive
Elementor is WordPress' most popular page builder. It powers more than 7% of the internet, with more than 11 million active installs exemplifying its success. The reason for its success can be found in its easy-to-use structure. Its visual builder makes designing and developing an online presence simple for everybody.
The no-code and manageable editors offered by third-party builders have exposed some WordPress flaws and pain points that users want answered. WordPress's mission has been to democratize web publishing, something it once delivered. But somewhere along the way, it has lost step.
"As WordPress has matured into a powerful, robust web publishing platform…it has also become increasingly complicated. For decades, people chose WordPress because it was easy to learn and use. But today, that's not exactly the case," said Shawn.