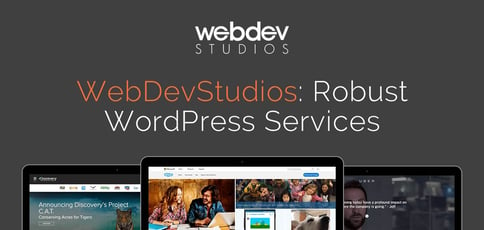 TL; DR: WebDevStudios provides businesses with end-to-end WordPress development services, including consulting, planning, and website design. The company also helps clients easily migrate their data and fosters long-term relationships by offering guidance and maintenance. WebDevStudios works with clients of all sizes and every experience level — from SMBs to global enterprises.
Back in 2008, most considered WordPress a blog publishing system without practical applications for building complex websites. But the founders of WebDevStudios, Brad Williams and Brian Messenlehner, saw its potential early on and decided to make WordPress central to their business model.
They understood that the burgeoning open-source community movement could boost WordPress functionality.
"We started to use WordPress to build unusual things, like websites that contained car trade inventories. But we had to tweak it to do what we wanted because it wasn't built to be that flexible. In that respect, WordPress has evolved tremendously since then," said Brad, who also serves as the CEO of WebDevStudios.
Over the last 12 years, the company has gone from a two-person design shop to a trusted WordPress team that offers extended services for customization and development. The remote agency, based in the U.S., is passionate about WordPress and leverages its open-source expertise to help its clients succeed.
WebDevStudios offers a range of value-added services, including consulting, content migration, API integrations, project management, and website maintenance. It serves businesses of all sizes, and its client list includes Microsoft, Starbucks, Shopify, and Viacom.
The company serves a diverse marketplace that enterprise users have shifted to in recent years. More than 60 million websites use WordPress, and it is also one of the most popular content management systems (CMS). Countless small businesses and organizations rely on WordPress to power their web presence, but they can achieve much more by partnering with WebDevStudios.
"There's more to attaining success online than just creating and launching a website," said Brad. "It's about the entire life cycle. We see ourselves as a long-term partner in the growth and success of our clients' WordPress websites."
Founders Saw How Open-Source Could Add Value for Customers
Brad and Brian, both former U.S. Marines, decided to use the tech skills they learned in the military to start their own website development company.
"We didn't have a business plan or commercial goal — we just knew that we liked building websites," Brad said. "Looking back, it's kind of crazy that it worked. The 2008 recession hit soon after we started, but it actually opened some doors for us. When many businesses felt the crunch, people looked to diversify, try out new ideas. They came to WebDevStudios because we were small, nimble, and could get things out quickly. So in a way, the 2008 downturn helped jump-start our company."
By 2009 WebDevStudios started to focus mainly on open-source technology, including WordPress. Open-source communities were beginning to proliferate online, and as more resources were added, Brad and Brian became more intrigued.
"We were developers, and we liked to tinker. With open-source, we could just dig in under the hood and figure things out. By 2010 we narrowed our focus down further and decided to specialize in WordPress."
Since then, the company has grown a skilled workforce with project managers and consultants who work closely with its web designers and open-source coders. It's a skills-based approach propelled by the company's conviction that, with the right expertise and support behind them, WordPress websites can deliver much more value than many businesses may understand.
WordPress Insights Help Clients Stay Ahead of the Curve
WebDevStudios focuses closely on WordPress, both in terms of core tech and user interaction. That has also heightened its understanding of the pace and nature of technological evolution.
"The technology we work with changes fast. That's both a blessing and a curse, in a sense," Brad said. "Over 10 years, we've learned that whatever we're doing today, we'll do differently in a year. For that reason, it's imperative to always watch the horizon to catch the first glimpse of what's coming next."
Brad said that businesses accepted the costs of developing separate websites for desktop and mobile browsers. They also expected their full websites to garner more traffic than the mobile version less than a decade ago.
But with the rise of mobile devices, that ratio has been completely reversed.
"For most websites now, mobile traffic is higher than desktop traffic. That surprises some of our customers. So it's even more imperative that websites are fast because those mobile-based visitors are not necessarily on wifi. They may even be on a shaky 3G connection, and so are less tolerant of slow-to-load webpages."
Brad said that anyone in the hosting space knows that performance is vital to a website, so having a high-performance frontend is imperative.
"It has to be super-speedy or else you are going to lose your traffic. Also, slow-load times now have a huge impact on SEO ranking," he said
End-to-End Service Portfolio Includes Consultancy and Project Planning
WebDevStudios is an end-to-end WordPress services provider, and its solutions — including consulting, security, support, and content migrations — reflect the rise of WordPress reliance.
"The biggest factor in the success of a custom development effort is a clear understanding of the project shared between our team and our client," Brad said. "We have refined a process within our project life cycle to ensure this shared understanding, a process we call Discovery. That identifies requirements, defines solutions, and recommends an approach to the project."
When WebDevStudios confirms a project plan, it contains every expectation that the client has for the project. It also provides a road map that an in-house design and development team follows. That's why the company has specialists, project teams, and support teams to help them through their journeys.
"At WebDevStudios, we see ourselves as a full-service WordPress agency," Brad said. "We make it performant, secure, and we do a lot of testing and QA to make sure it's as top-notch as possible. Then, we provide 24/7 support services and a service-level agreement. We don't just build it for clients — we offer ongoing support."
According to Brad, that support is one of the most significant benefits of working with WebDevStudios. Because the company has worked with WordPress for so long, it knows how to get the best out of the system and understands how to help its clients do the same.
WebDevStudios: Fostering Widespread Adoption Among Enterprises
The WebDevStudios team said it is passionate about helping businesses get the most out of WordPress, whose adaptability covers a wide range of use cases.
"You've got hobbyists and bloggers up to multinational corporations. And we work with a wide cross section of that spectrum, from individual food bloggers, who hire us to support their WordPress site to departments in large, global organizations. WordPress, as an enabling tool, has now gained a lot of credibility."
WebDevStudios worked with Microsoft to introduce the very first installation of WordPress within Microsoft.com for its official company blog. And seeing a client as large as Microsoft use an open-source platform like WordPress was a significant shift, Brad said.
"Ten years ago, Microsoft would never have touched something like that," he said.
Since then, more enterprises have hopped on the WordPress bandwagon, especially as a supplementary CMS. That's because the platform enables companies to roll out marketing sites in a matter of weeks. For enterprises, that time frame can be a game-changer.
"WordPress does not have to replace any existing solutions," said Brad. "It can co-exist with proprietary software without problems. So it's been neat to see that trend over the last few years, especially as enterprises become more open to open-source software. We do a lot of enterprise work, and we've launched sites in days to hit a marketing launch date. If it needs to be out there quick, we can get it out there quick."