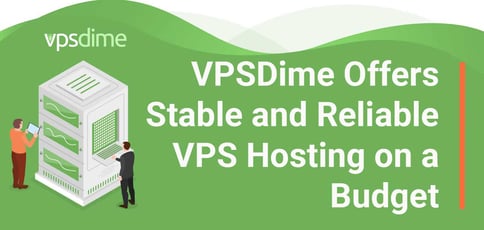 TL; DR: VPSDime delivers budget-friendly VPS hosting packages tailored to developer needs. The team prides itself on the stability and reliability of its offerings, giving users unmatched resource allocation for the price. Users can purchase Linux, Windows, premium, or storage VPS plans that include generous RAM distribution, an intuitive control panel, and enterprise-grade SSD storage. Although VPSDime leaves troubleshooting in the users' hands, the team goes the extra mile with technical support and always maintains a high-performing server environment for its customers.
Stability and reliability are key attributes of a dependable web hosting service. These factors are necessary for users to have the performance capabilities to power their online projects and websites. That is why so many web hosts prioritize uptime and support. No one wants a hosting provider that can't offer the most basic necessity: keeping a website online.
But developers need more than reliability. They also need a server system that can provide flexibility for their workloads, and VPS hosting is usually that go-to resource. VPS hosting offers a reliable source for customization, flexibility, and security, with higher performance than shared hosting.
But performance capabilities aren't the only form of stability. As the world economy reeled from the impacts of the COVID-19 pandemic, many web hosts had to deal with their share of inflation issues. Still, some companies found a way to prioritize stability in pricing. Web hosts such as VPSDime have stood as an unwavering pillar of support for their hosting customers. VPSDime has maintained its affordability in the face of soaring hardware prices and offers the same reliable, robust hosting solutions it has for years.


"Our customers really value the stability of our product. So we want to make sure we're hitting the stability and reliability requirements of our customers all the time," said Damian Harouff, Lead Support at VPSDime.
VPSDime delivers inexpensive VPS hosting with amazing performance. Users don't have to break the bank or miss out on quality. VPSDime offers Linux servers, Windows servers, and premium VPS plans for users to choose from. And every one of its plans is self-managed, allowing it to keep prices down.
"We find that our pricing model isn't conducive to that level of touching customer software and things they've installed on their server. So we do draw a line in the sand and will make sure your server is up and running, but it's up to you to take care of the things within it," said Damian.
Supplying Users with High-Performing VPS Resources
VPSDime's offerings fit the needs of developers looking for low-cost and high-performant VPS hosting. From Windows to Linux VPS servers, users get full access to their servers, giving them more flexibility and control over their actions. Since VPSDime targets developers, the company has room to make its plans self-managed and lower support costs.
"We target developers and people who are experienced with what they want to do on their server. We give them a foundation or infrastructure home to put whatever they want to run in our services," said Damian.
VPSDime offers a niche environment for developers and experienced users to leverage VPS hosting without any added frills. The company's tailored VPS experience gives developers all they need to jump-start testing and other production workloads, including full root access, SSD storage, generous RAM allocation, and a custom control panel. VPSDime started its journey with Linux servers, which offer an excellent environment for development, testing, and container use. The team later added premium VPS plans.


"The premium VPS plans are geared more toward production. They have backups included, dedicated resources, and have far fewer people per node," said Damian.
Damian said there was a yearslong gap before VPSDime added Windows VPS packages to its lineup in 2021. But he said the team took great pride in launching it. The Windows VPS plans, powered by Hyper-V technology, include enterprise-grade SSD storage, Windows Powershell for automation purposes, Intel Xeon E5 CPUs, and an HTML console. Its pricing is also unmatched, with plans starting from $15 per month.
"They've probably become one of our most popular product lines in less time than it took for the rest of the company to become what it is. They're a reasonable price in the marketplace and have good performance for the dollar," said Damian.
Establishing Long-Lasting Relationships with Customers
VPSDime's relationship with its customers is a driving force behind the company's success and reputation. Damian told us customers usually start with VPSDime's Linux server plans when they join. Although Linux VPS is VPSDime's bread and butter, many customers who come on board stay with the company long enough to upgrade to its premium plans.
"Customers see what kind of value we offer for that price. And they do move into the premium plans for their production workloads after they've gotten used to us and understand our support offering. Confirm that we're not a fly-by-night host," said Damian.
VPSDime provides stable and reliable services that users appreciate. Through its attention to quality, it built its loyal customer base. The VPSDime team always maintains its hardware and network infrastructure while also helping users with their technical issues. Though VPSDime users can handle their own troubleshooting, the team ensures they have a hosting environment where they can produce.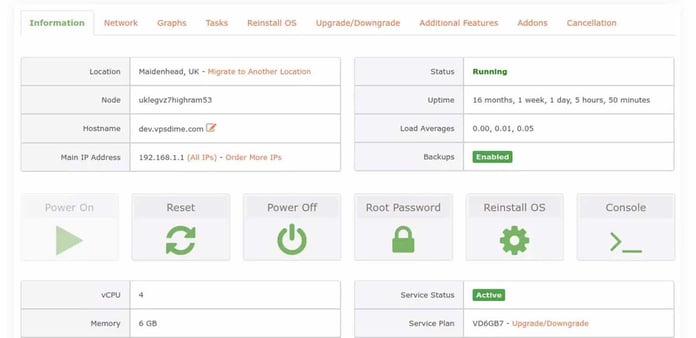 "Our support focus is to make sure their virtual machines are up and running and accessible and for the customers to be successful with whatever they're trying to do," said Damian.
VPSDime's plans not only serve a part of the market that needs budget-friendly VPS resources but also give developers the extra support they need to build their software. The VPSDime staff boasts 15-minute support response times and puts effort into addressing any performance issues users may have one-on-one. Its 24/7 customer support remains a highlight of its offerings.
"Another positive about our company is that we are large enough to be able to take care of you but small enough to say, Hey, I remember your problem from a few weeks ago, and then discuss it further," said Damian.
Committed to Providing Reliable VPS Hosting
Founded in 2013, VPSDime has grown to offer a comprehensive set of VPS offerings with more than 600,000 GB of RAM provisioned in six diverse locations. Thousands of customers in the US, UK, and Netherlands leverage its resources to power their hosting experience. With scalable features on the fly and extra-mile support, users can trust VPSDime to deliver the resource allocation and server maintenance they need to develop and house their software.
We asked VPSDime about its future road map decisions. And Damian said one thing is guaranteed and has always been, even through the COVID-19 pandemic. And that's prioritizing customer experience.
"We're still committed to our customers. We're still committed to keeping our customers online. Go with VPSDime because we care about your stability and reliability," said Damian.