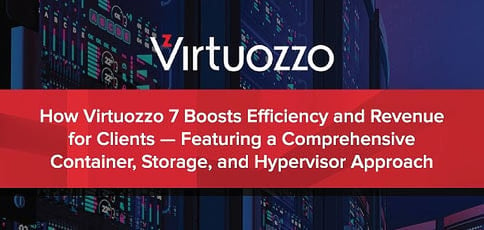 TL; DR: We sat down with Virtuozzo last month at HostingCon and learned about their latest product release: Virtuozzo 7. The updated platform contains everything Virtuozzo has built their reputation on: hypervisors, containers, and storage solutions. Now, they've added the ability to use the entire product line, or separate it into its individual components. Their main goal remains the same: to increase density and efficiency across physical servers and, in turn, increase profitability and lower the total cost of ownership for each of the five million virtual environments they power.
During my summers as a kid, I used to go fishing daily with my dad. It wasn't that he lived a lavish lifestyle that allowed him to fish every day. Professionally, he was a fishing boat captain, and a fishing boat surely made for a better day care than any of the other kids were attending. Each morning we'd eat our breakfast as the boat exited the cut into the ocean. On the way out, we'd watch dockworkers and cranes unload shipping containers onto large platforms, destined for national distribution.
Back then, I didn't know the meaning of the word efficiency, but these dockworkers embodied the term. They filled up each platform to maximize available space. Like ants, they spread out over the docks with directed precision.
After talking with the folks at Virtuozzo about their latest product release, I couldn't help but think back to the docks. Virtuozzo is basically doing the same thing for their partners as the port master and dockworkers did on their platforms — maximizing efficiency, only with a different type of container.
Founded on Virtualization, Grown Into a Complete Solution for Hosters
Virtuozzo hit the scene in 2001 as the first technology and product of SWsoft, a server automation and virtualization software company. They began as a virtualization technology for operating systems, a novelty at a time when VMware was just being used to virtualize hardware.
Mike Riolo, Virtuozzo's Interim CEO and Senior Vice President, Worldwide Sales and Alliances, takes us back, "The initial target market was for application service providers, ASPs, in the 90s. We all know how that market went due to bandwidth and security issues, which are very different topics. The Founders soon realized that the next relevant place for this technology was the hosting market."
Mike notes that there were many companies where users were able to receive free shared hosting or use a dedicated server, but the virtual server did not exist. "We did a study on the Virtuozzo product and went into this market. Soon after, we realized there were other things that you need to play: control panels, automation, all this stuff. So, we really built the entire company around the Virtuozzo product to provision, orchestrate, manage, bill — essentially creating the VPS market."
For the next decade and a half, Virtuozzo would lead the market. They continued to innovate along the way through industry migrations from hypervisor-based VMs to containers, and by collaborating with industry giants like Docker and Google. By 2015, SWsoft had long ago become Parallels, Inc., and Virtuozzo had grown to such a level that they were ready to become their own business unit, getting back to their roots in server virtualization and software-defined storage.
"Virtuozzo 7 is our first major release as our own business unit," Mike says. "If you look at what we've done over the years, we've virtualized the operating system. We've also adopted the hypervisor approach. We are the only company out there that does both."
Virtuozzo's Components Help Businesses Maximize Revenue Per Server
Virtuozzo has removed the need to choose between solutions altogether by unifying resources and management tools. Mike notes, "Instead of telling someone that a hypervisor's better than a container, we approach it on a case-by-case basis. What are you trying to solve and what's the best approach? Now you have one vendor that can do both for you."
1. Hypervisor: KVM Optimization Solves Density Inefficiencies
Virtuozzo has integrated solutions for years now, but what's interesting about Virtuozzo 7 is that they've adopted KVM and optimized it for their partners. "What that means is much higher density per physical server, which, for us, is really everything we've lived on for the past 15 years," Mike says. "This is how we help a partner make more money. Underneath the server, everything's the same. If we can get people higher densities, they make more money per square foot in the datacenter. That's a good partnership."
Virtuozzo's Product Manager Sergey Maksimov notes that if you're looking to optimize performance by, say, 60%, the cost of the additional hardware to make these workloads run would require a purchase at a cost considerably more than the cost of virtualizing it. "You will get full support from us; you'll get tons of additional services from us. Overall, the cost of the whole solution is less than if you're doing everything on your own. This is why we can still be based on open source and why it's still, from an economic perspective, much more efficient to use our product. We always say that our solution is cheaper than free."
Mike and Sergey agree that commercially driven industry trends do seem to indicate that many providers are looking at open source again. "VMware didn't pay attention to this space for many years because it was too expensive; but if you look where KVM projects have gone, people see that they can take advantage of this," Mike says. "Now, it's very different from building an open source platform versus managing and maintaining it when you're putting customers on it, driving profits through it, while having the ability to update, patch, and make sure it's secure."
This is what Virtuozzo's really done with KVM. They've optimized it for density inefficiencies, but they have also given the management of it back to the provider so they can still use open source technologies that are fully compatible with upstream. "They can still adapt and move forward," Mike says, "but they are now dependent on us for a small fee. Coupling that with solving density inefficiencies, we are, indeed, cheaper than free."
2. Containers: Secure, Flexible, and with Persistent Storage for Docker
Virtuozzo's success has a lot to do with listening to their partners and examining their needs. Their partners' aim being to maximize profits per physical server, Virtuozzo looked to storage to help. Since CPU and memory run out before storage, it becomes the most unused resource on a Node.
Mike notes, "With our Virtuozzo 7 release, we're taking storage to another level where we're doing persistent storage for Docker. We're obviously talking about containers. With Docker, there's no persistency. It's a way to take and run with high availability without having to connect with outside storage arrays and other things."
Security has historically been a concern with regard to containers, but Mike notes that it shouldn't be. "We've been powering five million virtual workloads in production for service providers for many years, which are revenue generating and which customers depend on, and I don't think you can find any instance out there in the market where a problem happens because of what we've done with our IP."
Since at least 2010, the market has seen a trend to migrate from hypervisor-based VMs to containers. Virtuozzo is in a position to continue to lead the container market due to their cost efficiency, flexibility, and the fact that they've been in it since the beginning.
3. Storage: Highly-Architected Software Creates High Availability
All three of the main components of Virtuozzo 7 aid in the goal of creating efficiencies where they may have been lacking. Virtuozzo has created a way to use the storage that's unused on local hosts through highly-architected software.
What this means for the end-user is their site is never offline because of the way the storage is set up, which, in turn, translates into high availability. This has helped Virtuozzo attract large, high-profile clients. Elisabeth Kurek, Virtuozzo's Director of Channel Marketing, informed us of a new case study that the company published in July that looks at how one of Virtuozzo's partners used all three elements of Virtuozzo's solution to land Thomas Cook as a client. The global travel operator needed something that was flexible and highly available, and Virtuozzo delivered.
"From a performance perspective, it's also great," Sergey says. "If you compare it to local storage, you will outperform it since you not only have local storage for a disk, but you also have network capacity. That's why it's one of the best options for any kind of system."
Choose Just Storage, Just Containers, Just Hypervisor, or Whole Stack
Virtuozzo's product line has been around since the inception of the virtual server. What's different with the release of Virtuozzo 7 is that it gives consumers the ability to stack the separate components into a bundle, or not. Again, the offering speaks to the individual needs of Virtuozzo's partners.
"If you look at Virtuozzo, it was always known as virtualization, a container stack," Mike says. "Now it's really an entire product stack. So what we've done with this release is separate it. So, if you want the whole stack, you can take it. If you just want to run storage, we have stand-alone storage. If you just want to run our own Linux component, you can run Virtuozzo Linux, which is optimized for a service provider. If you want to run just containers, you can do that."
VZ Linux — Coming Soon! Run Linux OS Forked Off CentOS 7
Due to partner demand, this year Virtuozzo will be releasing Version 7 of their own Linux distribution designed specifically for datacenters. Previous versions of VZ Linux allowed users to run Virtuozzo on bare metal. With this year's update, a partner can run just a Linux OS that is appropriate for a host or service provider.
Sergey explains, "It is based on CentOS 7. We used to have bare metal installation so we always had Linux as part of this installation. There were a couple of partners who were asking, 'OK, we have virtual installation, but we want to run some additional workloads and we need Linux for it, but we don't want to buy one more installation. So, can you run Linux for us?'"
In response, Virtuozzo decided to make all components available by default. Partners can now have Linux as a single solution or as part of the comprehensive package. And like their other products, Virtuozzo's Linux distribution also comes with full technical support.
Thinking back to the docks, the port master really had it all figured out. He instituted a system that met everyone's needs. The ships needed unloading to get back to sea; the trucks needed to put goods in transit; the dockworkers needed to make a buck. Virtuozzo's done the same for the VPS market. They've pioneered the way forward, and continue to maximize efficiencies, and therefore revenue, for their partners.
Advertiser Disclosure
HostingAdvice.com is a free online resource that offers valuable content and comparison services to users. To keep this resource 100% free, we receive compensation from many of the offers listed on the site. Along with key review factors, this compensation may impact how and where products appear across the site (including, for example, the order in which they appear). HostingAdvice.com does not include the entire universe of available offers. Editorial opinions expressed on the site are strictly our own and are not provided, endorsed, or approved by advertisers.
Our Editorial Review Policy
Our site is committed to publishing independent, accurate content guided by strict editorial guidelines. Before articles and reviews are published on our site, they undergo a thorough review process performed by a team of independent editors and subject-matter experts to ensure the content's accuracy, timeliness, and impartiality. Our editorial team is separate and independent of our site's advertisers, and the opinions they express on our site are their own. To read more about our team members and their editorial backgrounds, please visit our site's About page.