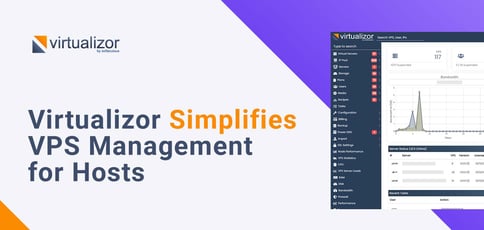 TL; DR: Virtualizor is a web-based control panel software built by Softaculous that changes the way businesses manage and deploy VPS. The system's interface allows users to manage every server aspect from a single dashboard. Founder and Lead Developer Pulkit Gupta said the team consistently seeks customer feedback to improve and update. Today, Virtualizor has a strong presence in the hosting world, and businesses can also use it to manage physical servers and applications.
Businesses leverage web-based control panels to keep their servers running smoothly. As virtualization and digital transformation continue to drive eCommerce, those control panels are more critical than ever before.
Today, companies of all sizes need to monitor, automate, and customize their servers remotely. And they often seek trusted services that also provide value. Virtualizor is a control panel that has built a dedicated following since it launched more than two decades ago.
Softaculous released Virtualizor 1.1 in November 2010, and it included eight features that established the software as the new way to manage virtual private servers.


Shortly after launch, the team announced a web host manager complete solution (WHMCS) module that allowed for automatic VPS creation. That was a differentiator in the control panel space, and the company continues to innovate and improve the product.
Founder and lead developer Pulkit Gupta said Vurtualizor has added many new customers over the past few years as companies have shifted more of their resources online. And those new customers help the Virtualizor team improve its products because customer feedback plays a vital role in the development process.
"We've been adding features and getting customer feedback," Pulkit said.
He also said the company developed a new product to compete with cPanel. Virtualizor currently works with KVM, Xen, and Virtuozzo, among others, and includes a native hourly billing system.
"Virtualizing is important anywhere and everywhere," Pulkit said. "That's why Virtualizor is built with premade OS templates and real-time statistics."
In January 2022, the Virtualizor team launched version 3.0.9, including bug fixes and improvements. The version represents the latest step in a digital legacy that began in 2010.
Designing a Control Panel to Manage VPS
Virtualizor provides customers with the tools they need to manage their servers. And as control panel software evolves, customer needs are an ever-moving target.
"Our customer type is primarily the hosting industry. But in the past six months, we have diversified our focus to other IT customers, as well," Pulkit said.
Virtualizor partners with several established US hosting providers, including KnownHost and A2 Hosting. It has other hosting partnerships worldwide.
Pulkit said the team is confident that a wide variety of IT professionals will find its model useful.


"Automation is one of the most important parts of Virtualizor, and it gives end users more control," Pulkit said. The goal is to provide customers with application control at a more granular level.
Virtualizor offers users 24/7 support and a variety of features for developers — from novice to expert. It provides easy installation, cluster management, automated backups, free SSL utilities, and a simplified API, among many other tools.
The control panel includes separate interfaces for administrators, cloud users, and end users. Each gives a type of user an intuitive panel to manage VPS.
For instance, the end-user interface allows someone to start, stop, and restart various VPS tasks by clicking a button.
Adding Features and Tools Based on Customer Feedback
Customer feedback plays a critical role in Virtualizor's development.
"We are sourcing feedback from customers for product development constantly," Pulkit said. "Feedback is one of the key things we use."
Virtualizor posts details on its blog each time it uses that feedback to launch a new patch, update a module, or improve its template selection.
Pulkit said customer input has been invaluable in understanding the benefits users see from the powerful control panel software. And Virtualizor is starting to expand its presence well beyond hosting providers.
"As we add more features that will require an enterprise option, we also want to serve medium and small enterprises," Pulkit said. " We can serve people who use virtualization solutions in their offices rather than banking on hosting."
Pulkit said Virtualizor's primary appeal is simplifying operations that businesses often find complicated and cumbersome.


"You should easily simplify with Virtualizor," he said.
Simplicity is part of the company's mission, which is why it also offers a built-in hourly billing model and payment integration with PayPal and other digital payments providers.
"Virtualizor has an inbuilt billing panel," according to a post on the Virtualizor website. "Using this feature, admins can create plans and pricing for resellers and charge them for using VMs on an hourly basis. Admin can also set up resource pricing for extra resource utilization. Also it has three built-in payment gateways (Paypal, Payumoney and 2checkout) for making payments and adding funds into Virtualizor."
The Virtualizor team's hard work seems to be paying off. Many customers praise the platform for building intuitive tools that simplify server management.
"An incredible program," reads one review on Trustpilot. "Probably made by people with ultra-human skills. With the best h24 support there is (with hyper-competent people). In short, I consider Virtualizor beautiful both with the graphic point, backend, and above all, the INFINITE functionalities and also those related to WHCS. Hyper fantastic."
Virtualizor: Expanding to Physical Server Management
Since its launch in 2010, Virtualizor has experienced rapid growth in the control panel industry. It has also learned from its experiences and adjusted its business model along the way.
"Recruitment has been a big challenge for us, and there have been times when we wanted to hire people but couldn't," Pulkit said. "And we have always been able to overcome those obstacles in the past."
Pulkit told us the company has big plans on the horizon as it heads into 2022 and beyond. These include bringing its solutions to market leaders while maintaining the simplicity that got the company this far.
"We want to target the enterprise market, and we think it would be a good fit for Virtualizor," he said.
He said enterprises that want to create clusters could benefit from using the Virtualizor system. It provides them with ultimate control over every server aspect involved.
Beyond the enterprise market, Pulkit said the next frontier for the platform is leveraging it for physical server management.
"Physical server management and even application-level management are two areas we are really looking forward to," Pulkit said.
He mentioned that load balancers within Virtualizor could be particularly appealing and helpful when managing physical servers.
"This year looks to be exciting. If the COVID-19 pandemic doesn't hurt things for us, we hope to scale even faster," Pulkit said.