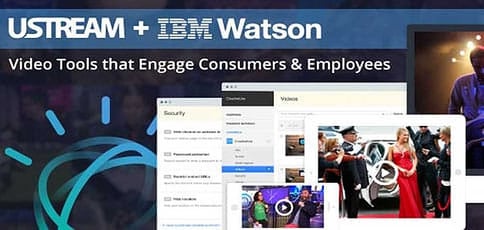 TL; DR: Video streaming is helping businesses in exciting ways. The most obvious benefit revolves around marketing and controlling messaging during product launches and keynote addresses, but companies are also using streaming video as a means of secure internal communication. Ustream, a cloud-based video streaming platform, meets every broadcasting need while facilitating safe streaming video transmissions between employees all over the globe. Acquired by IBM in 2016, Ustream is part of the IBM Cloud Video unit and, through the partnership, has received additional resources to do more for its customers with the help of machine learning through IBM's Watson™. By combining social media and other data feeds to capture real-time audience insights, Ustream is driving video ROI for businesses around the world.
The amount of time Americans spend watching video on their digital devices has mushroomed in the past five years. From Netflix to Snapchat to Facebook, video is nearly everywhere you look online.
In 2011, U.S. adults spent an average of 21 minutes per day watching video on their computers and mobile devices. By 2015, that number had more than tripled to an average of 1 hour and 16 minutes per day, and, by all indications, it will only grow. According to Cisco research, 80 percent of internet traffic will be video by 2020.
"Video is permeating the consumer side of our lives across all facets," said Brad Hunstable, CEO of Ustream. "People are consuming more and more video, particularly on mobile phones."
Founded in 2007 to help soldiers fighting in the Iraq War stay in touch with family members, Ustream powers 2 million new broadcasts for 80 million viewers each month.
Digital video is drawing substantial viewership, which presents a massive opportunity for businesses in terms of brand building.
"I would argue that all companies are becoming media companies because they're creating content, they're telling stories, and they're connecting emotionally," Brad said.
High-definition video streaming provides companies with the ability to control their marketing messages, but Ustream goes a step further for businesses with a secure platform for internal video communication.
"Businesses are getting on board using video in new and exciting ways from marketing to their customer all the way to using it to talk to their employees and engage in training in a very innovative fashion," Brad said.
The IBM Cloud Video unit was created in January 2016 by combining innovations from IBM R&D labs with the strategic acquisitions of Ustream and Clearleap, creating new opportunities to further Ustream's products through integrations with IBM's Watson™.
"We're now in significantly more data centers around the world," Brad said. "We've got more resources, and we're leveraging all of the other capabilities like Watson."
Pro Broadcasting™ Allows Businesses to Control Brand Message
Many companies are benefiting from Ustream Pro Broadcasting, a scalable HD live video streaming platform that's capable of reaching global audiences.
Perhaps you've seen Apple's keynote addresses, where tens of millions of viewers tune in to see the company's latest offerings. This is part of a larger trend of companies using video streaming to announce new product launches. One such company is Mazda, which used Ustream to livestream the launch of some of their new sports cars.
"If you go back 10 years, companies would either launch a product in their stores, or they would have a press conference," Brad said. "They would invite 15 reporters into a room, announce the product, and it would be contained in the walls of that event. Now, what we're seeing is companies are launching these products globally on the internet and really making it more of a media event."
Another company that's leveraging the power of Pro Broadcasting is Roland, a Japanese musical instrument company that also uses Ustream Align for its internal communications. In 2016, Roland was releasing more than 30 new digital instruments, and it had a creative way of spreading the word.
For 24 hours, Roland held a live-streamed music festival it called "The Future. Redefined" from eight different cities around the world, including Los Angeles, New York, Paris, and Tokyo, with a series of product launches sprinkled throughout the event.
"If you were watching it, it literally looked like something Hollywood would have produced or something you would see for a Macy's Thanksgiving Day Parade," Brad said. "They produced HD-quality video with storytelling and beautiful graphics through our technology for 24 hours."
Christian Delfino, the VP of Sales and Marketing for Roland, has been pleased with Ustream features that allow for live communication and viewer engagement, even while a presenter is on the stage during a product release.
"The interactive chat is one of the best things," Christian said. "We're able to answer questions right away and have that dialog with people and answer their questions as they're coming up, and, in some cases, even prompt the presenter, 'Oh, by the way, can you answer this?' That gives us that real-time feedback and sometimes that real-time production. That's been fantastic."
Ustream Align™ — A Secure Platform for Visual Communication Within an Organization
Paramount in internal enterprise-grade video software is security. Businesses, such as Roland, trust Ustream Align because of its ability to stream video while limiting access to only those who should be viewing the content.
"Security is definitely important for us when we're having our internal meetings," said Chris Halon, Director of Marketing for Roland. "We're disseminating information that we don't want to get into the hands of our competitors, but also we're talking about sales tactics that clearly we don't want to give away."
With more than 3,000 employees spread out across the globe, Roland counts on Ustream to help its team stay connected.
"You have these skilled sales teams throughout the world, and they use Ustream to actually train and show the new products, show how to use them, show how to demo them," Brad said.
So much of communication is body language, and without proper video technology, important nuances in a message can be lost. Ustream Align has grown as more retail companies turn to video to help alleviate some of the challenges that come with having storefronts distributed across the world.
"These retailers are starting to use companies like us to power their video internally," Brad said. "Their CEO can do a town hall and actually connect with the employees through a visual medium, which is so much more powerful than just an email message."
Integration with Watson™ Delivers ROI with Deep Audience Insights
Brad told us that when he and his co-founders launched Ustream in 2007, delivering video to the web posed technical challenges. The company then went through an era of sorting out the hurdles in delivering video to mobile devices. Following its acquisition by IBM, Ustream is moving into an age of incorporating machine learning into its video software.
"We've sort of moved past delivery components, and now it's really about how to deliver real, meaningful return on whatever investment you make in video to a company executive," Brad said. "Watson is a key piece of that for us. What it's doing is producing more intelligent insights, more intelligent capabilities, making their jobs easier and saving them money."
As a part of the IBM Cloud Video unit, Ustream is playing an essential role in some of the machine learning breakthroughs made capable by Watson. For instance, IBM bought The Weather Company around the same time it acquired Ustream. The weather data that's been plugged into Watson has revealed that people watch different types of content based on weather patterns.
"We have this additional data set and combining that with Twitter and other data, we can actually help you make better recommendations of what content to show and what point in time to show it to improve your ROI," Brad said.
Perhaps more relevant is the ability to combine social media data feeds, such as Twitter, with video analysis to gauge audience reaction in real time.
"What that does is allow you to make better decisions in real time as you're doing a product launch," Brad said. "Or if it's recorded video, understanding what's resonating with your audience so you can deliver better marketing messages. That's cognitive at its finest, and this is where you can really start delivering on ROI."
Another breakthrough in the video space through IBM Cloud is Video Scene Detection, which uses Watson to analyze long-form video and automatically break it into highlights. Many videos have a short shelf life, and after the first 24 to 48 hours, there's a big dropoff in the number of views. For instance, not many people are going to seek out highlights from a Tuesday basketball game on Friday when there was a second game on Thursday.
"Using cognitive technology, we can automatically make those into shorter clips," Brad said. "And we're not just talking about randomly choosing the start and end times of clips. The system gets smarter based on your content — and all of the other content that we look at — to make better decisions for you. You click a button and suddenly get useful clips that you can instantly share on Twitter."
IBM Acquisition Gives Ustream the Resources for Continued Growth
With the popularity of digital video growing exponentially each year, Ustream and the Watson-powered IBM Cloud Video unit plan for continued streaming innovations through rich data.
"Video will become an essential medium in an organization versus just a tool in the tool kit," Brad said. "That's my belief, and Watson Cognitive is at the core of that."
Joining forces with IBM has allowed Ustream to unlock new ideas through machine learning while expanding its global growth.
"One of the main reasons I decided that IBM was the right home for my company is IBM has made a massive investment over the last decade in the cognitive space," Brad said. "Watson is one of the key cornerstones of this cognitive strategy, and it's a massive differentiation between us and any other video company out there."
While reaching new markets through IBM, the Ustream team remains focused on improving its products for its existing customer base. Delivering HD quality video streaming for marketing and internal uses is still the priority.
"When we were purchased by IBM, we had thousands and thousands of customers, and we want to make sure that those customers, at the end of the day, have better experiences because of the acquisition," Brad said.
Advertiser Disclosure
HostingAdvice.com is a free online resource that offers valuable content and comparison services to users. To keep this resource 100% free, we receive compensation from many of the offers listed on the site. Along with key review factors, this compensation may impact how and where products appear across the site (including, for example, the order in which they appear). HostingAdvice.com does not include the entire universe of available offers. Editorial opinions expressed on the site are strictly our own and are not provided, endorsed, or approved by advertisers.
Our Editorial Review Policy
Our site is committed to publishing independent, accurate content guided by strict editorial guidelines. Before articles and reviews are published on our site, they undergo a thorough review process performed by a team of independent editors and subject-matter experts to ensure the content's accuracy, timeliness, and impartiality. Our editorial team is separate and independent of our site's advertisers, and the opinions they express on our site are their own. To read more about our team members and their editorial backgrounds, please visit our site's About page.