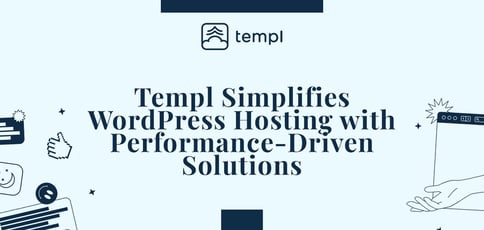 TL; DR: Templ delivers a full suite of managed WordPress hosting solutions to maximize performance for online businesses and their customers. Templ's secure and simple hosting experience allows companies to lead their operations with peace of mind and focus on their product and customer service instead of manual, backend server maintenance. No matter the business size or experience level, customers can successfully manage their hosting and find solutions to their pain points through Templ's industry-leading support. With Templ, companies can build more intelligent workflows backed by robust infrastructure in a carbon-neutral Google Cloud environment.
The rise of eCommerce has propelled the digital landscape on several fronts. It helped influence a surge of novel technologies and innovations, including various ePayment solutions, security tools, and application builders, that improved online shopping and the internet as a whole. The hosting industry also had to elevate its game to accommodate the growing need for high-performing and secure eCommerce websites.
Customer satisfaction heavily depends on website performance features, such as loading speeds and uptime. Suppose these features don't work in tandem or at an optimal level. In that case, online shopping experiences will come to a halt, and companies won't be able to retain and run a successful eCommerce business.
As more entrepreneurs move their offerings to the web to meet their audience where they are, shop owners with even minimal technical knowledge will need to operate digital resources to get their business off the ground.

"In the past, managing your own website was very complicated and basically only available for the tech-savvy. Today, on the other hand, with the rise of eCommerce and the importance of an "online presence" in recent years, there is a much broader group of people creating and running websites," said Emanuel Tammelin, Chief Executive Officer at Templ.
Emanuel said easy-to-use products are the cornerstone of helping business owners grow their web presence, and their demand continues to rise. Emanuel and his team had firsthand experience with sluggish hosting performance, complicated dashboards, and less than helpful support and looked to provide a better alternative for users with Templ.
"We wanted to bring a new product to market that made great performance accessible for everyone by making WordPress hosting fun and easy to use at the same time and accompanied with truly great support from experts. So that's how Templ came to be and is still what we are all about today," said Emanuel.
Making High Performance Accessible for Everyone
The increase of internet adoption worldwide has caused digital buyer behavior to follow suit. During the pandemic, global online shopping rose by more than 25%, and e-retail doesn't look to be going anywhere in the post-pandemic era. The US eCommerce market expects to see 300 million shoppers in 2023, according to OptinMonster.
"This continued trend pushes us to keep innovating and launching new features that make Templ even easier to use while making previously complicated tasks accessible for everyone," said Emanuel.
Templ seeks to make the operational aspects of running an online shop simple for all business owners, regardless of their size or resources. The hosting provider offers solutions specifically built for WordPress websites, and customers can opt for fully managed services to reduce the time spent on manual tasks.

Templ simplifies hosting services so business owners can focus on what they do best — product development. The Templ dashboard also allows customers to follow and manage hosting performance as their business grows.
"The main benefits of being a Templ customer are dollars saved and peace of mind. Dollars are being saved by delivering a fast-loading website that converts more visitors to customers or prospects and our ease of use and accessible support, which saves time and makes hiring a developer redundant," said Emanuel.
The Templ team goes beyond typical web hosting provisions by offering customers a helping hand in development. Users don't need to worry about searching for an external developer because Templ can also manage the coding and functional changes in the backend, including debugging, optimization, and theme and plugin updates.
Development-Focused Customer Feedback Meetings for Continuous Improvement
Templ's unique approach to customer service gives its development process an advantage, which helps the company remain competitive.
"We believe we are among the best in the business at listening to customer feedback. In fact, we invite all our agency customers to feedback meetings, where we listen in on how our customers work with WordPress and our hosting, what their needs are and what problems they are facing in their day-to-day activities," said Emanuel.
These feedback meetings supply Templ with the information it needs to brainstorm new ideas to boost company operations and customer satisfaction. This way, the company also identifies customer pain points and can develop or adjust a feature to optimize the hosting experience.

"No matter if you are an agency with years of WordPress experience or just setting up your first website for a small business, you can always reach out to us in the chat for a fast and helpful answer to any problem you might run into," said Emanuel.
But Templ's support services are not limited to a chat engine or a help desk. The company caters to the needs of its customers from the very beginning by providing unlimited site migration and speed optimization for everyone who joins. Templ also monitors uptime, offers WordPress expertise, and includes stress testing for traffic performance, among other services.
Peace of mind remains a priority for Templ and ensuring security for its customers is a testament to this. Templ maintains integrity by employing firewalls, regularly scanning for malware and vulnerabilities, and protecting sites from DDoS attacks through Google Cloud's security framework. With these solutions, customers can trust their hosting infrastructure is in safe hands 24/7.
Going International with Comprehensive Hosting Plans
Templ has fixed its focus on providing comprehensive hosting solutions that companies can rely on without turning to external resources. Its plans allow users to find all they need under one hood, making life easier for their operations and bottom line.
Templ's hosting plans cover all the bases, including security, development, and infrastructure integrity. It maximizes every aspect of performance, allowing customers to efficiently scale and manage their businesses.
"What's on the horizon for Templ is that we'll maintain our course, keep on doing what we're doing and continue to make our product even more performant and easier to use," said Emanuel.
The Templ team also cares for the planet by delivering a Google Cloud-backed infrastructure with zero carbon emissions. And the hosting company also has plans to go international with its carbon-neutral services.
"Templ has had great traction in our home market in Sweden and now hosts many of the largest and most renowned brands here, and we now want to make ourselves more known across the globe as well. All in all, we are very excited for the future and what's to come," said Emanuel.