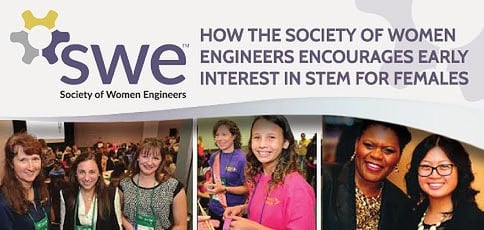 TL; DR: As a female, nothing in my genetic makeup denotes I would be any less worthy a candidate for a career in science, technology, engineering, or math (STEM). Yet, raw IQ, SAT scores, and experience being equal, a man is still more likely than a woman to wind up in an engineering or computer science career. It's as if womankind has adopted the assumption that we're not suited for consideration or we shouldn't be interested — and if we can't see other women shattering that stereotype, why would we believe any differently? Since 1950, the Society of Women Engineers (SWE) has mentored and advocated for women while building up those role models in engineering and IT. SWE President Colleen Layman discusses the effects of young girls' ebbing interest in science and math, the programs SWE offers females at every life stage, and the responsibility we have to raise up future generations to assume gender-neutrality in STEM.
I grew up playing with LEGOs with my little brother. I built and launched a to-spec model rocket as one of three girls dual-enrolled with Embry-Riddle Aeronautical University, and I grew up to manage a site devoted to web hosting and tech-related topics with one other female on my team.
I am the exception in that my aptitude for math and interest in engineering were fostered early; however, my story overall — a female walking into roles where you mostly find males — is the unfortunate societal norm.
"Middle school is where we lose them," Colleen Layman said, addressing the plateaued interest of young girls in science, technology, engineering, and math (STEM) fields. As the President of the Society of Women Engineers (SWE), Colleen shared her personal experience joining the organization that's brought mentorship, professional opportunities, role-modeling, and friendship to thousands of women in male-dominated industries since 1950.
Together we recognize a recurring theme of gender inequality in these fields, celebrate the forward movement we've made, and accept the charge to keep progressing towards, not just a 50/50 split, but a gender-neutral ideology for these industries overall.
SWE Mentorship Models The Potential Futures for Young Women
During the first SWE meeting that Colleen attended, the group announced an upcoming opportunity to visit Dorney Park after hours, ride the rides without lines, and learn about their engineering. "Who doesn't want to join an organization that offers a behind-the-scenes tour of a theme park?" Colleen said, laughingly. "I joined, became very close with a lot of the women, and ended up staying for the friendships and the mentorship opportunities."
"What got me into SWE was that first initial meeting with those women, but what keeps me and what I see as the greatest benefit of our organization is the female mentorship." She told us that mentorship, role-modeling, and "reverse mentorship" are among the core values of SWE. "Female role models are the most important thing for young women."
She shared stories to demonstrate: A woman in her thirties sought the coaching of a senior SWE member when tasked with firing an under-performing "father figure" in his fifties; in a case of "reverse mentoring," Colleen's younger mentee swooped in to "de-stress" her with a girls' night out when her duties as then-President-elect were starting to take a toll.
"Our organization really focuses on providing engineering experience and mentoring and role-modeling to young women. We all need someone to look up to whom we can see ourselves as — I want to be like her," Colleen described the all-too-familiar feeling of little girls wanting to be like the big girls. Colleen relies on this sisterhood in this way: "I turn to SWE, and I use that as my source of female mentors and inspiration."
4 Programs Providing Empowerment at Every Stage of Life
Since the '50s, SWE has a long-standing legacy of female empowerment. Said support has a comparably long-term influence for the individual woman. With resources and a community at every life stage — from adolescence to undergrad to retirement — SWE "works on developing the person," according to Colleen.
1. SWENext Gets K-12 Girls Excited About STEM Early
The gender inequality trend begins early, in part due to the lack of information young girls receive about their potential STEM futures. Like many teens, Colleen said she recalls recognizing her academic strengths, math and science, but said she knew little about the careers where she could implement them.
Fortunately, Colleen's STEM aptitude was recognized by her high school math teacher, who, during Colleen's senior year at her Catholic school in NE Pennsylvania, asked Colleen what she wanted to be when she grew up.
Colleen chuckled as she recalled the nun's matter-of-fact answer to her own question: "You're going to be an engineer, I've decided." Young Colleen's response opened our eyes to a key problem: "Sister, I'm not even really sure what that is…" Many of our youth believe that being an engineer is "sitting in a corner cubicle doing calculations," Colleen explained.
"Engineers are people who change the world and make it a better place," Colleen said, quoting her high school teacher's inspiring depiction of the profession she had previously never heard of but would go on to pursue. SWENext, a free program for K-12 girls, strives to spread that ideology to more young women earlier in life, so they can "see vibrant, beautiful, intelligent, successful women doing these types of careers and aspire to do it too."
2. Invent It. Build It & Parent Education Program Help Adults Fuel the Interests
Colleen made a great point: "We can talk to the girls all we want," but without the support and influence of the adults in their lives, any interest in STEM that's piqued won't be fostered. She believes one of the most important offerings of SWE is their Parent Education Program (PEP) hosted at SWE's annual Invent It. Built It event for middle and high school girls. The event empowers and educates parents, teachers, aunts, uncles, and friends to instill passion for science and math early in young girls' lives.
While the girls participate in hands-on activities and interact with real-life engineers and IT professionals, they're also offered the opportunity to become SWE members. The organization recently launched a program that allows adolescent and teenage girls access to webinars, meetings with female engineer role models, and free SWE membership status. Colleen told us that this group's membership has grown significantly just in the last year and a half since launch.
3. College Resources, Career Center, & Conferences Develop Professional Excellence
SWE members represent and advocate on behalf of women in every engineering discipline, as well as those in IT-related fields, because they "see the linkage" between computer science and engineering, Colleen stated. With upwards of 35,000 members to date, the society holds career-changing networking opportunities — featuring the site's Career Center with regularly-updated job postings, plus regular member meetings and the annual SWE conference.
A cornerstone of SWE's mission is "professional excellence," and that begins at the undergraduate level. Of the 35,000-plus members, more than half are students. In campus life, SWE stands out from other organizations, even STEM-related ones, by helping aspiring engineers fine-tune professional skills, such as résumés and interview prep. Colleen told us that this is how the society has actually picked up a hearty handful of male members as well.
"Engineers are people who change the world and make it a better place."
Every year around Halloween, the society holds their annual conference networking event, with WE16 coming up this October. The event is open to all and has grown to bringing in upwards of 10,000 men and women for professional development opportunities, workshops, fun behind-the-scenes tours, and recognition for not just SWE members but those who are making an impact in engineering as a whole. "We cap it off on Saturday with a large outreach event bringing hundreds of children from local schools in for a hands-on activity," Colleen shared. "This year's conference will be in Philadelphia, and I'm very excited!"
4. iRelaunch Tees Up Former Engineers for Re-Entry Into the Field
An organization intent on supporting females would be remiss to not recognize that many women (and men, for that matter) take breaks from their careers when life gets in the way. With that in mind, Society of Women Engineers formed iRelaunch: the official "STEM re-entry task force" for women who have been out of the work force for a period of time and need to sharpen skills that may have dulled with time.
This is one of the programs Colleen was most jazzed about on the phone, as she explained the process. Whether they took time off to be full-time mommies or took their career in a different direction, returning women engineers can be connected with "internships," so to speak, that allow them to get back into the flow of their former career, with the possibility of a permanent position down the road.
Men Must Become a Part of the Conversation — This Means You, Dads
Colleen has been a SWE member for 16 years, serving in engineering positions of leadership for the last 14, and holding leadership titles at the society level for the last eight. She's been around the engineering block and is the first to admit that she's "grown up in an industry that is very male-dominated: the power industry." Working for an engineering consulting firm, dealing mostly with fossil fuels and frequenting many a construction site, Colleen calls her industry a rather "dirty field" that's lacking women, but she loves it.
Early in Colleen's SWE career, she wrote a piece about partnering with men to kickstart the conversations that need to happen to form a solution for the gender gap in STEM professions. Men absolutely have to become a part of the conversation, and SWE opens up the floor.
Interestingly enough, when Colleen published the piece, a male coworker brought to her attention a key component to that goal: "It's very important for us young men who are having children to show our daughters AND OUR SONS this equality that needs to exist," Colleen said, paraphrasing the words of her colleague. "We need to raise them both the same way with the opportunity for STEM."
"It's our responsibility, as this generation, to raise up the next generation," she concluded.
SWE Legacy Grows with Public Policy & International Expansion
The historical component of SWE's story can't go unnoticed. The organization was founded more than 60 years ago on May 27, 1950; however, conversations precipitating its initiation began swirling in the late '40s, beginning with Drexel University engineering student Alma Foreman and her peers.
As early as 1948, Alma and friends held meetings on campus with women from other Philadelphia engineering programs to collaborate and figure out ways to network and support one another in their academic and pre-professional pursuits. Colleen told us she actually had the pleasure of speaking with Alma a few years ago, and they both reflected in awe of the changes they've witnessed within the organization and its influence abroad.
"It's our responsibility, as this generation, to raise up the next generation."
"Some of the most exciting things I've seen us do have come around in the last 10 or 15 years," Colleen said. Recent developments include increased involvement in public policy movements and international expansion. The group's gone to Capitol Hill to speak with senators about funding and opportunities for STEM education, released a number of white papers related to Title IX, and founded their first chapter abroad.
"One of the highlights of my SWE career is that I helped to found our first official international group in Istanbul, Turkey," Colleen shared. "Being able to watch those girls grow from young engineering students into professional women and to watch our organization grow in general is a powerful thing."
The Future: Men Expect to See Women in STEM
While in the thick of the cause, I'm sure it would be easy to become bogged down by the statistics. Alternatively, I could easily blind myself to the inequality, assuming my experience with STEM fields and my early-on exposure to the industries is a sign that the gender bias isn't there. We asked Colleen: Are we on the right track? What's the next progression for our society as a whole?
"It's nice to see the change in my industry," she answered, referring to what she's witnessed among younger engineers in her company. "More and more women have come into the field feeling confident in their abilities — but the thing that is most noticeable to me, in many instances, is the change in attitude of younger men coming into engineering careers."
Our ears perked up immediately.
"They expect women to be there. They expect that equality," she said, and I couldn't keep the smile from spreading across my face. Colleen assured us that the change is happening — "We're doing it over time."
Join the Society of Women Engineers Today
"That cultural shift in the next generation is what's going to get us to 100 percent." When we pitch the idea of an engineer to our children, boys and girls, it should sound like a gender-neutral career path — laden with strong minds and smart skirts.
Advertiser Disclosure
HostingAdvice.com is a free online resource that offers valuable content and comparison services to users. To keep this resource 100% free, we receive compensation from many of the offers listed on the site. Along with key review factors, this compensation may impact how and where products appear across the site (including, for example, the order in which they appear). HostingAdvice.com does not include the entire universe of available offers. Editorial opinions expressed on the site are strictly our own and are not provided, endorsed, or approved by advertisers.
Our Editorial Review Policy
Our site is committed to publishing independent, accurate content guided by strict editorial guidelines. Before articles and reviews are published on our site, they undergo a thorough review process performed by a team of independent editors and subject-matter experts to ensure the content's accuracy, timeliness, and impartiality. Our editorial team is separate and independent of our site's advertisers, and the opinions they express on our site are their own. To read more about our team members and their editorial backgrounds, please visit our site's About page.