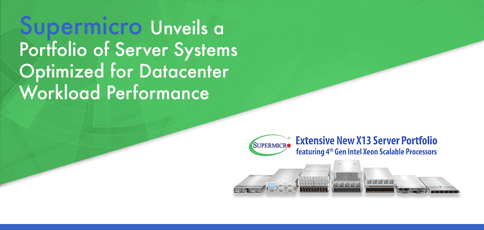 TL; DR: Supermicro recently released a new server and storage portfolio targeting multiple areas of specialties, including AI applications, HPC, and datacenter performance. For the last couple of years, the hardware company has planned and collaborated with Intel to accomplish one of its most ambitious goals yet. Supermicro's X13 portfolio is the industry's most extensive Tier 1 server portfolio, with more than 15 system families tailored and optimized for various workloads, making it accessible to many users. These systems feature the power of 4th Gen Intel Xeon Scalable processors and support for BigTwin®, PCIe GPU, 5G, the edge, and so forth.
Building blocks have always been a pivotal part of Supermicro's legacy. This approach has helped the high-quality hardware company separate itself from the pack while giving users the ultimate flexibility and control over their infrastructure choices. By leaving the keys to the driver seat in the user's hands, Supermicro enables customers to leverage the tools they need to construct personalized platforms without settling with underutilized features they never asked for.
Supermicro's building blocks approach also played a hand in its latest release. Over the past year and a half, the Supermicro team has worked closely with Intel to develop a new set of server and storage solutions founded on 4th Gen Intel Xeon Scalable processors and Intel Xeon CPU Max Series. This ambitious launch features the industry's most extensive Tier 1 server and storage portfolio with more than 15 system families encompassing specialties, including BigTwin, PCIe GPU, 5G, and the edge. Attributing its building blocks system to this release further advances the benefits users receive within the Supermicro platform.

"Once we have the platform defined and the features we can enable using the specific Intel functionality, customers can take advantage of the platform in getting it sized right for their applications," said Vik Malyala, President of EMEA at Supermicro. "We cannot emphasize it enough because the efficiencies, the performance per watt and dollar, are critical. We are also minimizing logistics overhead by going with this approach."
The Supermicro team focused on every detail from the mechanical and storage side to build its X13 portfolio of systems. Supermicro made many design decisions and changes within its mechanical framework to develop faster, more efficient, and greener offerings that can also last for an extended period.
"The good part is because of the building block approach, or the mindset that we have, the majority of the platforms continue to exist, hopefully for at least one or two more generations," said Vik.
Enhancing Server Systems for Better Performance and Energy Use
Supermicro's new family of server systems can improve workloads in three areas: performance, speed, and sustainability. All of Supermicro's upgrades, including hardware and storage enhancements, work in tandem to deliver a more optimized experience for customers. Its addition of 4th Gen Intel Xeon Scalable processors leads the way by supplying the systems with the processing power to deliver up to 60% better performance, enhanced security, and manageability.
The X13 portfolio also has faster speed and supports next-generation industry technologies. Supermicro integrates accelerators for AI, storage, and cloud to increase performance. Its new storage form factors give users unprecedented capabilities, including speed, capacity, and density for hot and warm-tier storage applications.
"As we start looking at this AI, ML, and all these activities, they need fast storage. So my take is that storage is going to be a lot more important going forward. And we are working with different ISVs to accomplish this," said Vik.
Vik also highlighted one of his favorite systems from the lineup, the Hyper platform. This platform allows users to scale however they want. "You can go anywhere from eight cores to 60 cores per socket. With liquid cooling, you can have a small footprint, from one DIMM per channel or two DIMMs per channel going up to eight terabytes. And you have IO expansion up to 24 NVMe drives," Vik explained.
Although Supermicro has upped its game in capacity and performance, the company hasn't neglected handling the sustainability piece of its launch. Its X13 systems can run and operate in high-ambient-temperature environments of up to 104°F with free-air cooling because of their advanced thermal architecture and optimized airflow. This architecture and other liquid cooling options also allow companies to save money on cooling-related infrastructure costs and OPEX.
Leveraging the Building Blocks Approach for Lasting Solutions
Supermicro offers flexibility that customers can't find anywhere else. Thanks to Supermicro's building blocks approach, users can easily construct and customize their own optimized server and storage platforms. Its building blocks approach is also compatible with various systems, allowing users to upgrade critical pieces down the line without developing an entirely new infrastructure. Supermicro added more than 50 server models in its latest launch to give users more choice and power for their various modern workloads.
"We are trying hard to keep the number of systems to an absolute minimum and bring the advantages through enablement in different ways," said Vik.
By leveraging Supermicro's building blocks approach, customers can build and manage longer-lasting solutions that suit their needs and specific workloads. Supermicro also ensures support and compliance with open industry standards, which means companies can integrate its systems into their existing IT infrastructure and environments with minimal modifications. For example, Vik spoke about some customers upgrading their existing infrastructure to adopt single sockets over dual sockets.
"They can replace dual with a single socket because it has more benefits than those two sockets combined. It has more memory bandwidth, memory performance, and IO bandwidth. Everything is more except the cost of ownership. The TCO actually goes down," said Vik.
Supermicro's new release has something for everyone, with solutions spanning multiple industries. But datacenter workloads seem to be a massive focus for Supermicro. Vik told us the need for tier 2 and tier 3 datacenters is increasing exponentially as more people leverage edge computing for industries, including gaming, content delivery, and application deployments.
"Now is the time for optimization at every level, given more and more of these products are going to be adopted in a data-centric environment," said Vik.
Enabling Users to Choose Intel Processing Features On Demand
Supermicro's flexibility extends even to its partnerships as it offers users Intel's processing features on demand. Users can scale 4th Gen Intel Xeon Scalable processors when the need arises, and they aren't tethered to a fixed plan.
"Given the diverse customer application that they need to support and the uncertainties associated with it, it makes it even more important for companies to choose the right size platform and pick the applications on demand based on what their customers are looking for," said Vik.
Supermicro will allow users to choose from various on-demand features, including networking functions, data acceleration, virtualization, security, and storage. Customers won't have to pay upfront for this capability and can scale whenever needed.
Vik likens the on-demand functionality to the ABS. When the anti-lock braking system first appeared, many people didn't see the reason for its adoption. But later on, people saw how crucial it was in life-saving events. Supermicro's on-demand Intel features will equip users with something they never had before but can positively impact how they manage their infrastructure in the future.
"One can choose a platform and enable the features as they feel the need for it. So it doesn't need to happen today. We're talking about a platform and processor that will be supported for a minimum of seven years. So as things evolve and customers begin to understand it, they can take advantage of it," said Vik.