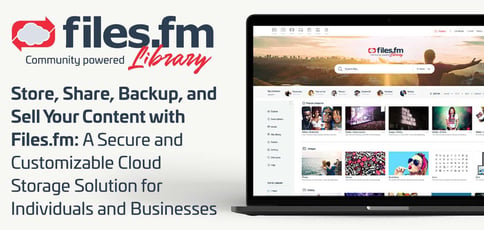 TL; DR: Files.fm, a provider of secure cloud storage solutions, is leveraging 12 years of industry experience to bring several new products and services to its loyal customers. The company is currently hard at work on the community-powered Files.fm Library, which will contain an expansive collection of images, videos, audio, documents, books, and software. As part of a push toward continuous innovation, Files.fm also has a number of other plans in store for its customers, including chat functionality and enhanced compatibility — so stay tuned.
No matter what device you're using, there are two words that render it virtually useless: Storage full.
On an iPhone, for example, those words mean your system may not function correctly. You also can't take more photos or download the latest app without the laborious process of freeing up space. Otherwise, you'll have to find the funds to upgrade to a new device with additional storage — a costly prospect, indeed.
Files.fm, a cloud storage provider founded in 2008, is proposing an alternative solution. By purchasing 1TB of lifetime cloud storage for just $99, customers can secure enough space to back up all the files they need.
Plus, they'll receive early access to Files.fm Library, a community-powered file marketplace financed through transparent blockchain payments and FFM tokens. Just one token provides 100MB of private cloud storage space on existing Files.fm accounts.
"Files.fm started as a simple service where people could upload and share files," said Elina Plume, Research Officer at Files.fm. "Now, 12 years later, it has grown to include several new products and serve far more customers. We're still working on adding services, such as the Files.fm Library, to help differentiate us from other big players in the field."
In addition to the exciting new digital library, which will include images, video, audio, documents, books, and software, Elina told us Files.fm has other plans up its sleeve. In the future, customers can expect continuous innovation in the form of enhanced compatibility, messaging functionality, and security features.
Ultimately, the company's goal is to provide all-in-one file management solutions that keep businesses and professionals seeking cloud storage sticking around for decades to come.
12 Years of Experience Providing All-in-One File Management
Files.fm, based in Latvia, launched in 2008. At the time, Elina said the competition was scarce, especially compared with the saturated market the company faces today. Now, 12 years later, Files.fm's creative approach helps them maintain a competitive edge.
"We differentiate ourselves by providing a unique combination of services so users can get everything they need in one place," she said. "It's not just file storage — we offer computer and server backups, file syncing, file upload forms, file sales, and website hosting."
The company's encrypted file backup solutions, for instance, allow users to create automatic copies of their files for remote storage in a secure datacenter. Files.fm suggests that customers employ a 3-2-1 universal backup strategy in which three copies of each file are stored: one locally, and two at distinct remote locations.
File upload forms, on the other hand, are especially convenient for those looking to collect documents, photos, or videos from multiple contributors. "A teacher, for example, could embed our plugin on their class website, and students would be able to drop content, such as essays, right where they need it," Elina said.
The company's current platform for selling digital downloads allows business account owners to embed mobile-friendly file folder galleries on their websites using prewritten code. For use of the system and payment processing functionality, the company deducts a small percentage from each transaction.
"Users can sell the files that they upload, define their own use rights, and even use our public profiles to sort of market the files if they don't have a website of their own," Elina said.
Finally, the company offers private virtual server rental, allowing customers to store web projects, databases, emails, and software solutions. "Our hosting services at the time are mostly local — we haven't extensively marketed this service worldwide yet," Elina said.
Files.fm Library: A Digital Content Repository and Marketplace
The Files.fm library, of course, will be a significant value-add for customers once launched. The crowdsourced digital content repository and marketplace will serve as a united platform for organizing, storing, and preserving useful data.
"It's an ambitious plan — we envision a huge library and marketplace for files that are both publicly accessible and copyright protected but available for a fee," Elina said. "Numerous other services exist that provide access to free files, but there is no unified platform for paid and free content with an effective payment process and transparent incentives."
Using the platform, anyone can publish files they think will be valuable to the community. All content will be shared on a hybrid decentralized network run on blockchain and incentivized by a token economy. This design will encourage participation while ensuring fast downloads and uninterrupted access to files — even if the main servers experience heavy load or service interruptions.
The Files.fm library will also feature specialized file search technology leveraging extensive metadata tagging via both artificial intelligence and the community at large. Users who add metadata, upload content, or provide seeding will receive free FFM tokens, which can be used to legally access movies, TV shows, music, books, and other digital assets.
"By performing useful work in the library, users will be able to receive compensation in blockchain tokens," Elina said. "This encourages moderation and leads to a sense of community wherein users give and receive."
In the long run, the ultimate goal is to create the world's largest collection of both copyrighted and copyright-free content. Files.fm is currently at work improving services on which the library will be built. Specific plans may change slightly as the project develops.
Up Next: Chat Functionality, Enhanced Security & More
When it comes to internal development, Elina told us Files.fm is always interested in what the company's user base has to say. "If we notice that certain users are very active, we will approach them and ask if there's anything they would like for us to add," she said. "We get lots of input on the features customers would like and then determine if we can implement those features in a reasonable manner."
The approach has led to several recent developments. To better serve designers and architects, the company recently improved compatibility with CAD files, adding file previews directly in-browser. For the open-source community, the company introduced enhanced compatibility with Open Office, a free office productivity software suite.
Files.fm is in the process of testing a file version history feature that will allow users to restore earlier versions of their documents. The company has also just launched messaging and chat functionality for all users. Organizations with several sub-users might find this the most useful, as they can add comments and mention other users directly in-file or folder, for example, asking for clarifications or changes.
In terms of security, Elina said to look out for advanced features on the horizon. "We'll give company admin users the possibility to enforce logouts, set password difficulty, and timed password change requirements," she said. "The goal is to add the most important security features for organizations to use."