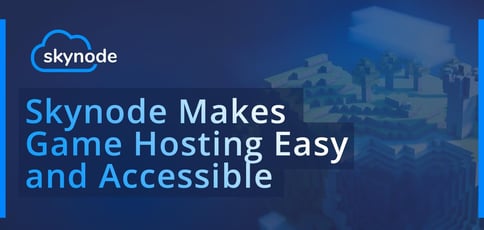 TL; DR: If you're a fan of online games like Minecraft, Skynode is a good bet for a lag-free gaming experience. The game hosting provider, established in 2017, now provides more than 15,000 clients around the world with an easy-to-use hosting platform backed by accessible, 24/7 support. By fostering relationships with customers through free competitions and live events, Skynode has nurtured a fiercely loyal following during its first four years in operation.
The blocky, highly imaginative world of Minecraft was first introduced to the general public in 2011 as a simple desktop application. After quickly gaining popularity, it was ported to various PC, mobile, and gaming console platforms.
Today, just 10 years later, Minecraft holds rank as the best-selling video game of all time, with 200 million copies sold and 126 million monthly active users.
The basic Minecraft game for PC remains free. But to play online with friends, users have to purchase server space to host their gaming environment. While similar solutions exist for free, almost all of them have storage and use limitations that force users to upgrade.
Skynode is the exception. The game hosting provider offers users up to two gigabytes of space and the option to renew their licenses for as long as they'd like.
"My favorite thing about the company is our free Minecraft hosting," said Tycho Loke, Head of Marketing at Skynode. "It's unlike other free services on the market. Users must reactivate their servers every three hours, but they can play for up to 12 hours by watching video ads. We have some users who have been on the same server for over six months now."
Today, Skynode operates a low-latency network spanning Canada, France, the United Kingdom, and the United States. The global Skynode gaming circle is open and engaged, with a Discord community of nearly 5,000 active members — many of whom battle to win prizes in Skynode's free competitions.
Put simply, Skynode doesn't take its customers for granted. From developing highly performant products to offering free solutions for those with tight budgets, the company is committed to standing tall as a champion for the gaming community.
A Seamless, Customizable User Experience
While many game hosting solutions package products in standard panels, Skynode is invested in building systems that are intuitive and easy to navigate. By creating such an experience, Skynode allows customers to focus on the thrill of the game rather than confusing server panels, high costs, and latency issues.
"Everything we build is custom made," Tycho said. "We want to provide unique options that give our customers the best gaming experience possible. It's all about the customer experience."
Skynode positions its customers as experts when it comes to frontend development. Developers orchestrate the platform's backend to ensure everything runs correctly, but the product team regularly builds new features and products based on customer requests.
And while nearly every business claims to listen to its customers, Skynode goes the extra mile. For example, the company recently expanded its free Minecraft storage simply because customers asked.
"Our community suggested that one gigabyte for the free server wasn't good enough," Tycho said. "We listened and upgraded it two gigabytes," Tycho said. "We now have nine dedicated servers just running free game hosting. And our team takes the time to continually work on these servers and improve their quality."
In an effort to democratize product development, the company also set up a voting system that empowers members to effect real change. Moves like this are evidence that Skynode caters not only to its highest-paying clientele — but to every member of its community.
Easily Accessible Support via Discord
The hosting industry is notorious for its lack of customer support. But with Skynode, anyone can reach out to a customer service agent through chat.
In fact, Skynode created one of the first custom-built ticket bots in Discord. The solution allows customers to easily create support tickets directly through the platform. That way, they don't have to log in to multiple solutions to resolve a simple issue.
For Skynode, bespoke development is central to the customer experience.
"We develop everything ourselves, including our custom support system through Discord — the biggest gaming chat platform there is," Tycho said. "Our CEO actually created the first ticket bot within Discord. We have our own custom ticket system with a web-based interface, but it's all sent through Discord messages."
By meeting customers where they are, Skynode can provide better service while building an engaged user community. Support through Discord's live chat also leads to faster resolutions and quicker development timelines.
"Our support is excellent," Tycho said. "If you're on live chat, we help you on live chat. There's no going elsewhere to place a ticket."
In addition to super-efficient support, Skynode offers extensive information on how to navigate the platform through its knowledge base. The content covers nearly everything a user would need to know, including how to use the Skynode panel, install plugins, and set up servers.
Listening and Responding to the Needs of the Gaming Community
As part of the larger gaming community, Skynode recognizes that its success is directly related to the loyalty and feedback of users. As a result, Skynode views satisfactory customer experience as a more significant measure of success than profit.
"We have a suggestion box where we ask customers to make requests," Tycho said. "If 100 customers ask for Terraria server hosting, we'll look into that. What the customer wants, they get. That's our philosophy."
This approach sets Skynode apart from other game hosting providers — and it shows. Skynode has grown steadily since its 2017 launch. Now, the company has even built up enough resources to buy its own servers. In doing so, the Skynode team hopes to better fulfill its mission to provide the best gaming experience available.
"We rent all our hardware right now," Tycho said. "But in the next few months, we'll own ten dedicated servers hosted in our own datacenter. We'll be able to offer a better product and service to our customers because of this."
With its own equipment and data center, Skynode will further its mission to offer all types of customers the best of game hosting. Ultimately, the company's goal is to deliver the infrastructure and hosting packages required by its growing and diverse customer base — from the teenager who wants to try Minecraft for free to the most serious Rust aficionado.