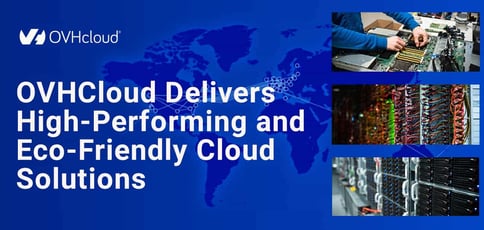 TL; DR: OVHcloud provides a host of cloud solutions for every need, from hosted private cloud and bare metal servers to public cloud and VPS offerings. Within its cloud ecosystem, the company offers a full hybrid cloud solution that allows users to leverage every type of cloud offering together or combine with other cloud platforms for a multicloud system. What distinguishes OVHcloud is its price performance and eco-friendly framework. Users receive the best value for their money while using top-of-line servers that run in environmentally friendly datacenters.
For years, analysts and other industry experts have been declaring the end of bare metal servers was soon in sight. Cloud servers and virtualization, they said, would take over the industry and put bare metal servers to bed for good. But bare metal servers continue to thrive as their unique benefits surpass those of the cloud's for many use cases. Cloud hosting can't beat the security and personalized control that bare metal servers offer.
The team at OVHcloud can attest to the viability of bare metal servers. Jeffrey Gregor, General Manager of OVHcloud US, told us how bare metal servers being dead could not be further from the truth. OVHcloud has witnessed the strength of these servers in the market since many of its customers leverage them for their workloads. Gregor refers to OVHcloud's customers as builders because of how they use the hardware.

"They either operate them in a traditional sense or use them to build their own clusters, hyper-converged infrastructure solutions, or put their own hypervisor on it. So they want the raw power and control of the bare metal servers," said Gregor.
OVHcloud is a leader in bare metal servers. But that's not the only product they exceed in building and delivering. The cloud solutions company provides a suite of cloud services and resources, including hosted private cloud, object storage, VPS services, and public cloud networks. The team also partners with reseller hosting companies to power their networks.
"We have customers in almost every country and sell servers in the US, but also in all of our global OVHcloud datacenters, which are in Europe, Asia Pacific, Singapore, Australia, and soon to be in Mumbai, India," said Gregor.
Delivering a Diverse Range of Resources for Private Cloud to Multicloud Usage
One of OVHcloud's strengths is its vast breadth of cloud solutions. OVHcloud accommodates a diverse range of needs and use cases with its varied cloud ecosystem. Customers can use its hosted private cloud, powered by VMware, and bare metal servers to run everything from their internal infrastructure to databases and mail servers. Its public cloud and VPS offerings can help developers build their applications.
"We accommodate all customers' journeys. They could be very early in their migration to the cloud and start with some light services, maybe on the developer side. From there, they can either get bare metal or hosted private cloud, depending on how they want to transition," said Pascal Jaillon, Senior Vice President of Product and Digital Accounts at OVHcloud.
Although OVHcloud is successful with its bare metal services, its host private cloud offerings also stand out. OVHcloud was one of the first to deliver VMware within its solutions and offer it on a monthly subscription basis. On the private cloud, users get dedicated hardware and data stores. The company also leverages Nutanix to allow flexibility within cloud platforms.
"We're also multicloud by design. So customers can easily move their workloads between OVHcloud and other providers. With Nutanix, they can connect all of that together to have either a multicloud or a hybrid cloud solution," said Gregor.
The OVHcloud US team also works with reseller hosting companies and sources them with hardware capacity and server capabilities, from bare metal to VPS. "We're not a web hosting company. But we support web hosting companies. In fact, we have a large, well-known customer in the US for whom we provide white-label servers and several large VPS resellers," said Gregor.
Championing a Holistic Approach to Cloud Sustainability
Sustainability is not a new trend for OVHcloud. From the beginning, OVHcloud has prioritized eco-friendly measures within its company framework. Gregor said that OVHcloud is ecologically sound by design, and that is evident in its infrastructure makeup. Since 2003, OVHcloud has used proprietary water-cooling technology for its datacenters.
"It allows us to have very low PUE and WUE scores relative to the industry because we're only cooling the processor and other components on the board rather than using all the electricity to cool the whole datacenter with air conditioning," said Gregor.
OVHcloud's water cooling technology is built on a closed-loop system to reduce water usage. Makeup water is rarely necessary, only for maintenance and other one-off occasions. But OVHcloud's sustainability goes beyond its water cooling but rather lives in its overall DNA. The company evaluates everything based on running configuration.

"We've got a good holistic approach. We're coming out with a carbon calculator. So customers will be able to know how much carbon equivalent their servers are using," said Gregor.
OVHcloud also doesn't build new datacenters. Instead, it repurposes existing buildings and gives multiple lives to its servers. By leveraging a cyclical, internal economy and process, OVHcloud can prioritize sustainability while keeping its servers functional longer.
"We're vertically integrated by design. So we do everything from bending the sheet metal to putting together and building our own servers, putting them in our datacenters, and running the datacenters. We also run our own 70 Tbps global fiber network," said Gregor.
Tackling the Knowledge Gap of Cloud Adoption
OVHcloud sets itself apart from competitors by being a price-performance leader and delivering sustainability by design. The OVHcloud team tries to provide customers with the most value for their money and does so by keeping its prices competitive. Gregor told us OVHcloud's philosophy is to make cloud services accessible to everyone, starting with its pricing.
"We have compelling products at a very good price. We don't lock anybody in, support open-source, and don't charge for bandwidth, which is another big one, especially against hyperscalers. People who have moved to the cloud, that's where they get the sticker shock," said Gregor.

But competitive pricing isn't the only way OVHcloud makes cloud services more accessible. The company also tackles the knowledge skill gap and helps users along their cloud adoption process with migration and teaching resources. Users can leverage several cloud assistance options, including its professional services and third-party migration, and managed services. OVHcloud partners with managed service providers and other system integrators to help users get on the cloud seamlessly.
"We also have professional services, which involve training and teaching. So it's not someone who will do it for you but an expert who will get online with you. They will help you with your hands on the keyboard and walk you through what you need to do so you can learn the process," said Gregor.
What's Next: Object Storage, DBaaS, and Server Refreshes
Over the years, OVHcloud US has achieved many accomplishments, including acquiring the cloud hosting arm of VMware and growing its workforce from 15 employees to about 200. But continuous innovation is one of the company's staples, and it has much more on the way. OVHcloud will expand its object storage to help enhance the building block collection of its PaaS offering.
"We've got a new high-speed object storage in one of our datacenters on the East Coast. Next month, we'll be launching it on the west coast. So it'll be covering both of our datacenters here in the US. And that's based on technology we got from an acquisition we did a few years ago, a company called Open-IO," said Gregor.
Since data is exploding, OVHcloud also seeks to help users manage the influx with DBaaS software. Gregor said many people don't have expertise in database management, so OVHcloud will take that burden away by offering managed DBaaS. The OVHcloud team will handle the setup, manage the database, and apply patches and updates. The company is also upgrading its most capable and high-grade server range.
"We're doing a refresh. So later this year, we will be coming out with all new of our most powerful servers. They will be enabled by Nutanix. So people will be able to build hyper-converged infrastructure using Nutanix and not only VMware," said Gregor.
Besides the server refresh, OVHcloud seeks to help cloud-native companies and startups accelerate their growth. OVHcloud's startup program offers credits for its public cloud and PaaS offerings to allow companies to innovate and bring value to their end customers.
"We also continue to look for more partners and system integrators of various sizes who can help our end customers achieve their goals, such as move to the cloud, integrate a multicloud solution, or even just run their cloud services," said Gregor.