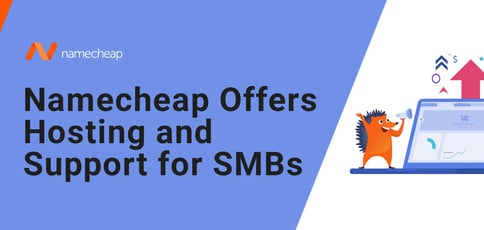 TL; DR: Namecheap is an accredited registrar and technology company that manages more than 14 million domains. Its product and service offerings include shared and dedicated server options and VPS hosting to help businesses launch and grow their operations. In 2020, the privately owned company also announced Bitcoin payment support through BTCPay, and its customers can add up to $100,000 to their Namecheap account balance for payments.
SMBs are ramping up their digital investments in the face of increased market volatility. A survey by The Harris Poll for Salesforce reported that the top motivators in this shift are increased productivity (62%), improved business agility (60%), and better data security (54%).
The trend is also driven by a belief that technology can help businesses survive any challenges to come, including new COVID-19 variants, climate change, and political tensions that affect global trading. More than 70% of SMB respondents told The Harris Poll that their business survived the COVID-19 pandemic because of digitalization.
And those digital-first SMBs look to technology suppliers to provide a broader spectrum of innovative support. The smaller the business, the less time it has to maintain dozens of accounts for its IT requirements. Many now prefer providers that can handle multiple needs through a single account and still offer affordable and flexible pricing models.


Namecheap was founded in 2000 and established a reputation as a value-added internet domain registrar. Today, it manages more than 14 million domains that form the backbone of its business.
The Arizona-based company has also built a steady business by offering shared, dedicated, and VPS web hosting services. It has also expanded into WordPress website builders and hosting products and services. And it prices each product with SMBs in mind.
Namecheap recently branched into software tools for SMBs by introducing a focused suite of online business apps and a range of security offerings that include VPNs and cyber insurance.
"Around 2018, we made a strategic decision to expand our product offering but gear it toward the needs of startups and other entrepreneurial ventures," said Derek Musso, Namecheap Head of PR and Communications. "We provide affordable services and products for small businesses with big ideas."
Extending Domain Reach into Shared, Dedicated, and VPS Hosting Plans
Namecheap has established a solid reputation around its domain registration and management services and readily adopts innovations in this ultra-competitive market. In September 2021, it launched registration services for Handshake (HNS) domain names. Handshake is a coin-based peer-to-peer network that uses blockchain technology – similar to a secure public registry.
Handshake has been described as decentralizing the monopoly on top-level domains, including .com, .net, and .org. Handshake domains are instead distributed through Vickrey-style auctions. Namecheap currently offers .p, .pgp, .sox, .elite, .ill, .saas, .creator, .oh, .oo, .oot and .orb top-level domains.
"Handshake is a new approach to domain name ownership that bypasses traditional organizations and registry oversight. It offers people more control and ownership of their domain names and websites," Derek said. "Decentralizing the web creates a more egalitarian online space where technologies power the internet community, rather than a few stakeholders."
Offering registration services for Handshake represents a shift toward decentralization, with progressive steps that provide users with more freedom and enhanced security.
On the hosting side, Namecheap tailors its shared, dedicated, WordPress, and VPS options to the needs of SMBs. The company has a presence in the US, the UK, and the European Union.
The company offers a few versions of its shared hosting plan. Its Stellar tier provides a domain name, three websites, and a free content delivery network (CDN). The Stellar Plus plan delivers a domain name, unlimited websites, free CDN, and auto-backup. The Stellar Business tier is also popular because it adds cloud storage to the Stellar Plus package offerings.
Auctions Make Bidding for the Best Domains More Accessible
Internet domain names have amassed tremendous value as intellectual property and marketing assets since their introduction in 1985. A paper by MIT's Computer Science and Artificial Intelligence Lab estimated that the total annual value of Domain Name System ecosystem-related revenue is around $8 billion.
They have acquired additional value with the advent of domain name auctions. Namecheap entered that arena with its Namecheap Marketplace, developed by its in-house technology team. The Namecheap Marketplace platform allows domain buyers to search, find, and purchase more than 300,000 high-value domain names through auctions and listings.


"When Namecheap CEO Richard Kirkendall founded the company back in 2000, he had a notion that web domain names would become digital assets," said Derek. "And so he's long wanted to make the process of finding and buying domains simple and accessible."
The platform offers Popular Auctions, which are domains that people can bid on at the moment. The marketplace also includes Closeout Auctions that are available at a reduced price and Short & Sweet Auctions with one-to-three letter domains. Individuals and businesses can also skip the bidding and select Buy Now domains.
"The Namecheap Marketplace is designed for entrepreneurs looking for the perfect domain name for a startup or new project, or domain investors striving to expand their portfolio," Derek said. "It also maintains details of past auctions so buyers can keep tabs on the latest acquisitions and prices."
Spam Management Tools Offer Email Protection
In November 2021, Namecheap introduced Jellyfish, a proprietary spam management tool that uses machine learning to discover and block emergent threats. Jellyfish is free with Namecheap's Private Email and Shared Hosting products.
"We called it Jellyfish because, like the free-swimming marine animal that uses its tentacles to hunt their prey and for protection, our product will both capture malicious emails and protect customers from email threats," said Derek.
Jellyfish protects all Namecheap's Shared Hosting and Private Email users, as well as emails sent to forwarding addresses used by BasicDNS, PremiumDNS, or FreeDNS Namecheap users. It also protects all emails sent to domain owners with Domain Privacy Protection.


"When Jellyfish is enabled, all incoming emails travel through its filtering system. If an email is likely to be spam, it's contained within a spam folder or instantly discarded," said Derek. "If the email is valid and safe, Jellyfish delivers it into the user's inbox."
Namecheap has seen the number of spam-related requests to customer support fall by 64% since Jellyfish launched in beta in 2020. More than 1 million Namecheap customers use the solution, and it runs 400-plus filter modules to detect email threats.
"Jellyfish uses machine learning to identify known and new threats," said Derek. "Our customers can also personalize their email inboxes against specific spam threats, block or accept emails by subject, domain name, or a set of conditions."
SMBs Use a Visual App Suite to Create Holistic Branding
Namecheap has helped many individuals and businesses establish a web presence in the last two decades. And it plans to add to its portfolio of SMB apps.
"From a value-added standpoint, we will introduce more products under our umbrella brand," said Derek. "For our visual suite, we have recently introduced the beta version of our Site Maker tool, aimed at helping novices build websites in minutes. It includes a free 14-day trial, and prices start at $3.88 per month. We already provide a free Logo Maker where users can create a logo with the preferred font, icon, and color scheme for their business or personal brand."
Namecheap also offers users a business card maker that allows them to choose a design and upload a logo, and Namecheap ships the cards for free to almost anywhere in the world.
Stencil is a new addition to the Visual suite. It is a graphic design tool that Namecheap acquired in November 2021.
"Stencil was built to help digital creators, social media influencers, marketing professionals, bloggers, and others quickly source eye-catching stock photos and match them with fonts or icons to create original imagery," Derek said. "The products and services Namecheap is developing or acquiring are ones that we believe help the SMB customers that we already have. In fact, they are the types of apps and services that SMBs tell us they want."