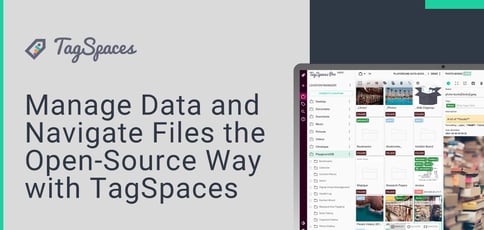 TL; DR: TagSpaces is a platform-independent tagging system that can be used to organize digital assets, search local files, take notes, and manage photos, among many other use cases. The database-free solution, founded in 2013, has traditionally provided an alternative to cloud-based solutions like Evernote. But, with the launch of TagSpaces Enterprise, the company now offers options for accessing the software via hosting on-prem or in the cloud.
As millions of homeowners break out scrub buckets and sponges for an annual spring cleaning, there's one area they shouldn't overlook — their digital spaces. Digital assets, much like stacks of mail or baskets of laundry, can pile up quickly without a solid organizational system in place.
As with any physical method of organization, a systematic approach to digital storage makes it easier to access important resources at a moment's notice. In a professional setting, this means increased productivity, reduced stress, and more innovation.
With the right file management and tagging software, executives can keep files and folders neatly organized at all times. The best tools take advantage of the powerful search capabilities of the user's operating system by leveraging the file system — rather than a standalone central database — for tagging information.
TagSpaces, for example, embeds tags into file names, allowing users to locate tagged assets using nothing more than native search capabilities. (With folders, the tags are saved only in sidecar files and not renamed.)
"Our key differentiator is that the software is not database-driven," said Ilian Sapundshiev, Founder of TagSpaces. "We decided to make the data portable. All of the metadata is stored in files and folders. If you need to transfer the information to another computer, you can simply sync your files and folders using a tool like Dropbox or Google Drive."
From digital agencies to law firms, businesses across a wide range of professions use TagSpaces to organize and grow their teams. Now, with the launch of TagSpaces Enterprise, the company is also providing options for larger organizations looking to implement digital organizational practices networkwide.
Paving the Way in Open-Source Data Management and Navigation
TagSpaces got its start as Ilian's passion project nearly nine years ago. The software was initially designed as a browser extension with tagging capabilities for file organization.
"We created Firefox and Chrome extensions that worked quite well in the first year, but due to well-intended restrictions, it became impossible to edit or read files in the browser," he said. "So we decided to move the platform to something more robust."
The platform of choice was Electron, an open-source software framework based on Chromium that combines Node.js runtime with the Chrome rendering engine.
"As a result, we were able to offer a multi-platform app that worked on Windows, Linux, and macOS," Ilian said. "Our key goal, initially, was to help people organize the local files and photos on their own computers."
The company's free and open-source option, TagSpaces Lite, still serves that purpose. The desktop software is recommended for beginners and features file and folder tagging, thumbnail generation, file management, note-taking tools, and basic search capabilities. TagSpaces Lite even includes a web clipper for capturing content from the internet.
The company offers paid packages, such as TagSpaces Pro, for those seeking additional features.
"Today, we also offer a web version of TagSpaces built with the help of AWS Amplify, a framework from Amazon," Ilian said. "In addition, we have TagSpaces Enterprise, where we can host your files and organize your files in the cloud. It combines all the features offered by the Lite and Pro editions with a web interface."
Delivering Freedom of Choice
Over the years, the TagSpaces team has expanded its file management and navigation tool to offer customers a range of options. For example, as a cross-platform tool, TagSpaces is compatible with Windows, Linux, Mac, Android, Firefox, and Chrome.
The company also allows customers to choose between various infrastructure arrangements. By installing TagSpaces on their own hardware, users can run the app offline while keeping all data stored locally. Or they can leverage the PRO version to connect to web-based object storage solutions such as Amazon S3.
For the latter option, TagSpaces must connect with a network to work with remote object storage. Ilian told us the company started offering solutions compatible with online storage in response to trends in distributed workforces.
"The small- and medium-sized companies we serve showed interest in a web version before the pandemic," he said. "The pandemic definitely accelerated that interest."
Ultimately, offering online and offline versions of TagSpaces just adds to the company's value proposition of streamlined workflows and a better computing experience. Ilian said for most users, keeping the solution local is the easiest route. But providing cloud options gives customers more freedom and flexibility, which the TagSpaces team prides itself on.
"We are giving the customer the choice to choose which cloud platform to use," Ilian said. "The desktop version, of course, works locally, but you can connect it the cloud service of your choice and basically sync one folder. Some businesses, for example, use Microsoft OneDrive for work purposes."
Evolution Through Community-Fueled Development
The latest version of the software, TagSpaces 3.9, was released April 8, 2021. This version builds upon previous releases with user interface improvements, additional language translations, and multiple under-the-hood fixes.
In terms of user experience, TagSpaces 3.9 includes a file menu option to open parent folders internally and a new Switcher toolbar for toggling between default, gallery, and mapique views. (The company describes mapique as a map-based view used for visualizing files and folders tagged with geolocation tags).
Version 3.9 also provides updated Korean, Spanish, Armenian, and Japanese translations. Remote storage-related improvements and Cognito support for TagSpaces Enterprise round out the release.
Ilian told us that many of these changes were inspired by ideas from the TagSpaces community. The company has a Trello board it uses to solicit feedback and suggestions for new features, which helps democratize the development process.
The core of the application is open-source, but Ilian said that the company contributes most of the code.
"The main value we get from being open-source revolves around trust — everybody can see what we are doing in the source code on GitHub," he said. "The second benefit is that, because we offer TagSpaces Lite for free, we get a lot of input from users."
Support for MinIO Object Storage
In terms of internal development, the TagSpaces team is working hard on TagSpaces Enterprise, which businesses can deploy through on-premises or cloud hosting.
One recent change is that the team enabled the TagSpaces Enterprise app to connect to MinIO servers. MinIO is an open-source software-defined object storage system created for the private cloud. The Amazon S3-compatible object storage system includes enterprise-grade features such as inline erasure coding, state-of-the-art encryption, and identity and access management.
"MinIO more or less allows you to have S3 buckets in your private network," Ilian said. "Our application works well with both AWS and Minio, again giving customers that freedom of choice."