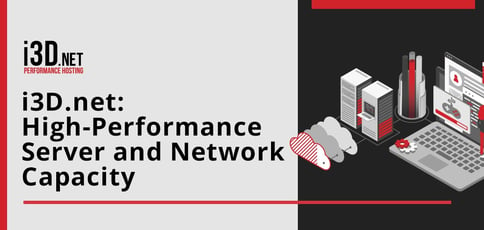 TL; DR: i3D.net initially launched as a game hosting provider but grew into a core partner for businesses worldwide thanks to its privately owned infrastructure stack, including a network build for low latency (AS49544) and a global server rollout. As i3D expands to support more business server needs, it's deploying innovative new services, including its own Anti-DDoS solution, CDN and bare-metal cloud option all in one platform.
When i3D.net launched in 2002, the company sought to fill a gap it saw in the game-hosting market, initially serving customers in Europe and then Japan and the U.S. i3D.net's rapid growth into the biggest game server provider in the Benelux caught the attention of game publishing giant EA. In addition to EA, i3D.net was hosting titles for entities including Splash Damage and THQ.
"We got an opportunity to host games for publishers around 2005, including various AAA games. Then the ball started rolling, and we built a good reputation throughout the industry," said Jeroen de Koning, Team Lead for Product and Marketing at i3D.net. "Due to being involved in an early stage with major game publishers, we've gained valuable experiences that helped us host over 300 million users on our platform worldwide today."
During that evolution, i3D.net assessed user problems, infrastructure needs, and related concerns for major game publishers that were its primary clients. By 2015, i3D.net was well-positioned as a trusted host for the gaming industry and was fine-tuning its products in innovative ways, optimizing them for hosting at scale.
"We realized our infrastructure is valuable for other segments. So we started rolling out to enterprise markets and building our own datacenter in Rotterdam, the Netherlands," Jeroen said. "Since we started offering our infrastructure stack to the enterprise market we've seen a large demand for global infrastructure whilst remaining an accessible company that offers the expertise that they need without having to escalate through support layers before getting an answer."
Today, i3D.net serves the gaming industry with its infrastructure stack and enterprise customers. i3D.net's platform supports multi cloud scaling, high frame rates, bare metal servers, and other hosted products. The company achieves its high network performance thanks to 40 points of presence on six different continents, with a low-latency network topping 12 Tbps of throughput capacity.
Optimized Routing Reduces Latency Between Clients and Servers
Perhaps the most significant value proposition for i3D.net is its worldwide network (AS49544) that connects all locations on the private backbone, and with extensive local peering ecosystems. that deliver optimized routing. That routing reduces the lag between servers and connected client machines.
For most normal business-grade VPS solutions, latency is tolerable. However, for some applications, minimizing latency is essential to a good user experience.
For example, i3D.net hosts Discord, a popular chat application for gamers. Discord relies on text-based communication, which is reasonably tolerant of lag. However, it also features both in-app game streaming and video chatting for up to 25 users in high definition. In those cases, high bandwidth and low latency are critical to the app's gamer experience. Due to the global positioning of i3D.net with control over the full infrastructure stack, they are able to supply users of Discord servers around the globe with consistent experiences.
i3D.net was built to facilitate low-latency networking for high-profile game streaming, so its hardware and networking infrastructure perform better at scale than many hosting providers. The company has also had to flex its global presence to accommodate geopolitical realities.
"The actual quality of the network is crucial," Jeroen said. "In certain regions in the world, the local peering ecosystems are in its infancy due to various reasons which may have an effect on the end-users experience."
In the United States, Europe, and parts of Asia, peering among ISPs is generally reliable. That efficiency follows from all of the providers between the source and the destination of a packet of information partnering to deliver each other's data. But in South America, parts of Asia, and parts of Africa and the Middle East, those partnerships among providers aren't as strong, leading to more data hops over longer distances, thus increasing latency. Which is why i3D.net maintains points of presence globally and invests heavily in building out local peering ecosystems.
"We get these ISPs on board, so there's no scenic routing," Jeroen said. "Some call us the United Nations of the internet. With all these applications growing and becoming more latency-sensitive, the peering is just so important."
Game-Optimized Hosting Excels for Critical Business Use Cases
i3D.net runs its own servers at scale — it's not reliant on Google, Microsoft, or Amazon. Those larger companies can be difficult for customers to navigate without a high-ranking client executive to cut through the red tape. i3D.net's technical experts are part of the communication loop with customers by default. Jeroen said: "We share a lot of our knowledge, and we troubleshoot together with the engineers."
The company's service philosophy centers on the understanding that IT infrastructure is not the core-business of its customers. Their core business is serving their own apps or games to their customer base. That's why i3D.net's support team isn't based on a series of never-ending escalations involving sales leaders but instead on maximizing the experience of the very last link in the customer chain.
For non-gaming companies and enterprise customers outside the gaming industry, i3D.net offers a suite of solutions. That includes bare-metal servers, IP-services, colocation, and storage-and-backup services all through one platform with uniform options worldwide.
i3D.net: Delivering Fast Performance with Robust Customer Service
When i3D.net started as a game hosting provider, it filled a niche that eventually gave way to game developers trusting it for their hosting needs. Large game-publishers trusted it, and now i3D.net is a leading host of high-end gaming for the entire industry.
The company doubled down on a global infrastructure to support ultra-low latency connectivity. Its vast server network has points of presence around the world that help bridge various ISPs to ensure scenic routing does not occur. That means end users can enjoy games with appropriate frame rates and low pings. With the rise of infrastructure-as-a-service, i3D.net's technology stack has benefitted various multinationals through their global platform.
i3D.net is also committed to service and support, and it's common to reach senior technical leaders directly. It aims to solve problems promptly without invoking endless escalation pathways.
The company maintains an aggressive road map for upcoming products and services. On an infrastructure front, i3D.net has deployed more than five PoPs in 2020 and has multiple new PoPs planned across the globe in 2021, based on consumer feedback regarding where data moves on its global network.
The entire infrastructure stack, from datacenter, to network to servers comes together in i3D.net's ONE Platform. Which game studios can easily integrate into through Unity and Unreal SDK's, or through i3D.net's API. This allows our customers to really benefit from our global infrastructure at scale, says Jeroen. We ensure that the capacity needed gets automatically scaled into available compute, allowing our customers to scale their core business whilst we take care of the infrastructure needed. With additional integrated features such as CDN, Anti-DDoS, Anti-Cheat, Patching System and our Bare-Metal Cloud rollout i3D.net enables game publishers to easily manage the infrastructure of their live-games.
One of the latest additions to their product portfolio is its bare metal cloud offering.
"It's called Flex Metal," Jeroen said. "You get a bare metal server. There are no noisy neighbors, no virtualization. But you'll have it within minutes of the order, and you can cancel it every hour. All the benefits of the cloud without the trade-offs."