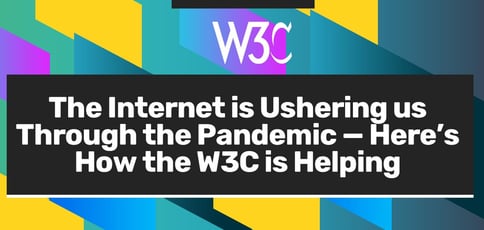 TL; DR: This year, we've depended on the internet more than ever to maintain personal and professional connections as various forces reshape our lifestyles. And we owe it to organizations like the World Wide Web Consortium (W3C), which has worked for years on standards designed to enhance the web while making it increasingly accessible. The W3C's latest strategic report provides insight into how the group is working to drive internet growth and strength through innovation, building on top of the critical foundational work it has accomplished over the years.
There's no doubt that the events of 2020 will go down in history books. The question is whether authors will be able to convey the persistent hum of anxiety underlying these events to future generations.
It makes sense that we feel this way: After all, anxiety can be triggered by a fear of the unknown. And there's so much uncertainty surrounding the ongoing COVID-19 pandemic that scientists are tracking it through text mining.
The World Pandemic Uncertainty Index, for example, monitors global Economist Intelligence Unit reports for the number of times the word "uncertainty" is mentioned in proximity to "pandemic."
The exponential 2020 spike seen on this graph speaks volumes.
Among these uncertainties, one thing is clear: The future is online. The internet and its rich network of servers have become exceedingly valuable during the COVID-19 crisis in facilitating social distancing through remote connections.
The proof is in the adoption rates. As Microsoft CEO Satya Nadella said while on an earnings call in late April: "As COVID-19 impacts every aspect of our work and life, we have seen two years' worth of digital transformation in two months."
The good news is that organizations like the World Wide Web Consortium (W3C) are constantly working behind the scenes to support an accessible and open web. Recent reports from the W3C May 2020 Strategic Highlights and the W3C October 2020 Strategic Highlights reveal insights into the group's latest efforts, which are increasingly centered around the pandemic.
"Indeed, the 2020 global pandemic accelerated a trend for the world to go more virtual, making the web even more critical to society in information sharing, commerce, real-time communications, entertainment, and many more," the October report states.
"The web has also grown in importance to industries conducting business online, and recognizing this, numerous players have joined the consortium to further standardization work in video communications, media, publishing, financial services, ad technology, among other areas."
Here, we'll provide a brief history of the W3C and dissect the implications of its most recent reports.
A Long-Standing International Community Devoted to Web Standards
It was true when the late American astronomer Carl Sagan said it, and it's equally valid today: "You have to know the past to understand the present." Behind the vast network of servers that make up the internet today is a vibrant history of collaborative research spearheaded by its inventor, Tim Berners-Lee.
The mastermind invented the web via an original proposal in 1989, though he officially came up with the term World Wide Web and wrote the first web server and client program in October 1990.
Tim Berners-Lee went on to pen the first version of the standard markup language for documents published on the web: HTML. As the web evolved, others refined his early specifications for HTML, HTTP, and URLs.
An unstoppable force, Tim Berners-Lee also founded the World Wide Web Consortium (W3C) in October 1994 at the Massachusetts Institute of Technology's Laboratory for Computer Science. He did so in collaboration with CERN (where the web originated via the CERN Server), DARPA, and the European Commission.
Today, a collective of 37 working groups and 10 interest groups support W3C in creating web standards, guidelines, and supporting materials. Recent efforts include a focus on online privacy, a growing concern as remote workspaces increase under local coronavirus safety measures.
The W3C has already been instrumental in improving online security by developing authentication technologies that replace weak passwords and mitigate threats. In its May 2020 report, the consortium revealed it had established a Privacy Community Group to develop privacy-focused web standards and APIs intended to enhance user privacy through advanced browser behavior.
Among other efforts, the consortium has recently ramped up activity in its existing Privacy Interest Group, which is creating a draft of a new Target Privacy Threat Model; and the Improving Web Advertising Business Group, which aims to establish opportunities for privacy-centric online advertising.
"Privacy and security — integral to human rights and civil liberties — have long been important in the web consortium's agenda," the October report states. "Users rightly fear the misuse of their personal data and being tracked online, including browser fingerprinting, the spread of disinformation, and other online harms. These are difficult and urgent challenges. We have begun discussions about how to help users find trustworthy content on the web without increasing censorship."
Leveraging the Web to Meet Today's Industry Needs
COVID-19 has also accelerated digital adoption across industries at unprecedented rates. Nearly 75% of finance leaders and CEOs polled in a March 2020 Gartner survey said they planned to permanently move at least some of their on-site workforces to remote positions, even post-COVID-19.
The W3C's recent industry-related work, as detailed in the October 2020 Strategic Highlights report, has the potential to eventually assist professionals in navigating the COVID-19 business landscape. The report specifically covers web payments and ecommerce, digital publishing, media and entertainment, web and telecommunications, and the web of data, among other areas.
The following overview highlights topics most relevant to our readers:
Web Payments
The ecommerce industry is currently booming. In the first eight weeks of quarantine, the internet's share of total retail sales skyrocketed from 16% to 27%. Prior to COVID-19's spread, such growth took 10 years to achieve.
Online retailers, rejoice: The W3C has and will continue to work to facilitate a streamlined online checkout process, consistent user experiences, and lower front-end development costs via payment standards.
In this area, the consortium is focused on large-scale deployment of web authentication in browsers, as well as authenticators that are built into mobile devices. It is also exploring changes to browsers intended to reduce fingerprinting capabilities, limit third-party storage access, and find alternatives to fingerprinting.
Digital Publishing
The internet has increased access to communication significantly over the past three decades. It offers a wealth of information and engagement opportunities that have never been more valuable than in today's socially distant environment. W3C aims to advance this universal publishing platform through a focus on accessibility, archiving, distribution, offline access, portability, print on demand, reliable cross-referencing, and typography and layout.
The Publishing Working Group has recently been focused on developing standards for audiobooks, an area that currently lacks such guidelines, forcing publishers to face extra costs and delays in time to market. Work is also in progress to increase the interoperability of publications and reading systems in the EPUB file format. (Most e-readers support EPUB, and compatible software is available for most consumer devices).
Media and Entertainment
W3C is also working to shape the future of the media and entertainment industry by standardizing the capabilities needed to create immersive experiences. Interestingly, such solutions have been recently used to improve the treatment of coronavirus patients in rural areas. The W3C's Current goals include reinforcing core media support, minimizing fragmentation, and creating the future through multiple emerging technologies for immersive media.
Web and Telecommunications
On the telecommunications side, W3C has recently zeroed in on Web Real-Time Communications (WebRTC). The technology uses peer-to-peer connections requiring both clients to provide an ICE Server configuration.
The WebRTC Working Group is intensely focused on publishing the WebRTC 1.0 specification in the next few months. The implications for remote communication and collaboration in this area are enormous.
"WebRTC has reshaped the whole communication landscape by making any connected device a potential communication end-point, bringing audio and video communications anywhere, on any network, vastly expanding the ability of operators to reach their customers," the October report states. "WebRTC serves as the corner-stone of many online communication and collaboration services."
Web of Things
W3's focus on the Web of Things is designed to complement existing Internet of Things (IoT) ecosystems.
Thus, the Web of Things Interest Group is identifying use cases for applications and services in collaboration with external standards development groups. Progress has already been made in the areas of semantic interoperability and end-to-end security across platforms.
Helping Ensure Critical Web Accessibility Measures
The consortium's latest report also addresses how the pandemic is impacting people with disabilities.
"Digital accessibility is more important than ever during this time when it is harder to gather together in person," the October report states. "Remote meetings, school, work, health care — web accessibility provides an inclusive foundation across all of these settings, and the Web Content Accessibility Guidelines (WCAG 2) is where to get started."
W3C recently integrated accessibility guidance into its Continuity of Operations document, which the team used internally to move to 100% remote operations this year. Finally, The Web Accessibility Initiative (WAI) is providing guidance on accessible video conferencing and remote meetings via its Accessibility of Remote Meetings draft.
Stay tuned for the W3C's next strategic report, due out in six months. In the meantime, if you'd like to get involved, the public is welcome to participate via discussion lists, events, blogs, translations, and other opportunities.
Advertiser Disclosure
HostingAdvice.com is a free online resource that offers valuable content and comparison services to users. To keep this resource 100% free, we receive compensation from many of the offers listed on the site. Along with key review factors, this compensation may impact how and where products appear across the site (including, for example, the order in which they appear). HostingAdvice.com does not include the entire universe of available offers. Editorial opinions expressed on the site are strictly our own and are not provided, endorsed, or approved by advertisers.
Our Editorial Review Policy
Our site is committed to publishing independent, accurate content guided by strict editorial guidelines. Before articles and reviews are published on our site, they undergo a thorough review process performed by a team of independent editors and subject-matter experts to ensure the content's accuracy, timeliness, and impartiality. Our editorial team is separate and independent of our site's advertisers, and the opinions they express on our site are their own. To read more about our team members and their editorial backgrounds, please visit our site's About page.