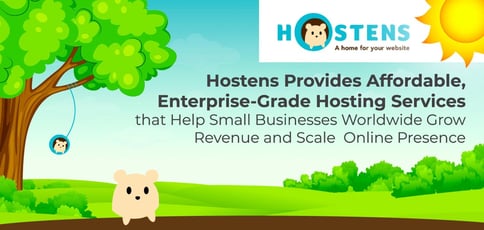 TL; DR: Hostens helps businesses and individuals reach global audiences through its accessible hosting services and Tier III datacenter in Lithuania. It offers a variety of affordable packages for small businesses, including shared web hosting, VPS hosting, VPN services, and domain registration. As the newest division of its parent company, Interneto Vizija, a leading European hosting firm, Hostens delivers security and reliability for U.S., Canadian, and Asian customers. The Hostens team has fun, but it also works hard to ensure that customers get their sites online quickly and maximize uptime.
In today's global economy, even the smallest businesses benefit from building an online presence. Those that build websites can boost their credibility, attract new customers, develop their brands, and differentiate themselves from the competition
But choosing the right hosting partner is critical. If a web host produces a site that is clunky, slow, and ignores SEO, a business can feel like a hamster running on a wheel — working hard, but going nowhere.
Hostens believes that businesses shouldn't need to put in that much effort without seeing results. The company wants to help its clients tap into a global audience and hit the ground running without wasting any effort.
That is why Hostens offers affordable, intuitive, enterprise-grade web hosting services with clear pricing and no hidden conditions or fees. And all of its hosting plans come with a free website builder.
"We provide domain and hosting services for client projects, whether it is a personal blog or an ecommerce shop," said Valentine Cirba, Product Manager at Hostens. "And we love having fun, but we're also serious about delivering great outcomes."
Hostens was built with reliability and redundancy in mind. It leverages the enterprise-grade hardware of its parent company, leading Lithuanian host Interneto Vizija, and was created to serve clients from the U.S., Canada, South America, Asia, and Europe. That backing allows Hostens to offer VPS hosting and virtual private network (VPN) services, alongside domain registration, SSL certificates, and spam filters.
Hostens has grown into a well-known and successful brand with a dedicated following that appreciates its commitment. Those customers also appreciate its transparency.
"We aim to provide straightforward hosting packages without any hidden conditions," said Valentine. "It means that we don't mislead our customers with 'unlimited' offers, including 'unlimited storage,' 'unmetered bandwidth,' and similar marketing phrases. The truth is, it's almost impossible to do 'unlimited' anything in technology. We're transparent, and that sets us apart from our competitors."
Delivering Secure and Reliable Hosting from the Heart of Lithuania
According to Hostens, it runs the most modern datacenter in the Baltic region, located in the Lithuanian capital of Vilnius. That datacenter provides fast, reliable optical connections to all of Europe's network exchanges.
With 140 server racks housed securely at the site, the datacenter is certified to a Tier III international standard, which allows Hostens to offer its customers 99.95% uptime. The standard defines a location that has "redundant and dual-powered servers, storage, network links," as well as IT components that are "powered with multiple, active and independent sources of power and cooling resources," according to Technopedia.
The datacenter's infrastructure goes beyond those requirements, offering an impressive array of power and internet connections for each server rack.
In addition to being Lithuania's capital, the city of Vilnius is also the vibrant heart of the country. With a burgeoning startup community that includes Vilnius Tech Park, the largest tech startup hub in the Baltic states, the city boasts among the highest broadband speeds and greatest fiber-to-premises penetration in the European Union. Several global companies, including Google and Uber, even have offices in the city.
And Hostens has been a part of that surge since 2016. According to the World Bank's Doing Business Report's Ease of Doing Business rankings, Lithuania ranks 16th in the world.
Bringing Transparency and Clear Pricing to Customers Around the World
Since its inception in 2016, Hostens has amassed more than 115,000 customers around the world. The brand focuses on individuals and small businesses in the U.S., Canada, and Asia, and came along at a convenient time for the company's expansion into global markets, said Valentine.
The Hostens team consists of senior engineers with broad experience in supporting, configuring, maintaining, and administrating Linux systems. They specialize in cloud computing and virtualization systems based on OpenVZ and KVM.
That team is part of the reason why Hostens has competed against significant hosting industry players since the beginning.
And Hostens can offer nearly anything its larger competitors offer. Including the newest HP ProLiant DL360 Gen10 servers, easy-to-use control panel cPanel, and a complete suite of payment tools. The company prides itself on offering everything users need to launch, secure and manage a website.
As new technologies have taken hold in the hosting market, providers can no longer offer merely PHP hosting, said Valentine. Instead, they must offer Python, Ruby or Node.js, as well.
"Luckily, cPanel dictates these trends and we can easily follow along with them," he said.
cPanel, an online Linux-based web hosting control panel for shared hosting, supplies a graphical user interface (GUI) along with tools that make it easier for Hostens clients to administer their own websites. Hostens provides both a demo version and a trial version of cPanel.
"In the near future, it will be interesting to watch how all these 'unlimited offers' will change due to the recent cPanel pricing changes," Valentine said.
In June 2019, cPanel announced a new pricing structure and licensing model. Now, instead of an unlimited number of cPanel accounts per license, the company's pricing structure is tiered based on number of users, not number of servers.
Although cPanel has made several adjustments to the model after getting feedback from its customers, the new structure remains intact.
The Aim: To Make Building Online Presence Accessible to All Businesses
The mission at Hostens is to help customers get online and grow their websites instead of feeling like they're spinning a hamster wheel and getting nowhere. The Hostens team even has a goal inspired by the company's mascot — a hamster.
"As we like to say, 'even your hamster can have a website now.' It is more than a slogan. It's a way of thinking and doing business," said Valentine. "Our goal is to provide affordable, high-quality, easy-to-use web hosting services with clear pricing and without any hidden conditions."
Hostens accomplishes that mission through its Tier III datacenter, free tools, and robust support services. The website also includes a knowledge base section with in-depth how-to articles, and a wide range of FAQs.
"We emphasize our 24/7/365 professional customer support," said Valentine. "Our strength is the people who work here. They are creators, thinkers, and explorers. So they're always willing to take an extra step to solve customer issues. Because we're a small team, it's easy for us to be flexible, relaxed, and friendly. And, based on reviews and feedback, our customers feel that way, too."