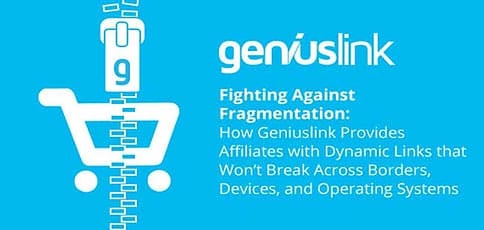 TL; DR: Affiliate marketing is a win-win for publishers and brands, with both earning revenue when consumers make purchases. However, directing consumers to the proper online store isn't as cut and dry as it seems. Global brands have customers in different countries, where they speak their own languages, spend their own currencies, and browse on a plethora of devices across a variety of operating systems. Geniuslink sought to solve this issue by offering dynamic affiliate links that drive consumers to localized landing pages for purchasing on any device wherever they may be. Thanks to Geniuslink, one link now fits all.
Jesse Lakes was living an endless summer lifestyle after college, alternating between working as a raft guide in Colorado and Costa Rica, and spending the fall living with his parents in Montana and tinkering away on what he calls his "geek projects."
After a few misses, one of his projects finally started to gain traction. He created soundtrack websites for some of his favorite extreme sports, such as snowboarding and surfing, where he would curate a list of 50 or so songs and include links to buy these songs, earning his share of each song purchase through affiliate programs for iTunes and Amazon.
While Jesse was busy mastering affiliate marketing through the two e-commerce powerhouses, he had the aha moment that led to the business he's known for today — Geniuslink. His soundtrack sites were receiving international traffic, but his affiliate revenue was restricted to the U.S.
The problem, which he discovered wasn't unique to his sites, was his affiliate links were sending clicks to the U.S. stores for Amazon and iTunes, where purchases couldn't be made by users in other countries. However, geography wasn't the only element holding affiliate marketing back.
"Most people think of links as this static thing. Everyone thinks of Bitly with the short links, and that works really well for static content," Jesse said. "If you write an article, it's going to live in one place no matter where someone is coming from or what device they're coming from. When you move to the world of commerce, there are all the different nuances — the language, the currency, the shipping, the different international stores."
Geniuslink specializes in fixing the fragmentation that was previously limiting marketing reach. After all, traffic comes from every part of the world across a variety of devices and operating systems. Geniuslink creates dynamic links that use algorithms to direct clicks to the proper e-commerce destinations, ensuring marketers get credit for the traffic they're driving across the world.
"We create intelligent links, customizing how a link behaves based on different rules — so geography, language, device, operating system, date," Jesse said. "So in the U.S., it's going to go to Amazon.com, but in South Africa, since there's no Amazon store, you're going to need to use something else."
Jesse Leaves Apple for a Passion Project that Helps Others Profit
Inspired to solve this global commerce fragmentation problem, Jesse started GeoRiot in 2009 with Co-Founder Jesse Pasichnyk. However, he decided to put his venture on the back burner when he received an offer he couldn't turn down.
Jesse had learned so much about iTunes' affiliate program that he literally wrote the book on it. Soon after he finished his e-book, "Mastering the iTunes Affiliate Program," he was slapped with a cease and desist letter from Apple. After all, how could this self-professed "raft bum" know more about Apple's affiliate program than anyone currently working on it?
After an initially testy encounter, Apple realized Jesse would be a valuable asset and offered him a contract to work on some of the support issues that were stacking up, eventually elevating him to Global Product Manager of the affiliate program.
"The funny thing is all the problems I talked about in the book and how to solve them — as soon as I got to iTunes, I helped them start solving them at the source," Jesse said. "So I really spent all this time writing this book, and then within a few years, the book was mostly obsolete due to me."
Jesse spent two years managing the iTunes affiliate program before leaving behind the lucrative job to scratch his entrepreneurial itch by returning to GeoRiot, which was rebranded as Geniuslink in 2015 to reflect how the company solves more than just geography issues in affiliate links.
Jesse's second employee was his brother, who has since left the Seattle-based company, but out of his 10 full-time employees, many are either friends or family members of Jesse or his co-founder.
"You kind of hear that you shouldn't work with family or hire friends," Jesse said. "I've always argued the exact opposite. This company is my baby. I want people that I can trust. My friends are my friends because I can trust them. So, it makes sense if they have a skill set to offer."
Affiliate Marketers & Brands Use Intelligent Links to Boost Conversions
The linking tool was originally built to create dynamic links for the affiliate programs of iTunes and Amazon, but Jesse realized this was a problem that was costing brands and bloggers revenue they'd earned all over the world.
"GeoRiot and Geniuslink had continued to grow," Jesse said. "It was solving a problem for a lot of people and it was in a good place, but we needed to move past that super-focused affiliate link for iTunes and Amazon. If we were really going to do something big, like we thought we could back in 2009, we needed to open it up for more than just that."
Genius Link has been constructed as a fairly open-ended platform, which has resulted in a wide variety of clients — a list that includes bloggers, music and book publishers, mobile application developers, and global brands that are seeking to promote their products in additional markets. After seeing how Genius Link was helping his early clients drive revenue, Jesse knew his company was poised for growth.
"Every time we brought on a new publisher of any size or a new record label, and they started getting value from it, that was just a warm and fuzzy feeling," Jesse said. "I'm doing something right. There's more value today than there was before because we've helped someone with that."
Geniuslink has about 3,000 active publisher clients, and the value proposition for brands and bloggers becomes clear once they realize that their current revenue streams are limited.
"This is the problem: You have 40% international traffic, and you're only sending people to Amazon.com, which is only optimized to sell to people in English and U.S. dollars, but your product is available worldwide," Jesse said. "Why shouldn't you have a link that's more intelligent so someone from the U.K. can buy from Amazon.co.uk and pay for it in pounds and have it available very quickly?"
Geniuslink Prioritizes Long-Term Partnerships with a Support Team
Maybe it comes from his background in troubleshooting support issues for iTunes, but Jesse explained customer support as something fundamentally in Geniuslink's DNA. He understands the frustration that comes with not being able to quickly solve a problem and doesn't want his partners to experience anything like he did in his early days of trying to figure out affiliate marketing.
"When I was writing that book, I had so many questions and it was so hard to get those questions answered," Jesse said. "It was so frustrating, and that's ultimately one of the big reasons I wrote the book."
Partnerships are an important element of affiliate marketing, and this has carried over at Geniuslink, where there's a priority placed on providing sustainable support. The Geniuslink team is constantly making adjustments to the algorithms to steer clicks to the right e-commerce sites based on where those clicks come from as well as other factors that affect successful conversions.
"We'll get some feedback from a client and we'll go and tweak some rules and run some tests," Jesse said. "We're constantly trying to improve on that because the better the rules are, the better it is for everyone."
Directing Traffic Through Smarter Links Drives Global Commerce
Most of Geniuslink's clients realize they're not fully capitalizing on the traffic they're sending to Amazon or iTunes, and with roots in the affiliate programs of these two e-commerce leaders, the company is in prime position to offer the solution. Its clients, which include Volcom, Ranker, and PC Gamer, are already getting more out of their efforts.
"By using links intelligently, the number of clicks is going to stay the same," Jesse said, "but they're going to start improving that user experience and improving conversion rates by sending people to the store that's more appropriate for them to buy from."
The value of Geniuslink is immediately apparent for bloggers or affiliate marketing sites that are missing out on a large revenue stream, but the company also helps brands with more intelligent links that drive sales. With a few brand-specific customizations, Geniuslink can quickly provide the kinds of links that improve conversion.
"Adidas is this huge global brand that everyone knows, and it has the exact same problem," Jesse said. "We just need to do some tweaks, and we can start helping everyone that's looking to buy a pair of Adidas shoes so they have a more seamless experience."
Advertiser Disclosure
HostingAdvice.com is a free online resource that offers valuable content and comparison services to users. To keep this resource 100% free, we receive compensation from many of the offers listed on the site. Along with key review factors, this compensation may impact how and where products appear across the site (including, for example, the order in which they appear). HostingAdvice.com does not include the entire universe of available offers. Editorial opinions expressed on the site are strictly our own and are not provided, endorsed, or approved by advertisers.
Our Editorial Review Policy
Our site is committed to publishing independent, accurate content guided by strict editorial guidelines. Before articles and reviews are published on our site, they undergo a thorough review process performed by a team of independent editors and subject-matter experts to ensure the content's accuracy, timeliness, and impartiality. Our editorial team is separate and independent of our site's advertisers, and the opinions they express on our site are their own. To read more about our team members and their editorial backgrounds, please visit our site's About page.