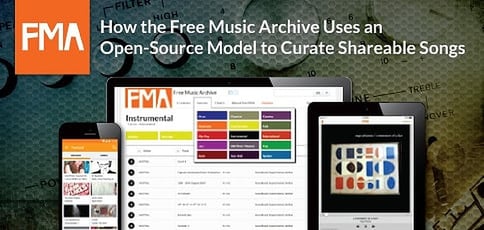 TL; DR: Inspired by Creative Commons and the open-source software movement, the Free Music Archive provides a rich library of songs available for streaming or downloading. Useful for both casual music fans and professionals, the FMA catalog is hand-picked by a team of curators who select, upload, and vouch for each song. In addition to showcasing under-the-radar music, the FMA helps engage conversations about the complicated copyright rules of digital audio. Director Cheyenne Hohman and Software Developer Ross Oldenburg told us how open culture in both music and technology combine to form a publicly available collection of more than 20,000 artists and 100,000 songs.
Before joining the Free Music Archive team in 2014, developer and musician Ross Oldenburg turned to the collection for high-quality music to use in the backgrounds of the videos he produced. For years, the site has curated a diverse library of freely shareable music with the same ethos as the tech industry's open-source programs. The FMA's community-generated resource resonated with Ross, who saw a chance to combine two of his passions.
"I've been a user of open-source software since the late '90s and have followed the Creative Commons movement since it started," he said. "Open culture and music are both extremely important to me, and I was interested in the opportunity to contribute to it by working on the FMA."
Now, the Free Music Archive database has eclipsed 100,000 songs from some 20,000 artists who value the societal and cultural benefits of publicly accessible music. Ross remains on a continual quest to improve the site's performance, while FMA Director Cheyenne Hohman curates music, coordinates the organization, and educates the public about Creative Commons licenses.
How the FMA has Evolved With Music-Sharing Technologies
Cheyenne came aboard with the FMA shortly after Ross, recognizing the project as "the web's foremost curated music site that specializes in legal, free, and downloadable audio," she said.
The FMA began five years earlier, in 2009, as the result of a grant awarded to renowned independent radio station WFMU to make contemporary music more available and accessible to diverse audiences.
The grant was funded largely with settlements paid by major recording labels investigated for violating laws that prohibit pay for play, or payola — effectively, labels bribing radio stations to play their songs more frequently and boosting their commercial success.
WFMU extended their practice of showcasing little-known artists, genres, or musical styles to the internet by using the FMA to store and share audio they had already recorded.
Each song or audio file on the FMA has been pre-authorized for specific uses beyond what copyright laws typically allow.
"Music copyright is extremely complicated, in part because the technology used to record music has changed so much, as well as the formats and ways that music has been distributed over the last century or so," Cheyenne said. "Copyright law reflects the assumptions of a pre-digital world, which raises a lot of questions about how it should be adapted to our current media distribution environment. The internet can do things that the drafters of the first copyright laws could not have imagined. Creative Commons is one of the first attempts to bridge some of the gaps that has become widely accepted and relatively well-known."
Additionally, each artist receives a profile page he or she can use to share information, such as tour dates or links to buy the full album, and users can send donations or tips directly to an artist's PayPal account.
The vast majority of files available on FMA are covered by Creative Commons licenses, which Cheyenne calls "'some rights reserved', rather than 'all rights reserved.'"
Combating Complexity: FMA Explains How to Use Creative Commons
Music protected by "all rights reserved" is pretty much limited to personal, private use. Works covered under a Creative Commons license, however, allow people to share, use, and build upon the original creation. The author or artist can choose from different licenses to set the precise parameters of how their materials can be used:
Attribution (CC BY) lets others share, remix, and even make money from the file as long as the artist is credited.
Attribution-ShareAlike (CC BY-SA) carries the same permissions as CC BY, with the added stipulation that users' new creations are licensed under the same terms.
Attribution-NonCommercial (CC BY-NC) enables users to share and remix the original creation if they credit the original author and don't make a profit.
Attribution-NonDerivs (CC BY-ND) allows for sharing the original file, commercially or non-commercially, as long as it remains unchanged and the author is credited.
Attribution-NonCommercial-ShareAlike (CC BY-NC-SA) lets others share and remix the work only for non-commercial projects that keep the same license and credit the original author.
Attribution-NonCommercial-NoDerivs (CC BY-NC-ND) is the most restrictive license, allowing others only to share files if the author is credited and the files remain unchanged and not connected to financial compensation.
Cheyenne routinely answers questions about the restrictions of FMA audio, ranging from videographers looking for a soundtrack to Second Life players wanting to fill out their DJ set (true story, she insisted).
"One thing that I have to constantly remind users of is that the licenses vary by artist, album, and sometimes even by song," she said. "It can be a little confusing at first, but once you get a working knowledge of Creative Commons licenses and how they can and can't be used, our site becomes very valuable."
Acknowledging their role in educating others about using Creative Commons licenses, the FMA has created a Licensing Guide with more specific examples of approved uses.
The Open and Shareable Technologies Powering the FMA
Aside from a small amount of Flash (which Ross made sure to mention he's working on getting rid of) that remains on the FMA website, everything is built with open-source software. Ross is proud of the time dedicated to fixing bugs and improving performance but said he's most pleased with the site's donations and fundraising page.
"Since Cheyenne and I started, we've been able to run two fundraisers offering gifts and contest prizes," he said. "Previously, all the FMA had was a PayPal button."
Donate to the Free Music Archive
1. Linux and Apache for Web and Application Servers
The FMA's infrastructure includes three web and application servers, four database and caching servers, and a load balancer. All the servers run Ubuntu, the Debian-based Linux operating system that is the most popular platform for hosting environments.
2. MySQL, Memcached, and Redis for Databases and Caching
Using the same database management system as Google, Facebook, Twitter, and Youtube, the FMA uses MySQL in conjunction with Python and PHP to round out their LAMP stacks. The various utilities communicate through Redis, an open-source system licensed under BSD used for key-value storage. Memcached, another BSD-licensed program, speeds up the site by caching FMA's data in memory.
3. Customized MVC Frameworks in PHP for FMA's Main Application
The bulk of FMA is built out of what Ross called a "heavily customized mashup of several MVC frameworks" in PHP, including Zend and CodeIgniter. The model-view-controller development pattern separates internal components and processes to allow for efficient user interfaces.
4. Sphinx for Searching
In addition to eradicating the last remnants of Flash, a major 2017 goal for Ross is to revamp the search engine. Sphinx, an open-source search engine written in C++, was released in 2001 and is used on Craigslist and the MediaWiki program.
The Challenges of Delivering 80TB of Data Each Month
The FMA website sees around 3.2 million unique visitors each month, according to Ross, with millions more downloads from the project's 4TB library. The FMA serves up about 80TB of data in an average month — basically meaning the entire library gets downloaded 20 times every few weeks, he said.
"Keeping up with demand while having limited monetary resources is certainly a challenge," he said. "A more static or text-oriented site would not need nearly as much horsepower."
Curators Bring Exposure to Musicians Who Want to Share Their Work
The FMA distinguishes their catalog from more open music-sharing sites, such as Soundcloud, by the curators who select and upload music — proof that at least one person other than the artist has "deemed the music worthwhile," as Cheyenne put it.
More than 600 curators — largely public radio stations, music venues, and labels — have contributed to FMA, with at least 20 curators actively supporting the FMA. Additionally, several artists have been approved to upload their own work.
Donate to the Free Music Archive
To become a curator, contact the FMA with an interest in participating in Creative Commons licensing. "Then, we will listen to the music and decide whether or not to add them to our ranks," Cheyenne said.
"Digital publication of works has been a boon to many small-scale and underground artists, but it's easy to get lost in the flood of media available via the web," she said. "It's very easy to slip into obscurity. The FMA offers a platform for artists and labels who actively want to share their work."
Advertiser Disclosure
HostingAdvice.com is a free online resource that offers valuable content and comparison services to users. To keep this resource 100% free, we receive compensation from many of the offers listed on the site. Along with key review factors, this compensation may impact how and where products appear across the site (including, for example, the order in which they appear). HostingAdvice.com does not include the entire universe of available offers. Editorial opinions expressed on the site are strictly our own and are not provided, endorsed, or approved by advertisers.
Our Editorial Review Policy
Our site is committed to publishing independent, accurate content guided by strict editorial guidelines. Before articles and reviews are published on our site, they undergo a thorough review process performed by a team of independent editors and subject-matter experts to ensure the content's accuracy, timeliness, and impartiality. Our editorial team is separate and independent of our site's advertisers, and the opinions they express on our site are their own. To read more about our team members and their editorial backgrounds, please visit our site's About page.