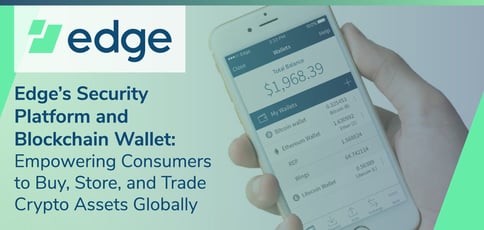 TL; DR: Edge's multicurrency blockchain wallet and advanced security platform allow users to buy, sell, and exchange cryptocurrencies securely and privately. The mobile-friendly software, which features a single sign-on and familiar key management solution, provides one place for all of your digital currency. With a long-term focus on easing entry into the cryptocurrency exchange, Edge aims to help millions of users worldwide simplify and safeguard the financial assets of their futures.
When the company that is now known as Edge first dipped its toes into the rapidly churning cryptocurrency market in late 2014, it did so as a mobile wallet for Bitcoin called Airbitz.
The payments-focused app empowered users to send and receive digital assets and featured robust key management and zero-knowledge client-side encryption.
But back then, the market was still incredibly speculative, and few were looking to spend their cryptocurrency.
"We saw that one of the biggest threats to individuals, and to cryptocurrency as a whole, was that most of the money was getting held on custodial exchanges — centralized honey pots of data that became attractive targets for cybercriminals," said Paul Puey, CEO of Edge.
In 2016, the company got to work on a rebuild of the product centered on placing deep exchange functionalities within users' hands, allowing them to fully control their funds. The result was Edge, the robust security platform and multicurrency blockchain wallet on the market today.
Once deployed en masse, Edge hopes the platform will make large-scale data breaches a thing of the past while safely ushering users into emerging networks of the future.
"We want to get funds into people's hands and off centralized exchange services, which is really what cryptocurrency was designed to do from the get-go," Paul said.
Making Private Key Management Intuitive and Easy
Paul told us that the foundation of Edge is its client-side key management account that serves to create, encrypt, and manage private data.
"While we may have rewritten a lot of the code, we use the exact key management architecture we build for Airbitz inside Edge," he said. "It's the same architecture in that users fully control the private keys they have access to, but they never have to see them or write them down."
In that sense, Paul said Edge can be used like any other web or mobile-based account, with a simple login process that includes private password recovery capabilities and two-factor authentication.
Despite its advanced key management capabilities, one thing Paul didn't like about Airbitz was its clunky exchange process. "If I wanted to buy or sell crypto, I had to send money to a centralized service and deal with the friction of waiting for the money to settle, issuing a trade, and then having to withdraw the money," he said. "Like millions of people, I didn't want to leave my money on the exchange."
Edge, on the other hand, makes it easy to seamlessly shift between digital currencies and assets inside the Edge wallet without ever leaving the app. Trades and funds are automatically deposited into the Edge account, rather than being held by a third party. For example, if you want to exchange Bitcoin Cash for Litecoin, you can do so with just a few clicks within the app. This gives users the ability to operate with agility in relation to changing markets and crypto value, which is a significant value proposition in itself.
"You can trade anytime, anywhere from the power of the phone in your pocket — it's pretty much a one-stop operation," Paul said.
The Security of Encryption with a Single Sign-On
Edge packaged its tools into a developer-friendly API and SDK released in 2016 that makes it easy for companies and developers to integrate the technology into third-party blockchain projects.
For instance, Augur, an Ethereum-based oracle and prediction market app, leverages the SDK to provide its users a secure way to sign in and manage private keys. And Ember, a non-custodial cryptocurrency hedge fund application, uses it to secure the data of its customers, who can access portfolios with as little as $100.
"We've developed the world's only encrypted private single sign-on for decentralized apps," Paul said. "It's perfect for blockchain applications, but can also be used for any application that needs to secure private, sensitive info. This is where I believe we expand outside of the realm of cryptocurrency."
Edge's key management infrastructure, at the most basic level, secures data — but it isn't limited to safeguarding private keys for cryptocurrency. In addition to blockchain technology, the SDK may be used to boost security on any traditional app that manages sensitive data.
"An entire suite of applications can be built going forward by outside developers using our SDK," Paul said. "The SDK provides the key management layer so that a third-party application can secure data with that same familiar login interface that we have inside of Edge. It also allows for transactions on all the different blockchains we support."
The company sees a number of use cases for third-party apps, especially in the areas of IoT; financial applications, such as Quickbooks and TurboTax; healthcare; personal identification information; authentication credentials; and secure messaging.
Secure Multiple Digital Assets Quickly and Easily
When combined, Edge's key management features and exchange functionality pack a powerful one-two punch. But forget boxing: Paul likens the winning combination to football players.
"Key management is like an offensive lineman in that once you get used to it, it becomes invisible — you don't realize it's there until something goes wrong," he said. "For example, it's there to save you if you lose your phone."
The app's exchange functionality serves in a more active position, such as a quarterback or wide receiver. "Wherever you are in the world, we've got a solution for you to be able to on-ramp into cryptocurrency from fiat, whether it be credit cards or bank transfers, and when the market moves, you can move right along with it from your device," Paul said.
The app will even facilitate the exchange of one crypto asset to another by price-hunting through decentralized and centralized exchanges to find the best deal. "That's one of the features I have personally come to appreciate," he said.
On the security side, Paul said Edge is an extremely effective solution for addressing regulations around data security, such as the General Data Protection Regulation (GDPR), a European Union law that protects the personal information and online privacy of citizens.
"The way we approach data security is at the absolute highest level in that it's client-side encrypted, so the company doesn't have access," he said. "I think that, as more countries outside of Europe start to adopt policies that are similar to GDPR, this data model will become even more valuable."
Accelerating Entry into the Cryptocurrency Exchange
Edge is constantly working to take its security platform and crypto wallet to the next level. To mirror the selection people commonly enjoy in centralized exchanges, the company is working to add even more highly requested digital currencies and assets to the 24 that are currently supported on the platform.
Paul said Edge will also focus on garnering support from various global exchange partners. To that end, the company recently posted an update on its existing fiat-to-crypto partners broken down into regions and payment methods.
"That way, you only have to think of one brand — if you're in the U.S. and you have a friend in India who you want to help get into crypto, you won't have to research exchanges in India," he said. "You just turn to Edge. We want to blanket the world."