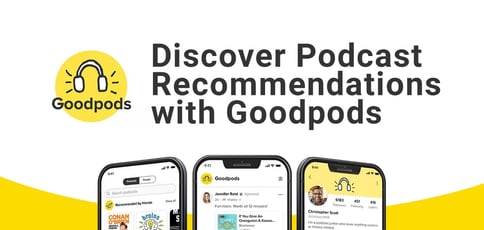 TL; DR: Goodpods is an innovative podcast platform with a social networking component that promotes accessibility and community. Goodpods shines a light on indie podcast creators through its user-driven recommendation engine. Users no longer have to waste time searching for a new show that fits their taste. Goodpods allows listeners to follow friends and see their recommended episodes on a personalized feed. The platform also encourages podcast communities with tons of interest groups that users can participate in and chat with creators and fans.
Podcasts have grown steadily to become one of the most popular audio platforms in the last decade. If you look online, almost every major network or social media account has a podcast.
And its rise in popularity is not without cause. Because honestly, audio fits well in our busy lifestyles. It requires less attention and time and integrates with other activities.
To simply state it, podcasts are the ultimate multitasking companion. People can turn one on and listen to various compelling subjects while driving or cleaning around the house. But as the popularity of podcasts spikes, so does their number And this can make it challenging to find a show that will fit your taste or interests.


Goodpods Co-Founder JJ Ramberg had this same pain point, so she created Goodpods with her brother, Ken Ramberg, to solve it. Goodpods is a podcast player with a social network built-in. Goodpods is to podcasts what Goodreads is to books. So you can play podcasts, but you can also follow your friends, influencers and groups to see what they're listening to.
Word-of-mouth is one of the most organic influential marketing techniques, and Goodpods leverages this form of communication in its innovative social network platform. The idea came to JJ when she went on a run and realized it took too much of her time to browse and choose a podcast selection.
"I'd spent half of the time I was supposed to be running, looking for something to listen to. And it felt obvious, like, why isn't there someplace where I can go and see what my friends or respected people are listening to and press play? And so that's why we started Goodpods," said JJ.
A Social App That Promotes Discovery and Community
Before JJ built Goodpods with her brother Ken, she was an anchor for NBC News, where she worked for 13 years. She also hosted a successful podcast called "Been There. Built That" for the network. She credits some of its success to having the resources of a major network like NBC News behind her.
"And I felt at the time, here we go again, where the voices who have industry connections or large arsenals of marketing dollars will be the ones that get heard. And from the podcaster side, I wanted to do something that made it easier for other voices to get elevated and democratize this somehow," said JJ.
Discovery is a big issue for marginalized and indie podcasters. When you open up a podcast platform landing page, it's mainly the big names that tend to be on the center page. This issue causes talented podcasters to get lost in a sea of listener options and not receive the recognition their content deserves because they don't have a machine backing them.
"We want to serve all podcasters, and we feel a deep affinity toward creators. And so we've done a lot of stuff on the app to help with that. For example, we have indie only top 100 lists to try to showcase voices of people who aren't necessarily seen in other places," said JJ.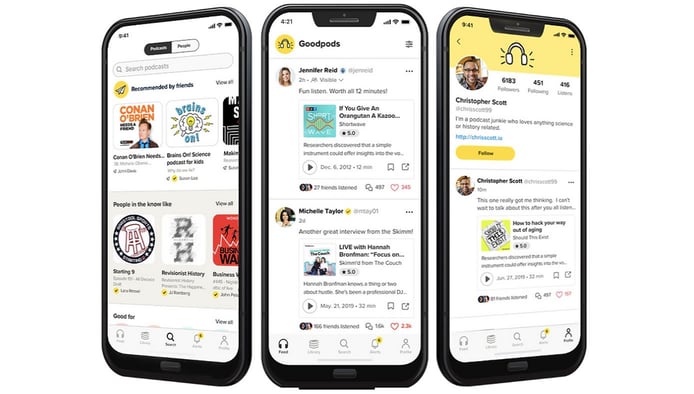 Democratizing discovery and the podcast landscape was one of the main reasons the brother and sister duo created Goodpods but wasn't the only one. Goodpods also promotes a level of community for podcast listeners that is integrated into its features.
Goodpods' platform features allow users to follow friends and podcast hosts and chat with the host and other fans of the show. After you follow, you can also see your friends' playlists and recommend episodes to them.
Users can also set up groups focused around specific interests, with popular groups, including Self-Help Junkies, The Christian Women's Book Club, and Autism Awareness, already on the app.
Leveraging Word-of-Mouth to Boost Development
Word-of-mouth doesn't only fuel Goodpods recommendations, but it also boosts its development and marketing. And the podcast platform has tons of support behind it and has received praise from several notable names, including Katie Couric, The Today Show, and Gwyneth Paltrow, who are also Goodpods users.
"It's been a lot of word-of-mouth. We've had some moments that we are proud of like Fast Company named us one of their top most innovative companies. And we've had celebrities like Kim Kardashian and Alyssa Milano post about us for free," said JJ.
Goodpods also reaches out to its users for feedback on development. JJ said user input and the podcast industry experts help drive Goodpods' road map. The team has several industry advisors that it consults, including NBC Universal CEO Jeff Shell and Co-Founder of Zillow and Dot.LA Spencer Rascoff.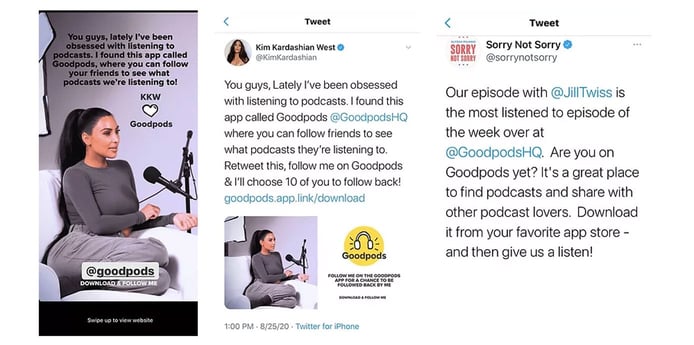 "Once we launched, our whole road map, the indie top 100 lists, the groups, and our queue came from our users. We're about to launch a website, which we always knew we had to do, but that's users asking for it," said JJ.
JJ said that Goodpods' personalized feed is what she likes to tell users most about. The feed caters to listeners by listing recommendations driven by fellow users and grouping a variety of podcasts in one place. It simplifies podcast selection for the listener.
"That is where I go to discover what to listen to. When I'm ready to listen to a podcast, I go to my feed, scroll through, and see what people are listening to who I respect. And that's where I find my next podcast episode," said JJ.
Goodpods also helps creators build their audience organically while allowing them to cross-promote their shows with other podcasters.
What's Next: Goodpods on the Web
As for what Goodpods has on the horizon, JJ told us the company plans to release a web version of the app sooner than later, making it accessible to more users. She also said the web version had been in the works for some time, but the team focused on improving the app experience for users.
JJ said she hopes listeners will choose to use a podcast player they love and not feel restricted to their default player. Goodpods users stick with the app because its features work for them. And the quality of the Goodpods app experience is evident in the customer feedback.
"If you go look on Twitter, you'll see a lot of love for us from both podcasters and listeners who say that we are solving a real problem for them. And so for me and the team who've been working so hard on this idea that we have a solution for and to hear feedback from people saying, this is working for us. This is what keeps us going every day," said JJ.