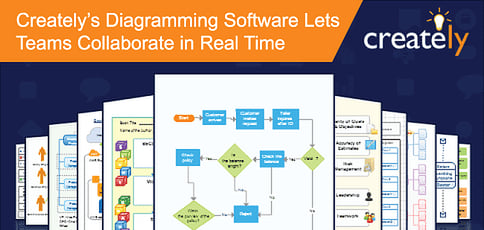 TL; DR: Collaboration has long been important in the software development space. When dev teams effectively work together, they produce software that results in optimal user experiences and customer satisfaction. Creately is a web-based diagramming tool that allows for real-time communication to help IT professionals plan, illustrate, and implement their ideas. By including integrations with popular collaboration solutions, such as Atlassian and Google Apps, Creately lives inside many of the tools teams are already using for project builds. This, coupled with the platform's new focus on mobile, is why an increasing number of businesses are turning to Creately to help them develop and deliver products with agility.
There is no doubt the principles of agile software development that grew out of the 1990s are still relevant today. Contemporary software teams are expected to quickly deliver valuable products that meet customer demand. Perhaps one of the best methods to accomplish this, according to the Manifesto for Agile Software Development, is through collaboration between teams.
To consolidate ideas regarding workflow and user experience, many software developers create flowcharts and diagrams to share with team members. In the past, these were either presented in person, sent as email attachments, or housed on a shared server. The effect was often slow feedback and lengthy email chains, which are neither time- nor cost-effective, and can result in an end product not answering the needs of the customer.
Creately provides web-based drawing software that allows teams to effectively and quickly communicate so projects can be carried out with agility. The tool is available on desktop or mobile, letting teams respond to ideas anywhere without getting bogged down in the mire of long email chains.
"Our objective is to make diagramming as simple as possible through smart objects that adjust to the context; unique features, like contextual tool bars; and real-time collaboration," said Nishadha Silva, Creately's Internet Marketing Manager. "This is the #1 benefit of our software."
Creately offers more than 50 types of diagrams, extensive shape libraries, and examples to make illustrating complex processes simple. The platform's wireframe, UML, and Gantt chart builders facilitate the development of site design and give the ability to easily map complex diagrams, ideas, and processes. This, coupled with Atlassian and Google Apps integrations, makes Creately a useful tool to plan, illustrate, and develop projects.
Real-Time Collaboration Simplifies Communication Between Teams
Creately's apps allow for instant cooperative editing of projects, providing technical professionals with an array of benefits. Real-time interaction helps streamline the creative process without waiting for email attachments or team members' updates to download.
Everyone can see the progress made as a project nears completion, allowing for instant feedback. Travel costs are eliminated with remote collaboration, and, because multiple versions of a diagram are no longer being passed around, teams reduce time, confusion, and errors. Creately's collaboration simplifies teamwork which leads to lighter workloads and higher productivity.
"We have a very diverse set of users because of the many diagramming tools we provide," Nishadha said. "We support flowcharts, UML diagrams, wireframes, sitemaps, and more. Students, business owners, developers, and systems engineers, among others, all use our tools."
As Nishadha noted, Creately's visual aids help convey and make sense of data and ideas. As a result, the platform's diagramming tools are being used by technical professionals, web and UI designers, and the general public — anyone who needs to create well-designed diagrams.
Depending on the tools used, development teams and others can design sites, plan projects, and illustrate complex systems and concepts — or simply gather ideas for planning. With software and diagrams for every occasion, Creately is a rich resource for development teams working on complicated projects.
Drag-and-Drop Wireframe Software Helps Dev Teams Quickly Design Sites
Among the popular software Creately provides are wireframe tools and UI mockup editors. These visual tools are useful for teams creating test designs for websites and program user interfaces. In essence, they are roadmaps to ensure optimal user experiences.
The drag-and-drop features allow the quick construction of mockup designs, while the variety of objects available lets users create the precise designs they have in mind. Collaborative and mobile capabilities provide instant feedback and continual access to the ongoing projects, easing the workflow for design teams large and small.
Easily Architect UML Diagrams to Illustrate Complex Systems
UML, or Unified Modeling Language, provides a method for visualizing programs in object-oriented software. Creately provides 14 UML diagram types, including behavioral- and structure-based models.
The class diagram is one of the most common UML types, detailing relationships between item classes. Other popular templates include deployment diagrams, which demonstrate unique hardware and software configurations and use case diagrams. The ordering system diagram above is an example of a use case diagram, which is frequently employed in project planning stages. Multiple diagrams can even be used together to illustrate different aspects of the same concept.
Create Gantt Charts to Plan Project Timelines and Organize Teams
Gantt charts contain information about project completion. A good Gantt chart shows the amount of work done in relation to the total time allotted for a project.
Creately uses smart objects that adapt according to context by adding time and date information automatically. Creately's software allows users to create Gantt charts up to three times faster than with traditional programs. Therefore, the rushed software developer's team can use one to quickly gauge productivity and come up with a more realistic project timeline.
Integrations Allow You to Work in the Apps You're Already Using
The convenience of using the same apps in new ways is understated. With Creately, there is no need to download a bulky software package or learn a new UI.
The ease of integration streamlines production, saving time, energy, and data. Creately achieves app synthesis by integrating with Atlassian's Confluence and JIRA software. The platform is also compatible with Google Apps, the Chrome Store, and G Suite.
Creately's app integration eliminates the need to download converters and readers for unique file extensions and thus makes files more accessible to team members with different systems. Common file extension use lets projects see completion faster and easier. With one less extraneous program to download, a security manager needs only Google Apps to connect with his creative team.
A New Focus on Mobile Lets Users Share and Interact on the Go
Sometimes there's no time for an elaborate business meeting, and the need to get everyone together on their own terms arises. Creately's mobile capabilities make meetings and collaboration possible across time zones. Nishadha said improving the mobile experience will be a big focus for Creately going forward.
"We've released a mobile app. You can't actually draw from it, but you can collaborate with it through the comment feature," Nishadha said. "It's a great way for teams to stay connected and provide input on diagrams when people are traveling."
Anyone with the app can comment on diagrams, and developers can gather the input they need in real time because teams can weigh in from wherever they are in the world.
Creately has been used by small-scale, busy software developers as well as industry giants, including National Geographic, NASA, Amazon, and thousands of other organizations. The principles of agile software development are certainly alive today and reinforce the need for teams to effectively collaborate, which is why project leaders often employ Creately tools to plan, deliver, and deploy products that meet consumer demands.