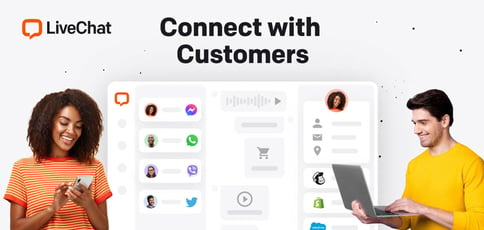 TL; DR: LiveChat helps businesses enhance their customer service strategies and performance metrics with automated tools and streamlined communication management. The company's communication platform allows enterprises to engage their customers and provide solutions while optimizing their buyer experience and conversion rates. Companies can leverage LiveChat's multichannel approach to streamline their communication and data management in-house and beyond.
Experiences often influence buying decisions. Most loyal customers want to feel valued and see their favorite businesses make an effort to manifest that. Because why spend your money at a store that ignores your questions when another competitor can provide you with the same product and better customer service?
Customer service is a driving force for business growth and success. The quality of a business's customer service influences customer retention and conversion rates. It is a fact that customer satisfaction directly correlates with profitability.
According to Hubspot, a 5% increase in customer retention can lead to a rise of 25% in profits because loyal customers tend to spend 300% more than new customers.


LiveChat offers a complete suite of customer service solutions to propel business growth and customer engagement. Beyond its service provider duty, LiveChat provides solutions that empower customer service departments to take charge of customer relations.
"As a company, we feel responsible not only for the business goals of our customers but also for the happiness of the end user. And we believe our tools play a significant role in the entire customer service process," said Szymon Klimczak, CMO of LiveChat.
LiveChat's platform provides companies with the tools to deliver effective customer service, helping them along the buyer journey. Its solutions elevate the buyer experience and help make the customers feel seen. Companies can use its HelpDesk features, automated ChatBot tool, KnowledgeBase application, and channel integrations to promote their messaging output.
"It's about getting the messaging to the customer and solving the problems that the people come to your business with, and making sure they're happy," said Szymon.
A Multichannel Approach to Streamlining Communication
During the pandemic, LiveChat experienced many changes. But fortunately, these changes led to positive outcomes. Since 2020, LiveChat has seen a surge of customers who have used its chat software. The number of chats grew from 475 million to 700 million in one year.
"The pandemic forced all companies to consider at least moving online. And this resulted in a lot of innovation and new approaches," said Szymon.
LiveChat took on a multichannel approach to deliver more streamlined communication for companies. The company has added new integrations, including MailChimp and SnapCall, which will allow customers to combine their email and video data with other communication sources. This new strategy helps companies connect their communication to travel along one chain.
"It's been steady growth, with adding new communication channels. We try to make use of the data that we have from external sources and other pieces of software, and cater to the people and make sure that their messaging gets delivered to the right person," said Szymon.
Szymon also said the LiveChat team added a valuable feature to its platform. The company now allows customers to save their messaging chain even after leaving a website. And, if a customer receives a message after leaving, LiveChat sends them an email to continue the conversation right where they left off.
The company also hopes to integrate its tools with its backend in the future. By doing so, LiveChat will make the entire experience more seamless for the end user.
"End users won't have to pay attention to the tool that they're using. The only thing that the end user, the customer, has to focus on is the actual case that they want to solve. And the entire case can be channel independent," said Szymon.
Spotlighting the Value of Customer Service
Investing in customer service operations opens up new revenue streams and helps companies save money on customer acquisition. Maintaining a customer base takes work and effective customer service to make the customer feel like a part of the company.
LiveChat sets out to help companies fit chat software into their customer relationship strategies. It is committed to creating a platform that improves customer relations for all businesses. The LiveChat team believes customer service can transform business operations and heavily influence metrics, including profits. And LiveChat doesn't take its role in this endeavor lightly.
"As a software provider, we are also responsible for the way the end user is being treated, how this customer service is offered to them, and the customer satisfaction that is the result of the entire communication process," said Szymon.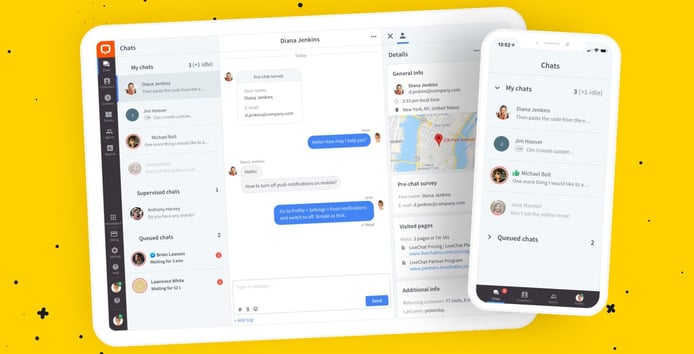 Its automated ChatBot enables businesses to scale operations and handle any number of cases. Customers can get quick responses and find solutions to their problems in an optimized process using video, audio, or text messaging and payment or meeting integrations. Companies can also connect apps, including Salesforce and Facebook, to the LiveChat platform to improve workflows and communication.
"Our goal is to convince the businesses who are using our product that this philosophy will eventually turn into profit for them. Most of the companies treat customer service as a cost, mainly. But instead of that, they should treat it as an investment," said Szymon.
For example, its client, Logical Position, increased its sales by 30% with LiveChat software. LiveChat shows that companies can attain greater conversion rates and return on investment with the right customer service tools to boost buyer experience.
Expanding Development and Product Distribution
Steady growth has been a hallmark of LiveChat's operations over the past two years. Szymon told us the company just reached a workforce of 250 people as it onboards more employees to assist in new product development. LiveChat has also expanded its client profile.
"We started as a company that focused on SMBs. Over the past several years, we started going after the larger brands. And their requirements are different, both in terms of product functionality and the metrics that are offered and come with the product," said Szymon.
LiveChat is careful with the integrations it chooses to add to its platform to avoid overcrowding. It only accepts customer suggestions that work for its client base as a whole. The company also works with developers to distribute more than 200 applications in its marketplace.
"It's all about picking the right solutions and features that will make the most people happy. And there are a lot of developers already making money out of the marketplace. So the applications are not free. But people get commissions out of that," said Szymon.
LiveChat still has more pieces to add to its ecosystem as it revamps its software. LiveChat will allow customers to use all their products from its suite. Essentially, companies can use it as an external ID management system, giving them more accessibility and organization.
The LiveChat team also seeks to streamline its dashboard. It plans to simplify its products and align the communication of products, such as their metrics, with the business benefits they present.
"We're making sure that the product is simple, easy to pick up for new teams and to scale for larger teams, whether that consists of five support agents or a team of 50 or 200 people," said Szymon.