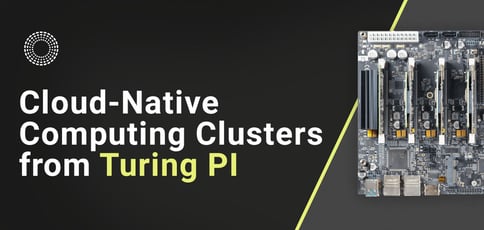 TL; DR: Turing PI specializes in delivering scalable computing clusters at the edge. Turing PI's four-part module architecture allows users to gain optimal performance and speed through reduced latency sourced from edge computing. Developers and enterprises can employ Turing PI clusters for several use cases, including data processing, IoT, container learning and development, self-hosting, and blockchain purposes. Turing PI plans to launch the Turing PI 2 clusterboard later this year.
There's a movement on the rise, or maybe it's a resurgence. Many people have stopped relying on large tech companies to configure their home networks and have entered the realm of self-hosting. Although self-hosting may have never entirely disappeared, more people have hopped aboard the trend in recent years.
Tired of internet service providers' limited capabilities and untrusted practices, developers and dedicated hobbyists have taken it upon themselves to create at-home servers. With the right hardware and computing tools, they can run their own internet services and regain control of their data.
Turing PI delivers the computing tools developers and companies need to set up their servers and keep this migration from the cloud alive.

"We had a vision that the future could be less cloud-dependent with a device aimed at processing data and giving compute power, independently of the cloud," said Stan Nevedomsky, Co-Founder of Turing PI.
Turing PI provides clusterboards capable of holding Raspberry Pi or NVIDIA Jetson modules that users can dispatch for several use cases. Stan said Turing PI created this cluster architecture device to help bring cloud-native technologies beyond cloud infrastructure.
Although the Turing PI has run into chip shortages due to ongoing supply chain issues, the company is moving full-steam ahead to release the Turing PI 2, a compact, four-node ARM cluster.
"This device could sit on your table and provide high compute power for all the companies and people who need it and are very close to your location," said Stan.
A Reliable Cluster Architecture For Developers and Businesses
Turing PI's reliable cluster architecture offers users many benefits, whether they're developing software or hosting cloud applications with container systems such as Kubernetes. Stan said the Turing PI team created the device to enhance computing power and data processing closer to the source of data.
By leveraging edge computing, Turing PI clusters increase performance with reduced latency and costs because of the proximity to the data source. The clusterboards also allow customers to host cloud apps locally.
Stan said the cluster's architecture is one of his favorite parts of the product. The hardware's compact size makes it easily portable, and users can connect more than one cluster to scale with speed. As for architecture makeup, it includes four CPUs with 1GbE each, two mini PCI Express slots, two SATA III ports, and an onboard L2 managed switch.

Turing PI's reliability is also a big selling point. The motherboard runs 24/7 with a fanless and quiet power consumption of less than 60 W. Users can also find VLAN support and baseboard management controllers to help drive performance and remote access.
Considering the rise of IoT and edge computing, Stan said he also sees machine learning deployed at the edge.
"I'm excited about the combination of general compute modules with machine learning compute modules and the combination of the Raspberry Pi with the NVIDIA Jetson as the first step toward this symbiosis," said Stan. "This is very inspiring for me because I'm a huge believer in machine learning and see a very bright future for it."
A Scalable Computer Ideal for Several Use Cases
Turing PI's scalable nature makes it ideal for many users looking to advance projects. Stan said customers can apply the hardware technology for several use cases, but there is one that stands out of the pack.
"At the moment, a lot of people are learning containers, network management, network virtualization, and Kubernetes," said Stan.
DevOps and developers can use Turing PI to host applications on various nodes and use technologies, such as containers, Serverless, and Kubernetes, at full scale. Turing Pi also simplifies interaction by employing an open-source firmware with a command line interface. With the firmware, users gain remote management of features including authentication, self-testing, nodes reboot, OS images flashing, serial console over LAN, and OTA updates.

Turing PI allows developers to quickly build cloud-native local environments and control their hardware. Users can self-host their open-source applications and deploy servers while helping them create their own independent networks.
"People are learning and building servers in their homes again. They self-host apps to create private cloud-based local media servers and are having fun with home automatization and security," said Stan.
But users going the self-hosted route aren't the only customers leveraging the Turing Pi hardware. Blockchain developers are also finding themselves in the mix.
"When you think about decentralization, it fits perfectly. And in terms of blockchain use cases, Turing PI can be used for something simple like hosting staking nodes to more complex hosting of infrastructural pieces," said Stan.
Stan also told us the Turing PI 2 can supply corporations with the performance and power needed to process massive amounts of data. He said the hardware's upgradability and modularity make the product flexible for various needs and audiences.
How the Turing PI 2 Release Goes Beyond Limitations
Although the Turing PI 2 has yet to be released, Turing PI has done substantial work to get it prepared and ready for its customer base. The hardware provider has spent months retrieving feedback and improving the device, but it has seen production stall because of chip shortages. But this setback hasn't stopped Turing PI from moving forward.
Turing PI plans on manufacturing its own compute modules with the RK3588 chip by Rockchip. With this innovation, Turing PI can push past the limitations of Rasberry PI and see its module's power and speed skyrocket.
"One compute module could be with up to 32 gigabytes of RAM with the better PCI Express Lanes to remove a lot of limitations we have right now. A lot of bottlenecks will disappear," said Stan.
Efficiency and improving performance are evident pillars in Turing PI's mission. Stan said the company looks to create more tools to help ordinary users increase their hosting efficiency in the future.
"We are thinking about how we can build something with interesting use cases for regular users. When someone is not tech-savvy like a developer, they can still purchase three PI and just put it on the table, power it, and connect to the internet while providing a service like CDN," said Stan.