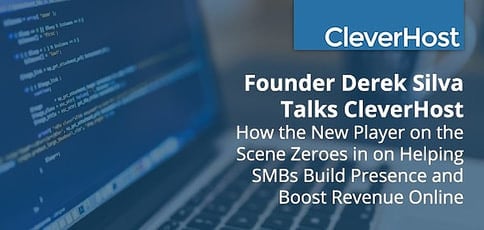 TL; DR: At CleverHost, it's all about helping entrepreneurs, small businesses, and everyday people make their online dreams a reality through high-quality, affordable hosting solutions. The host's team of self-proclaimed tech geeks prides itself on being smart in its approach to delivering the tools site owners need to succeed on the web. This means being able to move with agility to keep pace with changing technologies and market demands, employing feedback-based product development processes, and maintaining cutting-edge architectures. We recently sat down with CleverHost Founder Derek Silva, who told us how the company has evolved over the years and how his team is helping site owners build profitable web properties in today's competitive market.
When CleverHost Founder Derek Silva hung up the phone with the local charitable agency he had been courting, he must have beamed with pride. The organization had agreed to partner with him to make a difference in the lives of the underserved in his community.
Derek's plan was to help solve homelessness in his area by ensuring all had access to housing. However, he also wanted to enact lasting change in people's lives and provide a springboard to gainful employment.
"We are going to work with some local agencies to hire people who are homeless and hopefully get them off the street," Derek said. "That's going to be our focus — working to hire as many people as we can who want to work in tech and want to get off the street."
A seasoned veteran in the hosting space, Derek's journey to success has been filled with bumps in the road. He sold the first hosting company he started only to see it go up in flames due to mismanagement by the new owners. The experience made him realize the importance of helping others along the way — a lesson he has carried into new ventures. He knew if he succeeded his partners would, too.
When Derek founded CleverHost, he wanted to take an approach to hosting that focused directly on the people and organizations he served. As a result, CleverHost operates with the fundamental mission to provide budget-friendly web solutions that empower entrepreneurs and small businesses to fuel their online visions into profitability.
CleverHost's customer-centered business model proved successful, and Derek's company has scaled significantly since it was born. Today, CleverHost's solutions continue to be driven by customer feedback and market trends, and the company is dedicated to maintaining pace with the changing technologies in the hosting space. And, with a robust corporate social responsibility initiative cooked into the company philosophy, Derek is realizing his dreams to make the world a better place for both businesses and the community at large.
Staying Lean & Ahead of the Pack is Key to Ensuring Customer Success
As a way to measure its services, CleverHost initially tried using the pricing model of some of the bigger providers in the hosting industry. But, after looking back on his experience from his time with web host provider Site5, Derek realized he wanted to work on a smaller scale.
Derek found that many hosts tried squeezing as many customers as possible onto a single server to maximize profitability and CPU usage. To balance this issue, some providers focused on hardware upgrades by moving clients to a new server when the previous one became full. According to Derek, these companies thought bigger equaled better as long as it was the same price for customers.
"The idea for CleverHost was simple: affordable web hosting with amazing service," Derek said.
One way the company has managed to stay affordable and efficient is that it doesn't own any hardware. CleverHost doesn't pay for the hardware it doesn't use, whether it be network switches, servers, or the like.
"We're not an infrastructure company," Derek said. "That's not our play, and so we're taking advantage of a company that gives us access to server hardware worldwide instead."
Derek told us CleverHost doesn't just want to be able to give customers access to different locations or servers to drive costs down. Instead, it is offering managed VPS and dedicated services to differentiate itself, while still taking advantage of the fact that the company isn't paying for hardware it doesn't need.
"That helps control our costs, and, on the shared server side, it still gives us the flexibility to throw more hardware at a problem when needed," Derek said.
CleverHost also opted to maintain flexibility. According to Derek, bigger providers take much longer to roll out new features such as HTP/2. CleverHost, conversely, is able to move with agility when new technologies hit the market. That's how the company is able to test innovations and feature sets and deploy them much faster than its larger cousins.
Derek told us many hosting companies are also guilty of staying on the oldest version possible of cPanel, whereas CleverHost can move to recent versions more quickly.
"This way, our customers start benefiting from the new features cPanel and our billing platform bring to the market instead of doing everything custom all the time and cramming as many customers possible to drive up CPU usage," Derek said.
To save customers time and money, CleverHost makes sure they don't have to be distracted by new updates or upgrades. Especially in the case of switching from MySQL to MariaDB. After the upgrade to MariaDB, clients don't notice the switch because the system looks and operates the same way.
"The MariaDB team releases additional underlying tweaks that makes things run better, faster, more process-efficient, and then we make very small tweaks to the configuration to really drive a lot more performance," Derek said.
Keeping an Ear to the Ground: 100% Customer-Driven Decision-Making
Derek told us CleverHost's quick rise to success is due, in part, to its dedication to listening to the challenges site owners are facing and determining how the company can help address them. This has led to a product development process that directly speaks to customers.
"Our external 100% drives our internal," Derek said. "When our customers are asking for things, we need to develop that competency."
As CleverHost sees a new direction taking place in the industry, it needs to figure out whether that's a direction that makes sense for the company. And, again, the philosophy at CleverHost is to let its site owners decide.
"We have to think about whether it's something our customers need, and, therefore, we ask them," Derek said. "If that's something they feel like they'd benefit from and that we could offer, it's a change that can be adopted."
True to its name, CleverHost is smart and does not make decisions in a vacuum. According to Derek, decisions must drive value for customers, and, sometimes, that simply means enacting changes that make sense.
"We don't always look for explicit customer feedback," he said. "For instance, when it was possible to offer free SSL certificates to pretty much anybody, that was a no-brainer."
CleverHost also uses customer inquiries in IT support, another of the company's strong suits, as jumping-off points for self-discovery.
"We try to learn a lesson from each support ticket and call that comes in," Derek said. "If there is something to learn, great! Let's apply that the next time. If it does drive a new product or level of service that we see the need for, we'll do it and communicate to our clients that they are what's driving that process."
Evolving in Tandem with the Ever-Changing Hosting Landscape
As a seasoned veteran in the tech industry, Derek has seen many trends come and go. And one of the major moves he's now seeing in the market is a decrease in server pricing.
"A decade ago, you would have maybe bought a server, found a colocation facility, paid for power, bandwidth, and cooling, and your upstart costs could be really significant," he said.
Users who went to companies that owned their own datacenters but rented dedicated servers were expected to pay prices that ranged from $70 to $100 a month, Derek said. These packages didn't even include a control panel or billing software, as those were service add-ons.
"Unless you had something custom you were building or you were a developer and wanted to do it yourself, at that point you were fronting $100 to $150 a month with no guarantee of success," Derek said.
Dedicated servers increased in price, but control panels got better — especially with cPanel.
"Performing cPanel migrations from one server to another can literally be done in a couple of hours now," Derek said.
However, whether you're a host or a reseller, Derek said modern tools have made it much easier to set up and configure a server. The process used to be manual, but there are many more options on the market today.
"For that reason, there's really no sense in paying more than, say, $10 a month for the whole kit-and-kaboodle — for hosting, for a website manager, for a WordPress, a WIX, a Squarespace, or something like that," Derek said. "There's no reason to be paying thousands of dollars for your first website if you don't even know if your business is going to succeed."
As more competition has entered the market, things have started to be commoditized in many ways. Derek said when reseller accounts became popular, he started playing around in that space. Then, VPS came onto the scene, which helped reduce upfront costs significantly.
"Now, with cloud computing, Infrastructure-as-a-Service, virtual machines, cloud VPS — whatever you want to call them — that can drop prices significantly," Derek said. "You'd be smart to take advantage of the commoditization or demonetization of the industry as a whole."
Dedicated to Giving Back by Creating Tech Jobs for the Homeless
Following the company's success of the past few years, Derek said he plans to boost CleverHost's CSR initiatives going into 2018. The mission is to formulate a revenue goal to further its efforts to combat homelessness through employment.
Though CleverHost is still working on the logistics, the new employment program has been well-received by local agencies and affiliates. And, as Derek noted, there is room for tech professionals to join the team as well.
"Of course, we're still going to need senior folks at some point," Derek said. "Those will be more seasoned web hosting veterans who know what they're doing when it comes to managing servers."
In the meantime, CleverHost will seek to train potential workers for the level one support that makes up 90% of tech questions that come in.
"A lot of the calls we take are related to just getting around the control panel, billing issues, and that sort of thing," Derek said. "And I think that's an area where we're primed to target that demographic and hopefully get some folks off the street."
In addition to this large social undertaking, CleverHost plans to further develop its virtual and dedicated server offerings. According to Derek, this focus will allow CleverHost to differentiate itself in the market even more.
"At the same time, we are still taking advantage of the fact that we don't own the hardware," he said. "We are literally not paying for it."
This method will continue to control CleverHost's costs. And, as part of its philosophy to help businesses succeed online, these savings will be passed on to the customer.
Advertiser Disclosure
HostingAdvice.com is a free online resource that offers valuable content and comparison services to users. To keep this resource 100% free, we receive compensation from many of the offers listed on the site. Along with key review factors, this compensation may impact how and where products appear across the site (including, for example, the order in which they appear). HostingAdvice.com does not include the entire universe of available offers. Editorial opinions expressed on the site are strictly our own and are not provided, endorsed, or approved by advertisers.
Our Editorial Review Policy
Our site is committed to publishing independent, accurate content guided by strict editorial guidelines. Before articles and reviews are published on our site, they undergo a thorough review process performed by a team of independent editors and subject-matter experts to ensure the content's accuracy, timeliness, and impartiality. Our editorial team is separate and independent of our site's advertisers, and the opinions they express on our site are their own. To read more about our team members and their editorial backgrounds, please visit our site's About page.