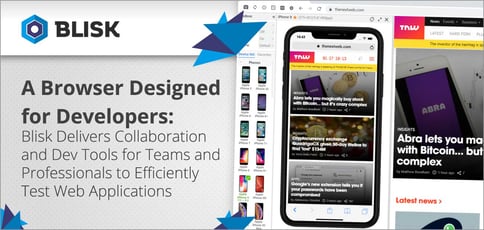 TL; DR: The founders of Blisk saw firsthand the challenges many tech startups faced due to the inefficieny of traditional web browsers, from a development standpoint. Those experiences helped identify the need for a collaborative, feature-heavy browser designed specifically for developers. That's how Blisk was born. The browser offers features for an entire team, including multi-device development and testing, side-by-side views, and dev tools for both desktop and mobile. The mission of Blisk is to provide developers with the tools they need to roll out products quickly, so they aren't late to market.
The founders of Blisk not only had similar IT industry backgrounds, they also shared many problems in their careers as tech entrepreneurs. They had all developed unsuccessful cloud-based startups and tried to pinpoint the reasons why.
Eventually, they found that many of their problems were rooted in the slow development speed of the traditional web browsers they used. The tools available on those popular browsers weren't designed to handle the development workload of an increasingly mobile-focused industry.
Out of these challenges emerged Blisk, an innovative browser and set of tools designed to speed up web development and testing across all needed types of devices and resolutions. The precursor to Blisk received such a positive initial reaction that the founders moved to Estonia to pursue an incubation program.
"Through the program, we learned how to build a modern business using a lean approach and acquired new business contacts, including Microsoft and Skype, to test the minimum viable product (MVP) with real projects," said Andrii Bakirov, Chief Marketing Officer at Blisk.
Using their own experiences in the field, the founders recognized that developers needed a browser that would speed up performance and eliminate the use of libraries, plug-ins, and other add-ons that could slow them down. They envisioned a platform that would be useful for developers, designers, and QA engineers. Blisk was the completed product.
"Blisk was built as a singular place for web development, designing, and testing," Andrii said.
Blisk users typically fit into two categories. One is large corporations that want to remain competitive and send products to market quickly. The other is small businesses and freelancers who are attracted to its multiple features and reasonable price.
"With Blisk, small businesses can become twice as productive and, as a result, can make twice as much income," Andrii said.
Blisk has more than 60,000 users around the world, with most from the U.S., Canada, Europe, and Japan. And the company plans to bring its solution to even more customers around the world, saving developers time and helping them bring ideas to life even faster.
A Browser Built With IT Specialists in Mind
Blisk addresses many concerns that have long plagued developers, including the mundane tasks developers repeatedly perform. Some developers don't have an easy way to test their code on multiple devices and at different resolutions, which can cause errors.
The Blisk browser and platform can help automate tasks that streamline the development process and allows users to quickly test their designs on a collection of the most popular iOS and Android devices.
And users don't have to download multiple features. Instead, they install one application that contains the features they need for many use cases. Those features include options for cross-device testing, UI testing, and SEO checking. And teams can better collaborate using screenshots or recorded video.
"We created a complete solution to help our users build and grow their businesses, create products, focus on UX, be more efficient, and make more money," Andrii said.
Web designers can use the browser to create responsive and attractive sites, QA engineers can quickly test web products, and developers can deploy business requirements.
And Blisk monitors webpage errors and searches for related articles on Stack Overflow. Many of its features also allow for improved collaboration among teams who may be spread out in different locations.
Offering a Toolbox to Solve the Unique Challenges of Web Development
Since Blisk has been in business, trends in web development have changed. That includes the reality that mobile traffic now exceeds desktop traffic, meaning that responsive, mobile-first design is a requirement. Developers also need to ensure their code is workable on as many different devices as they can.
Blisk has adapted to the changing market by following two core ideas: developing agile principles and building strong relationships with users.
Its agility is evident in the company's culture. Blisk has a horizontal structure in which every team member can influence the product. Team members trust and respect both one another and the product's end users.
Though the company started out as a Scrum team, which focuses on creating a product through short bursts of development, they noticed more effectiveness with longer sprints.
"Over the years we have built our own process which is very similar to Scrumban, a mixture of the Scrum and Kanban methodology, which allows for more flexibility," Andrii said. "The need for continuous maintenance and sudden changes to the product requirements do not allow us to have a true Scrum process."
The idea is that the Blisk team must be agile to improve user productivity. The team works to boost the platform's usefulness by optimizing workflow, improving UX, and adding more devices and features.
The Blisk team develops open channels with users that allow the team to efficiently address changes in the industry.
"We always welcome fresh ideas from our users and then measure the market need for them," Andrii said.
Blisk also focuses on bug reports and prioritizes fixing any issues as soon as possible.
"It is well-known that the IT sphere is more demanding for any product than others," Andrii said. "So the biggest challenge for us was establishing trust with our audience and converting regular users to loyal customers."
Simplifying Design Processes From Scroll Sync to Auto-Refresh
When developers start using Blisk, they immediately notice the contrast with the traditional browsers they've used in the past. And that's what the founders set out to accomplish.
Developers can choose from a variety of devices — from mobile to tablets to desktop — to test their code and designs, and even view outputs side-by-side for a straightforward comparison of the environments.
Another useful feature of this function is URL and scroll synchronization for side-by-side development. That means, if a user moves to a certain point on mobile, the desktop version will mirror that movement.
And all of Blisk's features have one goal in common: to speed up web development and testing.
"In the world of IT, time to market is a key factor of success," Andrii said. "The competition is so fast that, while you're implementing your idea, someone else is already deploying it."