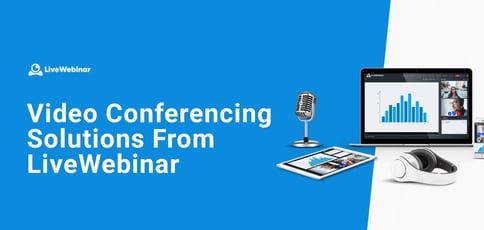 TL; DR: LiveWebinar provides video conferencing solutions that companies can easily integrate into their day-to-day operations. Its cloud-based webinar software allows users to create a cohesive virtual atmosphere that engages employees and improves productivity. LiveWebinar sets itself apart from competitors by delivering a seamless software integration that clients can use almost anywhere and even embed into their company's domain address and website.
Remote work has become an essential piece of the global workforce since the COVID-19 pandemic began. More people than ever have set up at-home work offices, allowing them to save time and money from commuting and other related expenses.
But where there are upsides, there are also downsides. Connectivity is at stake. And companies had to find new ways to keep their employees engaged and up to speed on company operations. Video conferencing played a crucial role in sustaining that.
According to Digital in the Round, video conferences improve productivity by 50%, with 76% of employees using video technology for remote work. Video calls give teams an outlet to share updates, advance project collaboration, and maintain workplace camaraderie.


"Since the pandemic, people have needed efficient, remote work tools for their business environments. Even before the pandemic, it was quite difficult to integrate modern software for video conferencing on a daily basis," said Maciej Biegajewski, LiveWebinar Digital Marketing Specialist.
LiveWebinar makes integrating video conferencing into company operations easy. The company offers a wide array of features, including a simplified approach to browser access, unlimited customization, and paid webinar options.
LiveWebinar's cloud-based video technology has multiple layers of security, and users can customize it to fit their needs with various automated add-ons, including MailChimp and HubSpot. With more than 40 datacenters worldwide, companies can use LiveWebinar to host more than 1,000 participants with easy browser-based conferencing on any device.
"Our approach is to create a simple and accessible solution for everybody everywhere. So users can easily integrate what is connected to their needs and give their employees and customers a way to connect in these times," said Maciej.
How LiveWebinar Distinguishes Itself From Its Competitors
Poland-based LiveWebinar has a long history in communication technology thanks to its co-founders who have more than 20 years of experience working in real-time communication markets. They used that experience to launch LiveWebinar.
Maciej called LiveWebinar a pioneer of RTC technology in Europe because the company was the first to abandon the industry's outdated formula and include HTML5 technology into its solutions.
"In the past, HTML5 was quite unique for this product category. Of course, as the evolution of the market began, more software providers decided to re-establish their technology to HTML5 protocols," said Maciej.
But the LiveWebinar team's experience isn't its only competitive advantage. Maciej told us the company's simple integrated solutions truly make it stand out. Companies can use its software without implementing it into their complex ecosystems.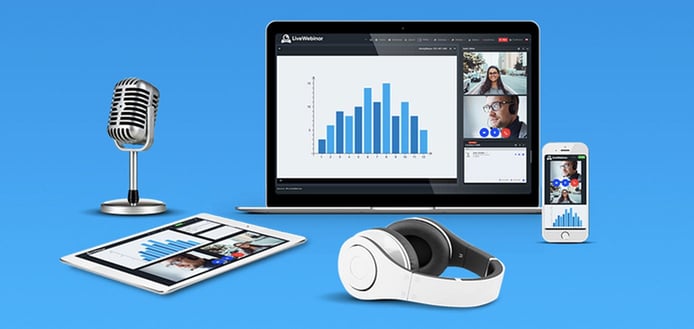 "Our solution was, from the first day, accessible from URL, one click. No downloads. We are trying to give people only one piece that they can easily fit into their business," said Maciej.
LiveWebinar works on every browser, and users don't need to install it on their desktops like other competitors. This feature makes meetings more accessible for everyone, even if a person is external to the workplace.
LiveWebinar also offers white-label solutions for video conferencing. This solution allows companies to embed LiveWebinar video technology into their websites and domain addresses.
"So we can put elements of a customer's interface into our software and integrate it with their domain," said Maciej.
In 2021, Capterra included LiveWebinar in its Best Value Webinar Software list.
Leveraging Real-Time Communication Apps in Remote Settings
LiveWebinar's priority is to ensure connectivity for employees in remote settings. The company serves multiple demographics and offers various features that align with their differing needs. Maciej said that the company has two main product categories, the first is SaaS and the other is a complete white-label solution.
"Most of our SaaS customers are marketing teams or sales teams because they are generating leads using webinars or having internal meetings on our platform. But we also have plenty of individual customers, for instance, coaches or educators," said Maciej.
Coaches can use its paid webinar feature to monetize their meetings. Maciej also said online schools and educators, such as its client Kaplan, were its largest customer group, especially during the pandemic. LiveWebinar's video conference tool helped educators set up engaging teaching environments for their students.
LiveWebinar's other main target is enterprises. Most of these customers consist of banks, government agencies, and other financial institutions. Maciej told us that corporate companies usually request its white-label services because those solutions better fit their needs.
LiveWebinar allows enterprises to prove their credibility by giving them the option to implement its video chat into their domain with its API integration. So if a bank has a customer service department that uses video chat, the bank can send the customer its website link without redirecting the customer to LiveWebinar's website.
"Event companies had to switch from an offline model of conferences to online model conferences. So plenty of our enterprise customers were virtual event companies. So we had to move the whole experience of offline events to online presence," said Maciej.
LiveWebinar helped one of its clients, InfoShare, create a successful hybrid event in 2021. InfoShare is one of the largest technology conferences in Central and Eastern Europe. LiveWebinar equipped them with the tools to broadcast live from the stage for six days, configure one-on-one meeting rooms, and maintain one log-in for all these meetings with its API integration.
Creating a Cohesive Virtual Atmosphere for All
Maciej told us that, although the pandemic was a massive boost for LiveWebinar's business operations, the team is still aware of the effects the pandemic has had on its customers.
"People started to feel some fatigue or tiredness from virtual meetings. But we see that this trend will stay with us as in video conferencing for remote work," said Maciej.
That is why the LiveWebinar team seeks to optimize the virtual meeting atmosphere. It builds conference tools with collaboration in mind that can help bring some life to the mundane. Maciej said one of his favorite functionalities is the interactive whiteboard tool.
"You can use it not only for drawing or writing, but you can also play a movie from YouTube to highlight the most important scenes. Or you can upload your presentation and documentation for your business, and with your teammates build new ideas based on materials that you have," said Maciej.
Resources, such as the LiveWebinar whiteboard, allow employees to interact regularly, brainstorm together, and build better connections even when they are far apart. Users can also customize the LiveWebinar platform to match their branding style. They can change the room layout mode, easily switch between webinar and meeting modes, and design their rooms with their colors and logo to showcase their personalized touch.
"We're trying to give people the best experience in virtual meetings and ensure that they have the best possibility to network with other people and communicate the best way for them," said Maciej.