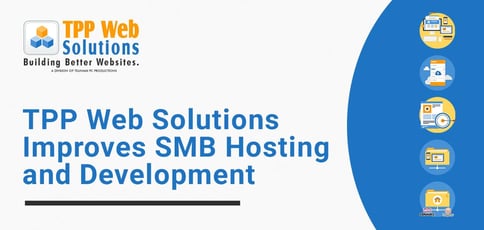 TL; DR: TPP Web Solutions has spent more than two decades providing business customers with options to improve their digital presence. TPP Web Solutions leverages its experience in domain, design, hosting, and marketing and works closely with customers to find the best fit. The company also identifies market trends and is currently working on innovative small business products it expects to launch soon.
When TPP Web Solutions owner Bruce Hakala started his company in the late 1990s, it was just a part-time gig.
More than two decades later, that part-time business has grown into a full-time company serving hundreds of customers. It also has extensive experience helping small businesses improve their online presence.
TPP Web Solutions offers customers a wide variety of services, including complete website packages with domain, design, hosting, and marketing tools.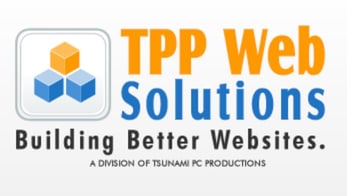 But Bruce said the company's core approach is based on working with customers to understand what they need — rather than just selling every client a standard package.
"What sets us apart, according to our customers, is that we don't try to sell them services they don't need," Bruce said. "We take them through an interview process to understand what they need. Then we present what will work for them and their situation."
Bruce said clients appreciate that TPP Web Solutions spends the extra time educating them and allowing them to make the best decisions for their operation. And the staff at TPP Web Solutions is well-positioned to help those small businesses.
"My team members are experts at what they do," he said.
Leveraging Decades of Hosting Experience and Knowledge
Bruce and his wife Tina started Tsunami PC Productions in 1997, and TPP Web Solutions grew out of that original company. And much more than the company name has changed since then.
Over that period, Bruce said he has seen massive shifts in the industry. TPP Web Solutions has thrived by focusing on staying ahead of the curve on technology trends.
For example, the company began work on an early shopping cart system called osCommerce years ago. It was designed for customers to use on their websites when WordPress was still in its infancy.


"We went through tons of work to build a plugin for osCommerce, and we had half a dozen customers that purchased the solution," Bruce said. "Then suddenly, HTML5 and CSS3 came out and made it obsolete."
It's just one example of the challenges that come with keeping up in a fast-changing industry. But the lessons Bruce and his team have learned through trial and error continue to pay off.
Bruce said TPP Web Solution has worked with customers featured in national publications and also has international customers in Italy, Switzerland, and Poland, among other locations.
TPP Web Solutions also offers a variety of customer support options, including a 24/7 service line, web chat, a ticket submission system, and an extensive knowledge base.
Educating Customers and Listening to Feedback
TPP Web Solutions aims to get to know businesses before it moves forward with suggesting products. It also strives to understand their needs and work with them on designing the right solution. Bruce said that approach can lead to cost and time savings and higher performance once they implement solutions.
"We bring our expertise and years of experience to each project," Bruce told us.
Companies can select the right tools because TPP Web Solutions offers such a wide variety of solutions.
"The majority of people don't know what type of website they need," he said. "They may have ideas, but they don't really know. So that's why we like to conduct interviews with businesses, so we can offer packages that fit everyone's needs."
Bruce said TPP Web Solutions helps customers with four different levels of website packages, ecommerce solutions, website marketing, and additional plugins.
The company also offers website hosting packages, including shared, WordPress, cloud, and dedicated options.


Since he founded TPP Web Solutions more than two decades ago, Bruce said he's seen plenty of shifts in technology trends. But he said his team's dedication to providing top-notch service to customers remains constant.
"We've worked on ​​projects as small as one page to as large as a custom learning management system built for a language school," Bruce said.
Another trend is the desire for easy, plug-and-play options across platforms. That is a massive change from the early days when businesses needed custom websites designed from scratch.
"Things have gotten faster, more affordable, and with plugin libraries, there are a lot of opportunities for customization," he said.
From a hosting perspective, businesses are increasingly moving away from dedicated servers toward cloud-hosted solutions. Bruce said the team at TPP Web Solutions works with many clients that use WordPress for their business websites, although it works with other platforms.
TPP Web Solutions has dedicated team members who research new technologies and plugins to see if the company should offer them to its customers. That approach helps it stay updated on innovations and ensure it can continue to meet customer needs.
TPP Web Solutions: Striving to Innovate New Products
Bruce said that, as TPP Web Solutions moves into 2022 and beyond, the team will continue to evaluate and work on new plugins that have use cases for particular industries. Those solutions will consist primarily of high-end WordPress plugins.
He said the company may launch a new division soon, which would mean bringing on new, experienced team members.
Another initiative for TPP Web Solutions is a financing option to help customers pay for their services. With all of those projects in the pipeline, Bruce said his company takes a similar approach to large software giants. TPP Web Solutions always aims to have small projects and one large project in the works at any given time.
That future-focused strategy is part of the reason why TPP Web Solutions is poised to help customers with hosting and an array of other digital tools for decades to come.
"Our objective is a simple and diverse one: to provide maximum customer satisfaction by offering affordable website solutions to all clients — large and small," Bruce said. "We pride ourselves on not only educating the client of all possible solutions but also sharing their success in an ever-changing new market. What does the future of websites hold? No one can be sure, but you can bet we will be the first to let you know."