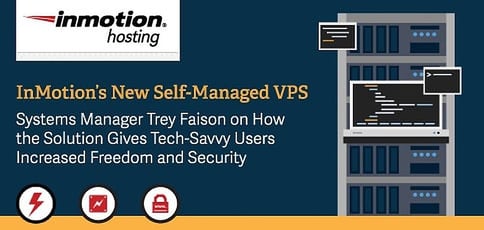 TL; DR: Developers and advanced system admins — who InMotion Hosting Systems Manager Trey Faison calls "SysAdmins/WebDevs" — typically must choose between cPanel being a barrier to their workflows or losing security and functionality without the tool when managing virtual private servers (VPSs). But, true to form as an innovator in the space, InMotion has devised a solution. The host's new Self-Managed VPS gives users the flexibility to streamline workflows while retaining the secure environments they require. As Trey said, the goal is to give customers with more complex technical needs the best of cPanel without having to trip over it.
A virtual private server (VPS) is a web hosting option that runs a separate copy of an operating system in a sandboxed instance called a virtual machine. Customers running web applications on virtual private servers have the ability to install and run nearly any software or script without significant risk of affecting, or being affected by, a host's other customers.
The reasons to choose this form of web hosting vary, but most who go the VPS route are technically proficient when it comes to managing the complexities of their sites and virtual servers. Some use it because they need the freedom to run scripts that simply wouldn't be prudent to execute within shared environments where other accounts might be easily affected. Others turn to VPS for its innate ability to partition services to manage sub-accounts for multiple clients from a single account.
Platforms like Plesk and cPanel enable easy configuration and management of VPS servers and their constituent technologies and systems. Such hosting platforms reduce the learning curve for less experienced site managers while also providing veteran site managers with easy access to controls over more advanced aspects of their servers. For InMotion Hosting, the bulk of its customer base benefits from having cPanel as an interface to manage virtual private servers.
But there's another class of VPS customer for whom cPanel is actually an impediment. These are the software developers who need a VPS to test projects as well as top-tier system admins who want to configure everything about their servers. For such web hosting customers, cPanel and Plesk, at best, require working around; at worst, they completely lockout some aspect of the server the customers need to control.
With the launch of its new Self-Managed VPS product, InMotion is giving these advanced customers what they need — the safety and security of cPanel without any of the limitations.
Self-Management and Making SysAdmins/WebDevs a Priority
InMotion Hosting Systems Manager, Trey Faison, calls these important, but underserved hosting customers "SysAdmins/WebDevs." Trey told us this demographic represents hardcore developers and skilled admins who know what they're doing. And many of them get frustrated with the limitations of cPanel and Plesk.
"They don't need help setting up email accounts," Trey said. "They really just want to get root access and get going with what they need to get going, either with cPanel or without it."
Even though the cPanel-preferring set represents the bulk of InMotion's customer base, the Los Angeles-based hosting company is taking a risk to provide a quality product to those who need to work without cPanel.
"We're going with the self-managed now to put ourselves out there going for that kind of market and figure out how to market to it because it's new territory for us for the most part," Trey said.
The goal, as Trey noted, is for InMotion to gauge how these customers use the Self-Managed platform and how it's helping them optimize their workflows. It's a novel approach and one that's being received well by the target tech-savvy demographic. And Trey and his team aren't holding back on the goodies.
"What we try to do, philosophically, is ask 'What do we do as a company to help ourselves, and is there a reason we cannot expose that to our customer base?'" he said. "Because if we're going to make a mistake — and we have — we should provide the same tools, workarounds, and fixes to our customers because they might do the same thing."
Delivering the Best of InMotion's Managed Hosting Without Barriers
Running with cPanel or a managed hosting solution gives customers peace of mind their security updates are handled.
"If a customer is hacked or phishing, we know it's generally not the underlying OS or VPS itself," Trey said.
However, Trey told us developing InMotion's new cPanel-less Self-Managed VPS posed a big challenge. Without the tool, the host had to devise a way to best engage these customers.
"But, we did provide a lot of tools to help them with their workflow," he said. "That was surprisingly the more difficult side of debuting this product because we're so reliant on cPanel for some of the basics that we actually had to reconfigure our own infrastructure to handle that."
Support and system administration for this product is focused on ensuring the VPS is up and running, and helping the customer gain entry to the VPS (though the company's managed hosting department is available for more in-depth paid assistance). The Self-Managed VPS product will come with Centos 7 as a base OS, firewalld pre-configured, and will match the current managed VPS plans in terms of resources, though with a lower price point.
Customers aren't hindered by cPanel, but they do have access to the InMotion Account Management Panel (AMP), which helps them manage their accounts and configure what they need to without limits.
"Should the customer want to manage DNS via InMotion's own DNS environment, instead of locally installing BIND as an example, that also can be done via their AMP," Trey said.
Ensuring Security with Full Access Through SSH Key Infrastructure
Trey told us the development of the new Self-Managed product has always been focused on giving users the greatest possible flexibility. But that doesn't mean security precautions weren't taken.
"The last thing we wanted was a VPS without cPanel that could be easily hacked," Trey said. "That's why we created our SSH key infrastructure. So, they can get root, no problem, but they use keys by default, not normal password authentication – just to make sure that we don't have zombie VPSs attacking other people."
SSH keys are configured in the AMP and can be redeployed as needed across any of the Self-Managed VPS products that the customer owns. If customers run into issues generating SSH keys, InMotion walks them through how to solve them.
"Our promise is to get the customer into their VPS," Trey said. "If it's our fault that it's down, we'll make sure the VPS is up."
When higher end support is needed, InMotion's own SysAdmins will provide it. The company's Managed Hosting department is open from 9 a.m. to 9 p.m. Eastern, Monday through Friday. So customers who are in a bind get assistance quickly.
"They can be used as consulting, whether it's a phone call or ticket-based," Trey said. "Customers can buy a set number of hours or maybe one hour a month that will renew, and they can just call into Managed Hosting if they need a little bit of guidance."
Install and Experiment with the Safety of Online Snapshots and Re-OS
Trey and the InMotion team said they are truly excited about the safety and backup features that accompany the new Self-Managed VPS product. And Trey noted the Live-State Snapshot functionality they've incorporated through Virtuozzo is one of the main attractions on both the Managed and Self-Managed solutions.
"We really haven't made that as big a deal as we should," he said. "Sometimes you can do those offline, but we can actually do ours online, so you don't have to stop the VPS to do the snapshot.You can do it live, and it takes very little time. Therefore, if you mess up installing something you can go back to where you were when you took the snapshot."
These snapshots, Trey noted, act as get-out-of-jail-free cards. By restoring back to when a snapshot was taken, the processes running before the picture will be running upon restore.
"It's not just like a file dump," he said. "It's a literal go-back-in-time fix to revert to the instant went wrong. And it takes no time whatsoever to create."
And snapshots aren't customers' only safety net. InMotion also has a Re-OS function that reverts systems back to factory settings.
"I call it the Etch-A-Sketch moment, where you can just start over again and not have to call in support," Trey said. "We've all been there, where it's just like 'Man, I've messed up.' And fixing it is going to take longer than just starting again."
Trey said giving tech-savvy admins and developers more flexibility and security is going to be the way forward when attracting this demographic — and for good reason. The Self-Managed solution means increased freedom for its users to innovate.
"It's like a blank slate," he said. "You're never quite sure how a customer is going to use your product. You give them a certain amount of functionality, but users always tend to surprise. What's exciting is just being able to watch what they're doing. We can't be creative for the customer. We can just provide a canvas and let them do what they need to do to solve their business problems."
Advertiser Disclosure
HostingAdvice.com is a free online resource that offers valuable content and comparison services to users. To keep this resource 100% free, we receive compensation from many of the offers listed on the site. Along with key review factors, this compensation may impact how and where products appear across the site (including, for example, the order in which they appear). HostingAdvice.com does not include the entire universe of available offers. Editorial opinions expressed on the site are strictly our own and are not provided, endorsed, or approved by advertisers.
Our Editorial Review Policy
Our site is committed to publishing independent, accurate content guided by strict editorial guidelines. Before articles and reviews are published on our site, they undergo a thorough review process performed by a team of independent editors and subject-matter experts to ensure the content's accuracy, timeliness, and impartiality. Our editorial team is separate and independent of our site's advertisers, and the opinions they express on our site are their own. To read more about our team members and their editorial backgrounds, please visit our site's About page.