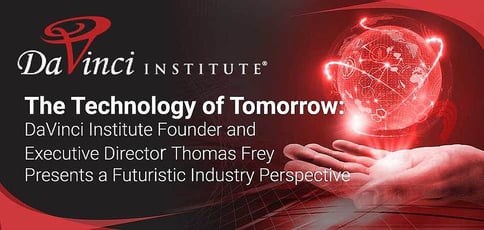 TL; DR: The DaVinci Institute, a nonprofit think tank founded in 1997 by Futurist Thomas Frey, has inspired thousands to expand their views on what tomorrow holds. The institute helps organizations and individuals gain a competitive advantage by developing an innovative mindset and aligning their skill sets with the careers of the future. With plans to help build a theme park for budding tech professionals underway, the forward-thinking group will continue to steer its community of creatives, entrepreneurs, technologists, and startups toward the tremendous opportunities that lie ahead.
Futurist Thomas Frey believes driverless technology will have a greater impact on our society than any other technology in the history of time.
"I think it will be more disruptive than the invention of electricity, the invention of the car, and even the invention of the wheel itself because it will affect more people in a shorter time period than any other technology," he said.
As Founder and Executive Director of the DaVinci Institute, a think tank providing leadership and visionary services, Thomas' job is to make bold, evidence-based predictions like these and examine their potential impact on various industries. For those in the auto industry, for example, Thomas warns of sweeping change: "Taxi drivers, limo drivers, and bus drivers will be affected; auto loans are going to disappear; even dealerships themselves will start to dwindle and eventually vanish," he said.
Thomas said the tech industry is in no way immune to a similar scenario. "There's this growing anxiety hovering in the background for tech professionals," he said. "Personally, I think there are going to be way more opportunities than we can imagine, but there's going to have to be a lot of retraining done along the way that we're woefully unprepared for."
That's where the DaVinci Institute comes in — helping creatives, entrepreneurs, technologists, and startups develop the foresight they need to survive and thrive in the face of an involving industry. Founded in 1997, the think tank focuses on providing a competitive advantage to its community by anticipating the future and aligning skill sets accordingly. Today, the DaVinci Institute's big-picture approach includes plans to help develop a theme park for up-and-coming tech professionals among other visionary initiatives.
Reboot Your Career: Learn to Code in 20 Weeks or Less
As old jobs fade into obscurity and new opportunities emerge, Thomas said the key to survival is quick adaptation to change. The problem is, our current education system runs counteractive to continued learning opportunities.
Thomas said individuals entering the business world in 2030 should plan to refresh their skills between eight and 10 times throughout their careers. "Someone who has to shift gears that often is going to want to do their retraining in the least amount of time possible — not the most," he said. "Traditional colleges are very poor fit for this type of retraining."
For this reason, Thomas said microcolleges — intensive forms of post-secondary education in short bursts of time — will become increasingly prominent. "You've got to be able to go to these schools, pick up new skills, and go off in an entirely new direction," he said. "They're going to teach people how to become crowdfunding experts, how to design parts for 3D printers, how to become drone pilots and brewmasters."
Thomas said the DaVinci Institute spearheaded the concept of microcolleges through the DaVinci Coders, a coding school designed for the fast-moving tech industry. The school features small class sizes and a condensed learning environment. The main benefit is that students learn to code in less time for a more affordable price than traditional college programs. Classes are held just three nights a week for just 15 to 20 weeks.
Powerful Insight: How the Think Tank Provides a Competitive Advantage
Thomas also believes we must topple the paradigm of full-time employment to increase career success.
"The typical scenario is someone graduates from college, and they can't find a job," he said. "Then, after a couple of months, they'll pick up a project, then they'll pick up another, and before they know it, they're working as a freelancer. They're doing it begrudgingly, never realizing that the freelancer lifestyle could be the optimal lifestyle for them."
To that end, Thomas plans to help individuals learn how to become successful freelancers. "They're not teaching it at the college and community centers, they're not teaching it anywhere," he said. "But as we move into this era of super employment, most jobs won't be full-time gigs. They will end up being something that a freelancer would be good at doing. And that's where we are deficient in a lot of different ways."
Thomas and the DaVinci Institute spend a lot of time speculating how businesses can gain a long-term competitive advantage. "We do these mastermind groups every so often where we get people together, and we tackle some unusual aspect of the future," he said. "We did one recently on the topic of what is going to be common in 2030 — 12 years from now," he said.
For perspective, the group looked back on the technologies we have today that didn't exist 12 years ago. "That was 2006, and the iPhone had not yet come out. We didn't have mobile apps, we didn't have Twitter, we didn't have social media — all of these things that we take for granted today," he said.
Looking forward, Thomas said one thing's for sure: A fundamental shift has taken place in the information world. "A couple of years ago I was asked to give a talk on the future of advice and advice givers," he said. "In the past, information was scarce, and only the advice givers would have access to it. Right now, it's everywhere, but only the advice givers know what to pay attention to."
Advisory and Training Services Ahead of Our Time
The DaVinci Institute provides a diverse portfolio of advisory, training, coworking, and event services. The group's advisory branch acts as an on-demand strategic partner for businesses looking to reach beyond conventional thinking.
The DaVinci Tech Academy, on the other hand, offers workshops, seminars, and career coaching opportunities that leverage futurism to drive actionable insights. The institute's Westminster, Colorado-based Colony Workspace provides a shared environment for innovators, entrepreneurs, technologists, and startups looking to become part of a forward-thinking community.
"We have a coworking facility right now with 37 companies — mostly startups that are in various stages of getting off the ground," he said. "We have a very eclectic mix of companies in there, and if we need an answer to any question, we can just wander down the hallway, which I find incredibly refreshing."
Curious how the community inspires its members to operate with a futurist mindset? Thomas explains it this way: "The future creates the present," he said. "Most people think that what we're doing today is somehow going to create the future. From a different perspective, it's these images of the future that we have in our head that determine our actions today."
When the institute changes an individual's vision of the future, Thomas said, it also changes the way that individual makes decisions today.
"We're constantly tweaking the minds of the people we're working with as we give them a better perspective on what's coming around the corner — creating better awareness, better resources, and better connections to key individuals," he said. "All of these things play out in interesting fashions."
The NARYBEK Project: A Theme Park for Future Tech Professionals
A couple of years ago, Thomas had wrapped up a forward-thinking presentation in South Korea when a young man approached him.
"He said, 'We're in the process of building a theme park on future jobs and, we'd like to have you involved because it's all based on your work,'" Thomas said. "How could I say no to that?"
The theme park, currently known as the NARYBEK Project, will be constructed in Uijeongbu, South Korea, about an hour north of Seoul on a former U.S. military fuel depot. Thomas said it will be designed specifically for 10- to 14-year-olds looking to explore potential careers.
"These teenagers and preteens are trying to figure out what they want to do in life, and that's a tough problem to solve," he said. "How do you illustrate what new jobs are going to look like and make it entertaining? It's going to be very challenging."
But Thomas believes it's possible — and, considering his futurist background, that's a pretty good sign.
"We've got some of the best engineers in Korea working on this, and we hope to have similar parks in the United States in the near future," he said. "We'll be making more information available as it comes to light, but it's getting legs quickly."
Advertiser Disclosure
HostingAdvice.com is a free online resource that offers valuable content and comparison services to users. To keep this resource 100% free, we receive compensation from many of the offers listed on the site. Along with key review factors, this compensation may impact how and where products appear across the site (including, for example, the order in which they appear). HostingAdvice.com does not include the entire universe of available offers. Editorial opinions expressed on the site are strictly our own and are not provided, endorsed, or approved by advertisers.
Our Editorial Review Policy
Our site is committed to publishing independent, accurate content guided by strict editorial guidelines. Before articles and reviews are published on our site, they undergo a thorough review process performed by a team of independent editors and subject-matter experts to ensure the content's accuracy, timeliness, and impartiality. Our editorial team is separate and independent of our site's advertisers, and the opinions they express on our site are their own. To read more about our team members and their editorial backgrounds, please visit our site's About page.