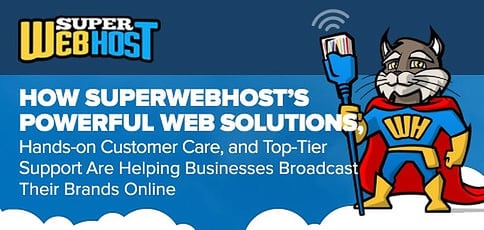 TL; DR: When a number of small, like-minded hosting companies merged to form SuperWebHost, their organizational structure and size may have changed, but their missions didn't. These businesses had built themselves up by paying close attention to every customer, and SuperWebHost remains true to that aim — delivering quality service to everyone from the 20-something tech-whiz to the 60-something mom-and-pop shop owner. We recently sat down with Managing Partner Billy Cooter, who told us how SuperWebHost is able to anticipate the direction of the hosting industry and deliver the services clients need by keeping a finger on the pulse of its customer base.
Long before SuperWebHost became the company it is today, several entrepreneurs, web designers, and developers had — independent of each other — started their own small hosting businesses.
"They were a bunch of people who built hosting companies because they spotted a niche or simply wanted to make things easier for another start-up they had founded," said Billy Cooter, Managing Partner at SuperWebHost. "All of them had the same thing in common — they thought 'I think I could do this hosting thing better than the people who are giving me hosting now.'"
Over the years, these small, like-minded business owners realized they could better serve their customers by joining forces. And, through a number of mergers and acquisitions, SuperWebHost was born.
"It was a natural, organic process," Billy said. "SuperWebHost was one of the original brands. The WebFactory was another one. They were all small, hands-on companies that worked one-on-one with their customers."
Because of their small size, these businesses grew to know their customers extremely well. By the time they merged and became SuperWebHost, the leaders of these businesses understood that their clients didn't want to spend time working on the mechanics of keeping sites online.
"They were businesspeople who wanted to sell their services, whether that meant delivering products to eCommerce customers or collecting rare bikes for their motorcycle shops," Billy said. "They wanted us to solve their technical problems — not distract them from the way they actually made money."
Today, SuperWebHost offers a variety of services, including shared hosting, WordPress hosting, and managed cloud solutions. The common thread that runs through all the company's offerings is a commitment to giving hard-working customers fine-tuned products that allow business owners and entrepreneurs to focus on the work they love.
Delivering Customized Solutions Based on Customer Need
In an industry notorious for bad customer service, SuperWebHost differentiates itself with a rare dedication to its clients.
"Let's face it — most people don't understand web hosting," Billy said. "For example, we have a customer who sells fireworks. He's an older guy, he's retired, and he didn't even get into the business until he was in his 60s. Every time he talks to us, he starts the conversation by saying, 'Wait a minute. What is hosting? I know I need you guys, but I forget what exactly you do.' We have a lot of customers who aren't super tech-savvy."
That's one of the biggest reasons why SuperWebHost has built such a strong customer service department.
"Customer service sounds simple, but it's actually pretty complicated," Billy said. "The key thing to understand is that we have to communicate effectively with a wide range of people who come from very different backgrounds."
It's easy to get too technical and confuse customers who aren't familiar with the latest tech developments. But it's also easy to insult the intelligence of highly trained tech experts.
"If you talk down to a person who really understands hosting, they'll let you know," Billy said. "They don't like it when people waste time explaining things they already know."
As a result, SuperWebHost has stayed true to a simple idea — the team gets to know every customer and takes the time necessary to develop relationships. Billy told us the company's representatives aren't afraid to ask questions. And it's this attitude that he thinks keeps SuperWebHost's customer service a cut above the competition.
Serving a New Generation of Tech-Savvy Business Owners
Over the past few years, Billy has watched the average hosting customer become more tech-savvy.
"I think demographics are changing," he said. "It used to be that our clients were in their late 40s and 50s. Someone else had to set up their websites, and they didn't really understand much about the gears that made it all work. But, now, those people have sold their businesses to a younger generation that knows more about technology."
Even individual accounts have been transformed.
"I've picked up the phone ready to talk to a customer who traditionally has needed lots of hand-holding, only to have the person on the other end of the line say, 'Hi, I'm the new contact for this account' and then rattle off 20 super technical questions," Billy said.
As their customers become more fluent in today's technology, SuperWebHost has had to change the ways it promotes its services.
"We used to have a lot higher call volume for support," Billy said. "When people wanted to fix their site, the first thing they would do is pick up the phone and ask us a question. Now, younger developers prefer to use our website as their first point of contact."
SuperWebHost is addressing the issue by delivering more information on its services and posting educational pieces delivering industry best practices on the company's website. One example of this is SuperWebHost's initiative to inform customers about Google Chrome's changes to SSL sites.
"We want our customers' sites to run smoothly, and a big part of that is keeping them informed about big developments in the online space," Billy said.
The Philosophy: Open Ears, Open Minds, and Constant Innovation
Throughout its early years, SuperWebHost focused primarily on shared hosting services. But the team began to notice that more and more customers were starting to call up and ask about a wider range of products.
"Entrepreneurs started learning more about what websites could do," Billy said. "Consultants were coming in and telling business owners that they weren't fully utilizing their homepages. Since we kept in close contact with our clients, we were able to adapt to their new needs."
For example, Billy told us that a number of customers were contacting the support team with questions about WordPress. Users were having problems managing their WordPress sites, and needed help figuring out how to best run the CMS.
"They weren't keeping their site up to date," Billy said. "They didn't understand the platform, and they didn't realize that installing 50 plugins would slow everything down. We decided that we couldn't just solve these problems individually as they came in — we needed a bigger solution. So we proactively built a WordPress-specific hosting product to serve those customer needs."
It's another example of SuperWebHost's commitment to closely listen to customers and enhance or develop new solutions to give those customers what they want.
Building a Larger and More Secure Infrastructure
For years, SuperWebHost did most of its business in Canada, but plans are in the works to widen its footprint across North America.
"Our customer base was about 20% US-based and 80% Canadian-based," Billy said. "Right now, our primary cloud infrastructure is in Canada. But we're going to duplicate that in the US."
Billy told us that SuperWebHost's expanded US infrastructure will be built to deliver unfailing security.
"Many clients don't understand the flexibility the cloud provides," Billy said. "If a hardware node fails on a regular hosting platform, they're out of luck until that hardware is repaired or backups are restored. If hardware fails on a cloud platform, we can get everything back up almost instantly. It gives customers security they don't even realize they have."
In addition, SuperWebHost's new infrastructure will have more DDOS protection services.
"Security is crucial," Billy said. "It's incredibly important to us."
The Guarantee: Not a Single Customer Will Fall Through the Cracks
SuperWebHost may not be the lowest-priced hosting business, but that's not its goal.
"If you compare apples to apples, you'll see that our costs are very competitive," Billy said. "As important as that is, what we're really focused on is something different. Our key customer is someone who is happy to pay an extra $2 a month because they know that, no matter what problem they might have, we'll resolve it as quickly as possible. In the case of a really complex issue, we'll take whatever time it needs."
Most hosting providers don't have that attitude. And Billy noted many low-cost hosts take on huge volumes of customers at the expense of hands-on support and customer care.
"At the end of the day, hosting is technical, and problem-solving isn't always straightforward," Billy said. "Other companies don't like to talk about it, but to them, it's strictly a numbers game. If 99 of their customers are happy, and you're the one customer who has a really difficult, hard-to-solve problem, they'll cut their losses and ignore you."
Billy told us that SuperWebHost has the opposite philosophy. For Billy and his team, the company's entire business model rests on taking care of its customers.
"We're willing to do whatever it takes — spend two hours with you on the phone, go through 20 back-and-forth emails, or kick the problem up to management," Billy said.
Even when it doesn't make financial sense, SuperWebHost sticks by its customers.
"I've looked at the hours we've spent with individual accounts, the customer service time we've dedicated to them, and realized that we spent more in our support budget than what they'll pay us for their next year of hosting services," Billy said. "But it's worth it because we take pride in knowing that every single one of our customers can rely on us to get the job done."
Advertiser Disclosure
HostingAdvice.com is a free online resource that offers valuable content and comparison services to users. To keep this resource 100% free, we receive compensation from many of the offers listed on the site. Along with key review factors, this compensation may impact how and where products appear across the site (including, for example, the order in which they appear). HostingAdvice.com does not include the entire universe of available offers. Editorial opinions expressed on the site are strictly our own and are not provided, endorsed, or approved by advertisers.
Our Editorial Review Policy
Our site is committed to publishing independent, accurate content guided by strict editorial guidelines. Before articles and reviews are published on our site, they undergo a thorough review process performed by a team of independent editors and subject-matter experts to ensure the content's accuracy, timeliness, and impartiality. Our editorial team is separate and independent of our site's advertisers, and the opinions they express on our site are their own. To read more about our team members and their editorial backgrounds, please visit our site's About page.