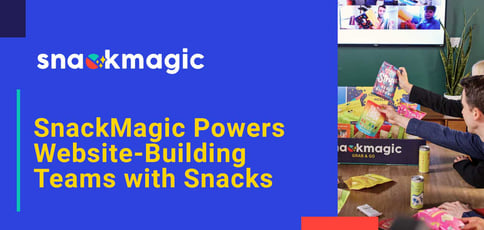 TL; DR: SnackMagic helps remote workers feel less isolated and more included in company office culture. They allow web builders to choose snacks from a curated list, which replicates a digital version of the office kitchen experience and provides the same benefit in-office teams enjoy. SnackMagic ships curated and build-your-own snack boxes worldwide, and the company is expanding services to branded gear and swag boxes.
Hard work and good food often go hand in hand. Many of today's largest and most innovative website-building companies fuel their teams with free snacks. In fact, tech company culture is famous for stocked kitchens and free lunches.
When remote work surged in 2020, many of those workers traded free office snacks for takeout and snacks they purchased at the grocery store. Some workers missed that food.

In 2020, SnackMagic saw an enormous demand for those office-type snacks, especially from remote workers. As a result, SnackMagic quickly began curating and shipping snacks around the globe.
Companies provide employees with SnackMagic credit, and they can visit the site to build their own box or choose a themed version curated by SnackMagic.
"When people redeem these gifts and visit our site, they get a complete kitchen experience," said Manik Juneja, Co-Founder & CTO of SnackMagic.
Many tech and website building companies chose to rely more on remote work even after in-office work began returning to normal in 2021. SnackMagic helps those companies maintain the culinary adventures that fuel their workdays.
Delivering Snacks for Team-Building
When the COVID-19 pandemic hit, SnackMagic knew employees working remotely would still enjoy the snacks that used to be provided for them in-office.
"Before distributed office work had become widespread, we had one unit with a snack and beverage menu. Sometimes, there is a meeting in the office, and someone isn't there, but the company could order them a drink or snack, so they don't miss out on that. Some of our customers reached out to us and asked, 'Could you send food to our team, which is now remote?'" Manik said.

By including everyone in the meal, organizations could build their teams and encourage camaraderie. That capability positioned SnackMagic well to respond to the pandemic as many organizations tried to rebuild their morale and sense of belonging remotely.
SnackMagic cemented a new niche in providing curated and build-your-own box options for remote workers. That resonated with customers and helped the company make it through the chaos of 2020.
Branded, Curated Options that Make Everyone Happy
Part of SnackMagic's value proposition is helping remote workers, including website builders, feel less isolated and more included in company office culture. In a similar vein, SnackMagic found success in helping online event participants connect with brands and companies connect with clients. Online experiences that include a physical component or touchpoint can become more meaningful and personal to participants.
Manik said he believes virtual experiences are missing that personal touch as so many aspects of work and life shift online. Physical touchpoints with brands are part of everyday office experiences for teams that work in-person, but online workers can feel more disconnected and distant from their organizations.
SnackMagic allows remote workers, including website builders, to choose snacks from a curated list, which replicates a digital version of the office kitchen experience and provides the same benefit in-office teams enjoy. SnackMagic also builds partnerships with distributors around the world to fulfill orders for remote teams, so workers anywhere can participate.
Today, organizations are facing challenges in attracting qualified and motivated employees. Sometimes, it's the little things that stand out and make a workplace more interesting and memorable to a potential hire. Office snacks have a way of drawing teams together, even if those teams happen to work together across multiple borders and time zones.
"We have ambassadors in each country. We created these partnerships, so orders don't get stuck in customs or end up delayed and never reaching people. In all these countries, our ambassadors ship international orders out locally," Manik said.
Planning to Offer Team Swag and Branded Gear for Clients
Manik said that SnackMagic plans to continue expanding the scope of branded boxes it offers because of the incredible response to its services. Branded gear and swag are popular at conferences, trade shows, and company team-building initiatives. That motivated SnackMagic to add offerings alongside snacks.
"Organizers reach out to us and say, 'Hey, you're shipping these hundreds of boxes for us. Could you also ship swag for us?' Companies can send a link, and teams can come and redeem them for a hoodie or a T-shirt with color and size options."
Companies have a chance to stand out even further by sending employees, customers, or participants swag. Manik said that service positions SnackMagic to benefit from outreach and interest, and potentially from a creative form of marketing as companies connect with clients with unique branded gear. Virtual event attendees are another sensible use case for the service.
Simply put, participants enjoy free stuff. Providing free, branded merchandise is an effective way for a company to promote its identity while building goodwill. Manik said he sees that as a win-win for brands, employees, and customers.
"I like the employee use case, too. When onboarding new employees, you should give them branded stuff from your company," Manik said.
Those strategies will help SnackMagic build its brand with companies. And those organizations can use branded goods and snacks to endear themselves to employees and potential customers.