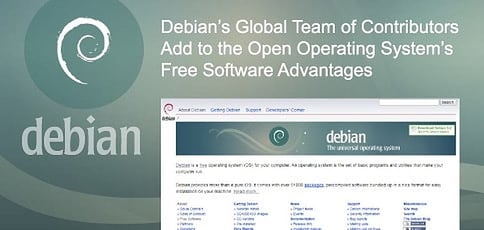 TL; DR: One of the earliest operating systems based on the Linux kernel, Debian provides users access to more than 50,000 free software packages for everything from editing documents and running a business to playing games and building websites. A global community of developers has contributed to the free software platform for more than 20 years, organized by an annually elected Project Leader. Currently at the helm is Chris Lamb, who shared his history with the platform, favorite components, and what's in store for future releases.
Despite a lifelong interest in computers and programming, Chris Lamb didn't use modern hardware until relatively recently. His first computer was 10 years old — he was only eight — and had somehow survived flying through a car's windshield during a traffic accident.
In the days long before one-click installations, he ordered a five-CD set from Red Hat — only to discover his computer lacked the 12MB of RAM needed to install the Linux distribution. Fortuitously, the company he had ordered from would send old installation disks for free and had included an outdated version of Debian.
"It was completely suited to my old computer and didn't require 12MB of RAM," Chris said. "I don't think Debian, even today, requires that amount of RAM to install. I quite liked how it installed, the packaging system, and everything on the disk."
Debian and its global network of developers, contributors, and users continue to enjoy widespread popularity today behind a massive repository of free software, along with superb stability, performance, and personal, grassroots support.
Open-Source Involvement: From First Contribution to Project Leader
Chris eventually upgraded his hardware and switched to Windows before returning to the current Debian release, Sarge, while he was at university.
The operating system once had a reputation for moving slowly with new releases, so Chris found a website in late 2006 listing the critical bugs that needed to be patched before the new version, Etch, could be released.
"Many of the bugs made zero sense to me," he said. "I had no idea, and it was mostly out of my league."
However, he noticed a bug in LilyPond, a package for musical notation. As a longtime cello player, Chris began troubleshooting and sent a patch to the package maintainer.
"He was so enthusiastic about my patch, even though I think it was only one line or something really trivial," Chris said. "His response, and that it actually got into a release, felt amazing."
Since then, Chris said he is constantly reminded about the "irrational power" of providing attribution for patches.
"There is something in there that's mine, and it's running on a whole bunch of systems around the world," he said. "It doesn't necessarily make sense, but it's really cool. That got me hooked."
From that first patch, Chris began contributing more regularly and eventually became an official Debian developer in 2008.
"It gives you voting rights and things like that, but really, it gives you the @debian.org address," he joked. "That's what people really want — the cool address."
After working with tech startups in London for several years, Chris opted to become a freelance software engineer and spend more time working on Debian. After a while, he thought his background in the startup world could provide a fresh perspective to the free software realm in which Debian resides. In April 2017, he was elected to a one-year term as Project Leader.
"I'm quite surprised, and really quite flattered and honored," he said. "I had always looked up to whoever was the leader but never thought I had the time or technical chops or communication skills to do that myself."
Chris's Favorite Advantages to Using and Developing With Debian
Because the role of Project Leader actually carries very little authority in the Debian community, according to Chris, he has continued to enjoy a blurred existence as both a Debian user and a developer. In that vein, Chris shared some of his favorite Debian attributes that influence his work as a freelance software engineer.
"It has always been Debian's strength in moving slightly slower," he said. "It's not subject to one person's whims that can then be reversed. As a user, you invest emotionally in certain aspects of a project or certain technologies. If they can be hastily or incorrectly reversed, that can be really unmotivating."
1. Stable Releases Provide Reliable Security
The methodical approach to maintaining free software means that Debian publishes new releases roughly every 18 months. The current version, Stretch, was released in June 2017, meaning the next version is due out in late 2018.
The strength and stability behind Debian mean that users can rely on the system long after new releases are distributed; security and support are reliable for years, according to Chris.
"You're not pushed to move to something new on the day of the release," he said. "If it's working, you can just leave it be."
2. Diverse Support Means No Desktop Restrictions
Although GNOME might be the unofficial default environment, of sorts, Debian equally supports projects such as GNOME, KDE, Cinnamon, and LXDE.
"There are no first- or second-class citizens, which is great for technical users," he said, adding that he uses the awesome™ window manager. "The scope of the project is so broad, and it speaks to the technical and cultural diversity of the people using and contributing to Debian."
Up Next: Reproducible Builds, Testing, and a New Release
Before becoming Project Leader, Chris joined the platform's reproducible builds team to help create a verifiable path from the source code of software programs to the binary code used by computers. Most Debian software is distributed as precompiled packages.
"When you install something, you're compiling this source code and trusting that someone has been through it with a fine-tooth comb, not modified it, and distributed it in a sane and safe way," Chris said. "There's this chain of trust that's missing."
The motivation behind reproducible builds is to certify that no accidental or malicious flaws have been introduced during compilation. Debian would become the first major Linux distribution to achieve this milestone.
"We do this by promising that every time you rebuild a package, you get the exact same, identical results," he said. "You should be able to build the package and get a certain checksum. You do it again, and you should get the same result."
Chris, who said he finds reproducible builds similar to addictive crossword puzzles, was awarded a grant in late 2016 from the Core Infrastructure Initiative of The Linux Foundation.
Meanwhile, the Debian community is gearing up to release a new update late next year. According to Chris, the developers and Debian community face interesting "social challenges" when deciding whether to integrate modern package managers, such as Flatpak, or concentrate on the system's Advanced Package Tool, or APT. Also on the docket for consideration are accommodating web applications and expanded processes for testing and QA.
Leading a Global Community of Free Software Developers
While running for Project Leader, Chris expressed an interest in organizing more in-person gatherings, streamlining the onboarding and collaboration environments, along with expanding an outreach initiative akin to GNOME's Outreachy project.
"I was very pleased to announce we've doubled the number of outreach students that Debian is funding this year," Chris said. "It attracts new people to our project and promotes diversity in all types of gender, race, income, background, and technical abilities."
Chris appreciates DebConf, the platform's annual gathering, for uniting users and contributors from a variety of perspectives and experiences.
"As Project Leader, it has been really interesting in terms of who it means you get to speak to," he said, alluding to having to handle everything from interpersonal relationships within Debian teams to communicating with Microsoft about creating a Windows subsystem. "The issues that people raise are often quite different, and often, there are no easy answers."
Advertiser Disclosure
HostingAdvice.com is a free online resource that offers valuable content and comparison services to users. To keep this resource 100% free, we receive compensation from many of the offers listed on the site. Along with key review factors, this compensation may impact how and where products appear across the site (including, for example, the order in which they appear). HostingAdvice.com does not include the entire universe of available offers. Editorial opinions expressed on the site are strictly our own and are not provided, endorsed, or approved by advertisers.
Our Editorial Review Policy
Our site is committed to publishing independent, accurate content guided by strict editorial guidelines. Before articles and reviews are published on our site, they undergo a thorough review process performed by a team of independent editors and subject-matter experts to ensure the content's accuracy, timeliness, and impartiality. Our editorial team is separate and independent of our site's advertisers, and the opinions they express on our site are their own. To read more about our team members and their editorial backgrounds, please visit our site's About page.