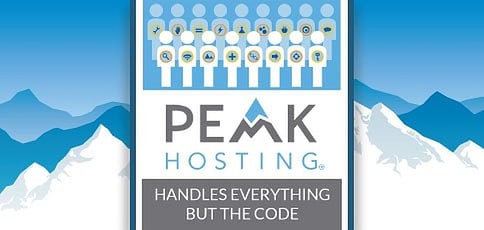 TL; DR: Peak Hosting is many things to many customers. With its Operations-as-a-Service package, Peak is a customer's technical operations department. To others, Peak is an engineering or architecture team, or simply there to monitor infrastructure and make sure nothing goes wrong. Everything but the code is up for grabs in the 15-year-old company's managed hosting services. We recently spoke with Chief Technology Officer Jon Billow, a serial entrepreneur who left IT consulting for the full-service hosting company passionate about core values and their employees.
Imagine running a tech company. You have spent years envisioning, learning, and perfecting your craft or idea. There have been countless long nights spent toiling behind a computer screen, and you're finally ready to launch.
Whether your product is the next big-hit indie game, Kickstarter's largest funded hardware to date, or any other company that relies on the Web for its livelihood, there are about to be a lot of demands on your time and expertise. As your company gets off the ground, the technical demands of your app or website will pull you away from your passion.
Even if you know how to optimize server performance or scale and maintain infrastructure, do you really want to spend your time in a datacenter or on the phone with your hosting provider instead of growing your company? Are you absolutely sure you are doing everything correctly? What happens if something goes wrong?
You might be experienced in a lot of things, but running a technical operations department doesn't have to be one of them. With Oregon-based Peak Hosting, Chief Technology Officer Jon Billow and his teams are ready to take over everything from network design to infrastructure maintenance.
"Every customer is a snowflake," he said.
With a core philosophy that asks what is the most they can do for you and a promise to deliver whatever custom infrastructure you need, Peak employees enjoy the challenge of supporting a multitude of infrastructure systems and operational models — and learning how you might want to do things differently.
After all, they're the ones who have spent years imagining, learning, and perfecting their craft of hands-off hosting and technical operations.
Since 2001, Peak Hosting has offered a robust level of managed hosting with dedicated, enterprise-class architectures so you can focus on your business instead of worrying about running a technical operations department. From design to build and maintenance, Peak's Operations-as-a-Service offering covers the 17 skills needed to run a datacenter so you don't have to.
From Consulting to Hosting, Core Values Have Always Come First at Peak
At the beginning, Peak Web Consulting gave growing companies much-needed advice on how to build out their networks. Founder and CEO Jeffrey Papen started the company in 2001 after working as an engineer for Yahoo! and Excite.com during the initial dot-com boom.
The original consulting clients trusted Peak so much that they would ask to put their website and infrastructure into a datacenter for Peak to run for them. Putting more of the company's efforts into managed hosting proved to be a catalyst for Peak, according to Jon.
"Over time, the company morphed from the pure consulting side of things to the pure site hosting side," he said. "At this point, we've swung the pendulum more back to the center."
Instead of turning into a run-of-the-mill managed hosting firm, Peak Hosting became a boutique, full-service company with a slogan of handling "everything but your code."
As a serial entrepreneur, Jon built and sold several IT consulting companies and worked with many Fortune 100 companies before joining Peak as the Vice President of Engineering about a year ago.
Now the Chief Technology Officer, Jon said he was attracted to Peak because of how Jeffrey installed and championed the company's core values.
"They were really bringing them in in a way that was real, not the typical mission/vision nonsense you see posted on every organization's wall that no one knows anything about," he said. "Things like mutual accountability, servant leadership, and sound judgment driving positive customer results is really a deep part of our DNA, and it really resonated with me."
Peak's Tailor-Fit Hosting Grows with Customers
If a client roster is a gauge of a company's success, you'd be hard-pressed to top Peak, which boasts Facebook, Twitter, YouTube, Netflix, eHarmony, and Evernote among its former and current customers.
Jon describes Peak's target customer as an organization that "definitely has a viable product and viable customer base" and has reached a size and scale where they need to focus on developing their product and market rather than infrastructure.
Consulting as Part of the Onboarding Process
Instead of presenting clients with an ala carte menu or comparing their services to companies such as Rackspace, AWS, or Azure, Peak initiates customer relationships from a consulting perspective: What does your operational model look like? Your infrastructure? Architecture? What does your growth look like, and what are your workloads?
"We craft that solution to best meet what the customer feels fits their gaps," Jon said, adding that while he will try to recommend a standard option to make the lives of Peak support and engineering employees easier, the customer's needs come first.
"If I have a customer that's using a Redis server, for example, that's a pretty difficult thing to rip out of the middle of their infrastructure," he said. "That kind of thing we would take on and go, 'OK, that's the route you chose, and life is good, we're going to roll with that.'"
Peak Cooks Up Customized Recipes for Customer Support
Custom hosting also means custom operational support. Jon compares Peak's customer and technical support to a phone answering service: "Depending on what line rings determines how they answer the phone," he said. "When we have calls or tickets come in, it kicks us into individual workflows and triage paths based on what agreements we have for each customer."
During the onboarding process, Peak "really gets in the weeds" with service level agreements, turnaround times, and workflow analysis to determine what a customer's support model looks like, Jon said." A bunch of the recipes are the same, but it's still a recipe, and the teams have gotten pretty good at figuring out how to follow them."
Technologies That Keep Peak at the Summit
From the technical side, Jon uses what he calls the "greatest common denominator" approach to building out systems. Peak's automation and provisioning systems need to be extremely robust to handle so many different types of systems, uses, and workloads.
Peak owns dedicated space at Equinix and Digital Realty. While Peak owns all the hardware, Jon said the company "decided not to get into the real estate business" and run their own datacenter.
"We've had to spend an awful lot of time in focusing our programs around really core, fundamental technologies and then adapting them to our various needs," Jon said, adding that Peak also keeps an eye toward what future demands those programs will need to cover. "We've got to be willing and able to support any new piece of equipment that comes out on the market that a customer decides they want to upgrade to."
LogicMonitor for Monitoring
The flexibility of LogicMonitor's multi-tenant-friendly, SaaS-based performance monitoring platform works well in Peak's varied environments.
"We specifically chose LogicMonitor because it's 100 percent API-driven," Jon said. "I can literally tie every component of every system into it in a way that I can automate."
The monitoring service also comes with customer-facing dashboards, he said, and Peak can control the level of access depending on the client's needs and expertise.
Pretty Much Everything for Provisioning
With provisioning such a critical component to Peak, we asked Jon what his team relied on: Ansible? Puppet? Chef Provisioning? An in-house program?
"Keep going, all of the above, and then some," he answered, laughing.
Peak's in-house system, usually used for higher-tier clients, is built in Python and relies heavily on configuration management databases.
Docker for Dynamic Workloads
Peak tied Docker into their datacenter infrastructure management platform to balance load demands, latency, and performance with power costs and datacenter expenses.
"I can literally swarm workloads around the cheapest geography," Jon said. "I know it's going to be a lot cheaper to run my workloads in Virginia today than it will be in Dallas, where it might be something like 110 degrees."
SnapRoute for Switches
SnapRoute, a young company whose team left Apple in 2015, built an API-driven white-box switching platform that gives Peak's engineers access to switches and switch fabrics.
"That access has been hugely instrumental for us to deploy across architectures at scale rapidly in a price-effective manner," Jon said. "That has been a real fun and challenging project for us because we're able to take advantage of a lot of emerging networks and trends and hook them in with deep tentacles to our provisioning and automating platforms."
Attracting (and Keeping) the Talented Engineers and Other Employees
While Jon emphasized that Peak doesn't have "any kind of crazy secret sauce" compared to any of their competitors, he credited the company's success to the emphasis Peak leadership places on hiring top-of-the-line employees. Like the core values, Jon said there's no lip-service to how Peak values their employees.
"You're not going to find anyone in the industry who will say, 'I don't give a s*** about my employees,' yet when you look at their culture, benefits, career opportunities, et cetera, it's clear that the money isn't where their mouth is," he said. "I am buying the same Dell servers that Rackspace is, that every other hosting company is, and I'm laying down the same operating systems. What it comes down to, really, is the people, and we really have put a financial emphasis on taking care of the whole human."
High Standards in the Hiring Process
Hiring at Peak is "definitely an art as much as it is a science," Jon said. As part of the stringent process, Peak leadership looks for active listening skills, creativity and critical thinking skills, and a high degree of collaboration.
"We do not hire prima donnas," he said emphatically. "I do not care how awesome you are technically. If you can't work as a member of the team, I'm not interested."
The end result is a team of technology veterans with an average of 15 years of experience.
"What it comes down to is that the people we bring in are at the top of their game and have high degrees of motivation. You get some awesome output from your organization when you've got a very engaged workforce."
What's more, Peak boasts a 3:1 staff-to-customer ratio — unique in an industry that averages 3:500. Jon said that Peak carries a rather large engineering team, "but that means our support team doesn't need to be rocket scientists."
Big Investment Into Benefits
Peak's headquarters are outside of Portland in West Linn, Oregon — but hardly anyone is there. Jon estimated 98 percent of Peak's employees work from home, spread out across the country.
"We have an office, but no one really goes to it," he said. "My main consideration for hiring someone is whether they have a fast Internet connection."
Beyond the training and professional development opportunities that are fairly standard across the industry, Peak puts their money where their core values are: non-hourly exempt employees get unlimited vacation time, weekly spot bonuses for overachievement, and $150 per month to reimburse for gym, cell phone, and Internet expenses. Peak will also match up to $5,000 in charitable donations per employee per year.
Perhaps Peak's most stunning investment in their workforce is the decision to pay medical, dental, and vision insurance — both premiums and deductibles — for every employee and their families.
"There is not a single person in the company that ever has any out-of-pocket expenses for medical needs," Jon said. "We've really had to walk the walk and make our investment in our people. That level of being genuine and truly caring has been a huge difference here."
Peak's Services Help Customers Outgrow Peak
If Peak Hosting excels at serving you and your company, Jon recognizes there is a fairly good chance you will leave Peak. Handling everything but the code means you can focus on developing your product and growing your business to a point where your company is so big, it's time to bring hosting in house.
The customers with high cash flow, a good history of earnings and growth, and stature within its industry will use anywhere between 10 and 5,000 servers. When companies grow beyond 5,000 servers, Jon said the value of the infrastructure affects the company's bottom line enough that outsourcing hosting is no longer a viable option.
"Companies that are name brands, at this point, were hosting with us before they outgrew us and outgrew where it made sense to pay someone else for their hosting," he said. "We've found that we tend to have a life cycle for our customers. Instead of being sad to lose a customer, we are proud to be part of their success and recognize the value of being an early resource for companies like Twitter and Facebook."
Advertiser Disclosure
HostingAdvice.com is a free online resource that offers valuable content and comparison services to users. To keep this resource 100% free, we receive compensation from many of the offers listed on the site. Along with key review factors, this compensation may impact how and where products appear across the site (including, for example, the order in which they appear). HostingAdvice.com does not include the entire universe of available offers. Editorial opinions expressed on the site are strictly our own and are not provided, endorsed, or approved by advertisers.
Our Editorial Review Policy
Our site is committed to publishing independent, accurate content guided by strict editorial guidelines. Before articles and reviews are published on our site, they undergo a thorough review process performed by a team of independent editors and subject-matter experts to ensure the content's accuracy, timeliness, and impartiality. Our editorial team is separate and independent of our site's advertisers, and the opinions they express on our site are their own. To read more about our team members and their editorial backgrounds, please visit our site's About page.