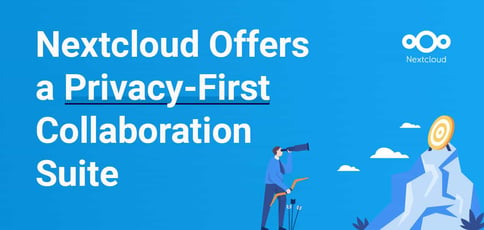 TL; DR: Nextcloud delivers a complete collaboration solution with an open-source and self-hosted framework. By making its platform self-hosted, Nextcloud allows users to maintain control over their data and privacy. The company recently released Nextcloud Tables as a replacement for SharePoint, so customers who need these capabilities can remain on-premises. Nextcloud's ethical AI rating also gives users a transparent report on AI technologies to make informed decisions on their AI usage.
Collaboration is one of the most critical contributors to company success. It improves overall performance and morale, leading to a better bottom line and efficient productivity. A collaborative atmosphere can promote a myriad of factors linked to the performance of a business, including innovation, communication, efficiency, job satisfaction, and retention.
Encouraging collaboration in workplaces can lead to many benefits. The more teams communicate and work together effectively, the quicker they can complete projects and develop new ideas. But increasing collaboration and productivity takes the right tools, especially if a company has hybrid and remote teams.
Nextcloud is a collaboration software that keeps teams connected and streamlines their workflows for efficient productivity. We spoke with Nextcloud's Director of Marketing, Jos Poortvliet, about what sets Nextcloud apart from other collaboration software and how its solutions streamline organization for individuals and teams.

"Companies like Microsoft and Google no longer make software. They run a service, and you rent their services on a monthly basis. All we do is build software that anyone can download and run because it's open-source and free," said Jos.
By providing the software for download, Nextcloud allows users to remain in control of their data and privacy across their devices and workspaces. Users don't have to worry about prying eyes and third-party involvement in their collaboration bubble. Although Nextcloud is free for everyone, it also provides software plans for enterprises and other entities in need of extensive support and mission-critical solutions.
Fulfilling the User's Right to Privacy
Nextcloud started its journey as an open-source file share and sync service in 2010. Over the years, it has evolved into a full collaboration platform that includes video conferencing and chat, contacts and mail, and real-time document collaboration. Jos told us Nextcloud had a reboot in 2016 and became an employee-owned company. Since then, the company has grown to 100 people. But with all these changes, Nextcloud's founding mission remains the same.
"Frank, our founder, started Nextcloud in 2010 because he was worried about data going to the cloud. If your data is in a foreign country or a big tech company, it's not under your control. So that's why he initially started it, for privacy, security, these concerns," said Jos.
Nextcloud is a software company, not a service provider. That means users can choose to host its software wherever they please, whether on-premise or in the cloud. Jos told that Nextcloud currently has more than 400,000 servers on the internet using its software for flexible and secure collaboration.
Nextcloud eliminates pain points surrounding privacy since it ensures zero data leaks. No one gains access to user data unless the user permits it. "Our functionality is very similar to other collaboration tools. But again, it's just a bundle of software you put on a server at your company or home. So no data remains with us. It's yours," said Jos.
The Nextcloud platform is also compliant by design. With customers in the government, banking, and healthcare industries, Nextcloud takes pride in providing compliance-based products and privacy-conscious solutions for effective data control.
"Users can keep Nextcloud on their company servers and lock it away from the internet. If you're using a cloud service, you can't use the cloud without an internet connection. But with Nextcloud, you can run it on your own internal network and not expose it to the internet," said Jos.
Allowing Users to Host Collaborative Environments Anywhere
Nextcloud offers a collaboration software solution suited for a variety of use cases. Users can leverage its hub of tools for home office work, enterprise operations, or anything in between. And Nextcloud doesn't limit customers to a single hosting environment. Since Nextcloud is open-source, anyone can host the software on their personal servers or through other hosting options.
Flexibility and accessibility are key markers of Nextcloud's offerings. Users can access their data from any device they choose while receiving high-level security for their files with built-in, rules-based encryption. Nextcloud's user interface is easy to use and ideal for seamless team collaboration. Nextcloud is also free for every user but doesn't sacrifice user data in the process.
Nextcloud recently released a tool as a replacement for SharePoint. Microsoft had moved its collaboration tool SharePoint to the cloud and eliminated its on-premises option. Users who didn't want to migrate to the cloud came to Nextcloud requesting a solution that could replace SharePoint so they could keep their data local. Although Nextcloud had most of the capabilities that SharePoint has, it was missing a list feature. So the Nextcloud team developed one.
"We released an app called Nextcloud Tables. We are also offering a SharePoint migration service. So if you're a SharePoint user and don't want to be forced to the cloud, we will help you migrate to Nextcloud. So you can keep your data on-premise," said Jos.
The Nextcloud team also partnered with Deutsche Telekom to integrate Nextcloud with its online storage offering MagentaCLOUD. This collaboration will allow millions of users in Europe's largest Telco to leverage Nextcloud products within their workflows.
Introducing Ethical AI Rating
Nextcloud offers more than 400 app integrations within its platform, allowing it to provide a comprehensive solution for its users. The Nextcloud team and open-source community also build new features for user consumption.
In a previous release, Nextcloud integrated new AI capabilities into its document, chat, and email tools. But because these AI technologies have privacy challenges, Nextcloud created an application to give users more insight into their privacy. It developed an ethical AI rating solution, which users can enable or disable whenever needed.

"We use it to rate the privacy of these AI integrations on a four-point scale. We can check it for bias. For example, there's a huge issue of bias and discrimination in AI. So the data set needs to be open, so you can examine it and maybe retrain and optimize the system," said Jos.
Nextcloud's ethical AI rating checks for multiple AI-induced challenges, including user data privacy and security, discrimination and biases, and energy usage. Its rules are based on three things: the software, the trained model, and the training data. If these three aspects are all open and transparent, the application will receive a green rating. If not, it will get either an orange or red rating.
Nextcloud doesn't look to block AI applications from customers. But instead, these ratings provide user transparency and visibility into AI technologies so customers can make informed decisions on their usage. Although Nextcloud provides AI capabilities on its platform, it sets out to uphold its commitment to privacy and ethics with this rating solution.
"We try to introduce the same features as the big players because people rely on AI. But we want to do it in a privacy-conscious and ethical way," said Jos.