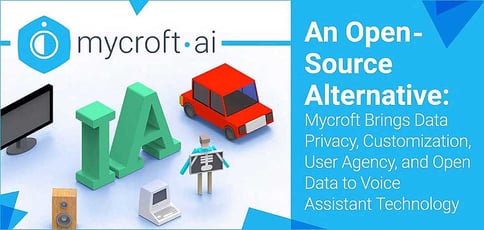 TL; DR: In a world dominated by Alexa, Siri, and Cortana, Mycroft is bringing an open-source alternative to corporate-powered voice assistants. The technology, compatible with a variety of platforms, including mobile, desktop, and the company's own smart speakers, was built with data privacy and security in mind. With the release of Mark II, a consumer-friendly speaker designed for households with or without technical expertise, Mycroft continues to invest in a private and secure online future for the general public.
In August 2015, before the smart speaker became a standard household utility, a group of Star Wars-inspired developers at Mycroft set out to bring their version of R2-D2 to life.
And by the time Alec Baldwin, Missy Elliott, and Dan Marino appeared in a major 2016 Super Bowl ad promoting Amazon Echo and Alexa to 100 million people, that same group of developers had already created a working stack for the Mycroft intelligent assistant, a robot-like AI companion run on the Mark 1 platform.
Unlike Alexa and Amazon Echo, Mycroft and Mark I were designed using the power and freedom of open-source. Mycroft developers made the conscious decision to build the technology around the Raspberry Pi 2 — one of the most popular open hardware platforms in the world — empowering anyone to develop and share new modules for the assistant with the open-source community.
"A commitment to open-source, open-platform technology is part of our ethos, and an ancillary to open technology is privacy," said Joshua Montgomery, CEO at Mycroft. "We are focused on cutting out the middleman in terms of data aggregation, giving our community the ability to deploy AI technologies without being dependent on Amazon or Google."
Indeed, a privacy-minded, open-source alternative to corporation-powered voice assistants is becoming increasingly appealing amid concerns industry giants may misuse personal data collected via the devices. In contrast, Mycroft is committed to user agency, meaning that it represents the interests of the end user, rather than a corporation.
To that end, the platform provides users with privacy by deleting queries as they come in. While Mark I requires some technical knowledge and is best suited for developers, Joshua told us the company is soon introducing Mark II, a next-generation open-source smart speaker. Perfect for consumers looking to invest in a private online future, the technology will provide the ability to deploy a smart speaker in the home without sacrificing privacy.
Privacy First: AI Representing the End User, Not Corporations
Mycroft defies the Silicon Valley approach to technological development, which Joshua says fails to benefit our society at large.
"That motto is to use venture capital or money from a highly profitable business to subsidize the adoption of new technology and fight for market share," he said. "Once the market is solidified, big tech companies take that dominance and use it to build data supremacy to keep consumers using the technology and prevent competition."
In addition to its prominence in Silicon Valley, Joshua said that financial approach has been used throughout history. "It's the same model used for railroad development during the Industrial Revolution, it's the same model J.D. Rockefeller used at the Standard Oil Company, and it's the same model AT&T used up until it was broken up in the '80s," he said. "We believe in providing another option."
To that end, Joshua said the alternative scenario is a competitive marketplace where innovators can build new technologies without worrying about "being sued out of existence" and consumers don't have to send data to Silicon Valley giants. And that's precisely the culture Mycroft is working to create.
"There's not a whole lot of drama at our company," he said. "We don't engage in frivolous lawsuits. We have some intellectual property we pursue for defensive reasons, but overall we belong to a consortium that includes hundreds of other companies and allows us to access their patent portfolio."
Mycroft also appeals to small and emerging businesses that view companies like Amazon and Google as rivals. "It's become obvious that the other players in this space use this technology primarily for data acquisition," Joshua said. "It's also very clear that the strategy behind these corporations is to monetize you as the end user."
According to Joshua, big tech is setting itself up to compete in nearly every industry, from retail, automotive, and consumer products to cloud computing and space launch services. "If you're in business, there's a good chance someday you're going to compete with Amazon or Google," he said. "People should be thinking about that — especially CEOs."
Get Answers, Control IoT Devices, and Voice-Enable Your Life with Mark I
Mark I, a customizable voice assistant for developers, hackers, and hobbyists, can be used to answer questions and control IoT devices, among other functionalities. When Joshua and his team first got started on the project in 2015, he said working on the stack created an ever-expanding mess.
"Everybody in the office that was playing with this had a Raspberry Pi, power strip, speaker, monitor, keyboard, ethernet cable, and a Blue microphone," Joshua said. "It occupied half of a desk to get the stack running."
Joshua owns a datacenter connected to a makerspace — the perfect environment for fostering creative thinking. There, he created a round, 7- by 3-inch enclosure (larger than a hockey puck) to house Mark I's inner components. "At the time, we were giving a lot of thought to the concept of making the technology anthropomorphic — giving it a personality, in our case, using a male voice, because we were a bit uncomfortable with the concept of a men yelling at a woman to do their bidding at the house," he said.
Once complete, the team took the device to Kickstarter, where 1,120 supporters pledged almost $130,000 to bring the project to life. The success of the campaign, according to Joshua, was indicative of the public's enormous appetite for smart speaker technology, which is outpacing smartphones in terms of adoption.
"If you think back to 2008, everyone seemed to trade in their Motorola RAZR and Nokia 3210 for a smartphone — overnight, it seemed everyone you knew had a smartphone," he said. "The adoption rate at that point was the fastest anything had ever been adopted by humans — and smart speakers are being adopted at a faster pace than that."
Mark II: A Next-Generation Wireless Smart Speaker
While Mark I was intended primarily for open-source developers, the soon-to-be-released Mark II is well-suited for consumers with any level of technical expertise. The smart speaker, powered by the Mycroft intelligent assistant, will provide an open-source substitute for Amazon Echo and Google Home.
Following the crowdfunding success Mycroft enjoyed with Mark I, the company decided to raise funds for Mark II using Kickstarter. This time, the company reached its minimum funding goal in six hours, raising $394,000 to bring the smart speaker to life.
To improve word spotting and allow users to be heard over background noises, Mark II features a built-in screen, camera, and microphone array with noise cancellation and beamforming. "We spent a lot more time engineering the sound quality on Mark II with stereo sound and good resonance for bass," Joshua said.
The company added a screen and camera to make human-to-speaker interactions instinctual. "When you're in the kitchen cooking a meal with your spouse, you don't say their name before every phrase because you're looking right at them," Mark said. "We're using the screen and the camera on the Mark II to replicate a lot of that interaction and create something more natural to use."
Like Mark I, Mark II features open-source hardware, software, and data, allowing companies interested in building voice-enabled products to use the technology as a baseline design.
Mycroft has already demonstrated its technology in a Jaguar F-Type sports car and is working with a number of major brands to deploy custom voice solutions. "Our job is to make sure that everyone has access to the technology," Joshua said. "We are democratizing voice and creating a level playing field for industry."
Investing in a Private, Secure Online Future
The February 28 release of Mark II will bring even more open-source goodness to the smart speaker market — allowing consumers to set timers, compile shopping lists, play music, listen to the news, and check the weather without the fear of being watched.
"Mark II is intended to ship with the basic user experience that everybody's come to expect from a smart speaker," Joshua said. "But the most important thing in my mind is a quality user experience paired with privacy and user agency — the idea that when you use the Mycroft agent, it represents your interests and not the company's."
Ultimately, Mark II has been designed to give businesses and the general public the ability to deploy a smart speaker without sacrificing privacy. At the end of the day, Mark II, like R2-D2, isn't in the business of selling data.
Advertiser Disclosure
HostingAdvice.com is a free online resource that offers valuable content and comparison services to users. To keep this resource 100% free, we receive compensation from many of the offers listed on the site. Along with key review factors, this compensation may impact how and where products appear across the site (including, for example, the order in which they appear). HostingAdvice.com does not include the entire universe of available offers. Editorial opinions expressed on the site are strictly our own and are not provided, endorsed, or approved by advertisers.
Our Editorial Review Policy
Our site is committed to publishing independent, accurate content guided by strict editorial guidelines. Before articles and reviews are published on our site, they undergo a thorough review process performed by a team of independent editors and subject-matter experts to ensure the content's accuracy, timeliness, and impartiality. Our editorial team is separate and independent of our site's advertisers, and the opinions they express on our site are their own. To read more about our team members and their editorial backgrounds, please visit our site's About page.