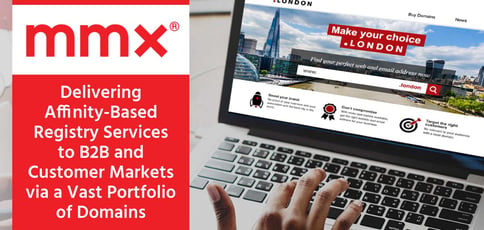 TL; DR: Minds + Machines Group Limited (MMX) has owned and operated a growing portfolio of Top-Level Domains (TLDs) since 2008. The company, which works with a global network of registrars and distribution partners, offers several affinity-based registry services catered to everything from lifestyle to blockchain. Moving forward, MMX will continue to expand its world-class portfolio while spreading the word about the extensive options for TLDs and the opportunities they present.
For the most part, AM/FM radio is fading into obscurity. Instead of scanning through radio frequencies while driving, many now turn to satellite and online streaming solutions to provide background music for their commutes.
But Christa Taylor is different. Every now and then, she tunes in to her local radio station. But it's not music she's seeking — it's all about the advertisements.
"I'll hear major car manufacturers, for example, broadcasting their newest financing rates," Christa said. "Then they direct you to an exceptionally long and complicated URL with forward-slash this, forward-slash that. I've tried a couple of times, a block away from home, to see if I can remember them long enough to visit the site when I get home. I always fail."
These little experiments illustrate the ineffectiveness of unmemorable URLs — a topic about which, as Chief Marketing Officer for Minds + Machines Group Limited (MMX), Christa knows a lot. She also knows that a good, affinity-based domain can make all the difference.
MMMX owns and operates a world-class portfolio of top-level domain (TLD) assets that include generic domains (.work, .vip, .casa), geographic areas (.london, .boston), professional occupations (.law, .abogado), consumer interests (.fashion, .wedding), beverages (.beer, .vodka), outdoor activities (.garden, .fishing), and lifestyle options (.fit, .surf). MMX also owns .luxe, the first open TLD created for the Ethereum blockchain.
The company, which works closely with an expanding global network of distribution partners and registrars, aims to help B2B companies and consumers realize the benefits of customized domain addresses. Moving forward, MMX will continue along this path, expanding its world-class portfolio while spreading the word about new TLDs and the opportunities they present.
Growing an Innovative, Curated Portfolio of TLDs Since 2008
The IT company was founded in Santa Monica, California in 2008. It was originally listed on the Alternative Investment Market (AIM), a junior market of the London Stock Exchange (LSE), as Hecta Media Investment Company.
"At that point, the company was investing in niche content websites and branded domains to help build a portfolio of high-traffic websites," Christa said. "It also helped companies monetize sites through search and advertising."
In 2009, the Internet Corporation for Assigned Names and Numbers (ICANN) announced that it was forming a program to introduce new generic TLDs (gTLDs) beyond the 21 gTLDs that existed at the time.
The aim of the program was to allow for enhanced innovation and choice within the internet's addressing system and promote competition in the domain name marketplace. To secure a new gTLD, organizations and individuals needed to apply to create and operate a registry business, which included signing a contract with ICANN.
As part of that shift, the company changed its name again, this time to Top Level Domain Holding. "The company went through the entire process of applying for new gTLDs, both for itself and on behalf of other customers," Christa told us. "When the window closed, we ended up submitting 92 applications and securing 28."
In 2014, the company rebranded itself once more, this time to Minds + Machines Group Limited, though it goes by MMX — its current stock ticker on the London Stock Exchange.
Domain Solutions Based on Location, Lifestyle, and Innovation
When the application round was opened, everyone first took a "if we build it, they will come," approach to the new gTLDs, Christa said.
"In reality, we waited for users to embrace the new TLDs expecting a tipping point moment" she said. "Ultimately, we realized our methodology needed to shift focus to educating end-users."
Today, MMX's domain portfolio is categorized into 10 buckets — general, professional, consumer, geographic, health, food and beverage, lifestyle, China-licensed, innovation, and pleasure.
"We've worked hard at growing our domains under management by thinking outside of the box," Christa said. "We went from about 300,000 a few years ago to about 2.5 million today, and we're still pushing forward in terms of innovation."
Most options are affinity based, such as .beer for brewers, enthusiasts, and brands and .cooking for culinary organizations, restaurants, food-focused e-commerce, and kitchen appliance providers.
Others, such as .luxe, represent some of the most cutting-edge innovation in the industry. It is the first open TLD designed to combine the security of the Ethereum blockchain with an easy-to-use name, rather than unintelligible and lengthy hashes.
"We want to be innovation-led, and we have several products that assist us in attaining this," Christa said. "We have .luxe, which is both on the world wide web as well as blockchain — and it's the first specialized TLD to join both worlds."
In May 2018, MMX acquired ICM Registry LLC, the owner and operator of four ICANN-regulated TLDs: .xxx, .adult, .porn, and .sex. "We subsequently created a new product to allow people to protect themselves from those industries — AdultBlock," Christa said.
An Expanding Global Network of Registrars and Distribution Partners
Because MMX doesn't sell its domain directly, Christa said the company relies on close partnerships with more than 250 registrars.
"They're located all around the world, and every one of them is unique," she said. "You have world renown companies such as GoDaddy along with smaller registrars from obscure countries you might not have heard of. Being able to engage each partner and determine what TLDs resonate best with their business is a perpetual challenge, but it's also really rewarding once you find the right mix."
Christa said that since the registrars are the ones selling the product, their input is absolutely essential. "We can construct new ideas, but the first people we float it by are our registrar partners — because if it doesn't work for them, it's unlikely to perform well for other registrars."
Registrars also must abide by the rigid rules set forth by ICANN along with their internal systems. "We have to work within our registrar partner systems in order to be successful so for example, we cannot suddenly add a new price tier," Christa said. "So, it's critical that their systems align with our ideas."
MMX also helps facilitate the purchase of premium domain names designated by the registry. Often, these names are priced significantly higher than the typical purchase and come with costly renewal prices due to demand and perceived value.
"MMX has a different model in the fact that we have a higher one-time fee, with renewals at a standard registration price," Christa said.
Continuing to Help Customers Understand Domain Opportunities
Ultimately, Christa said more novel TLDs help online businesses uncover opportunities they wouldn't receive with a traditional option.
"It's about securing a meaningful domain name that suits your needs, whether it's for an existing business, a hobby, a blog, or any other purpose," she said.
It takes time for the company to capture the attention of customers when it comes to new TLDs and their potential, but once it happens, the benefits are apparent.
"It's our role to inform people of these opportunities, understand the value they deliver and how users benefit from more memorable domain names so their potential visitor ultimately arrives at the intended website," Christa said.