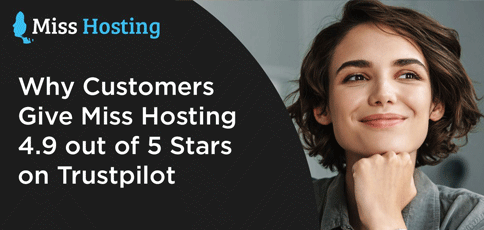 TL; DR: Miss Hosting provides professional-grade hosting solutions for every kind of customer, from avid bloggers to giant corporations. The company operates worldwide, but focuses on Nordic countries. Its localized customer service allows users to access support and solutions to their questions in their native tongue. Miss Hosting supplies customers with all their online presence needs — from shared hosting to website building — in one place.
Hosting service providers are the backbone of internet navigation. They provide the servers and datacenters needed to operate a successful online business. Without them, companies wouldn't have the resources to upload their websites and eCommerce listings, much to our online shopping dismay.
When searching for the desired hosting provider, most users look for reliability features that include uptime guarantees and customer support. Reliability allows companies to operate with peace of mind and avoid catastrophic losses due to slow speeds or website crashes. In Europe, many users consider Sweden to have the most reliable providers.
Based in Stockholm, Sweden, Miss Hosting provides individuals and businesses with trusted services and a comprehensive set of hosting solutions to maintain their digital operations. The company leads with a customer-centric model and focuses on service over product distribution.
"Miss Hosting was founded in 2014 and grew rapidly, quickly becoming one the fastest growing web hosting providers. The main idea of the company is to offer secure and affordable hosting solutions for our customers," said Kameliya Yordanova, Head of Affiliates at Miss Hosting.
Miss Hosting offers a wide range of solutions to help businesses build their online presence. The company provides a comprehensive product list that serves customer needs with a service-first vision. Customers can purchase various secure and affordable solutions, including dedicated servers, SSL certificates, domain names, and a site builder.
Delivering a Comprehensive Range of Server Solutions
Determining where to start when setting up an online website and business can be challenging, and the checklist can feel as if it goes on forever. Thankfully, Miss Hosting offers most of the hosting products businesses need in one place. Customers can build websites and newsletters, access Office 365 packages, and find server solutions with Miss Hosting.
Miss Hosting prides itself on prioritizing affordability for all of its customers. The server company has some of the most affordable prices in the Swedish industry, with web hosting packages starting from $0.99 a month. It has three main hosting plans, Basic, Pro, and Ultimate, which serve different customer needs.
"We often have great campaigns, promotions, and deals. So you can get those packages in the first year for almost nothing. And then, of course, if you renew, you can also get some recurring promotions and offers," said Kameliya.
Its basic plan has all the essentials to run a personal blog or a small business, while the Pro and Ultimate plans cater to larger companies. Miss Hosting has multiple high-performing datacenters to ensure stability and speed no matter the location.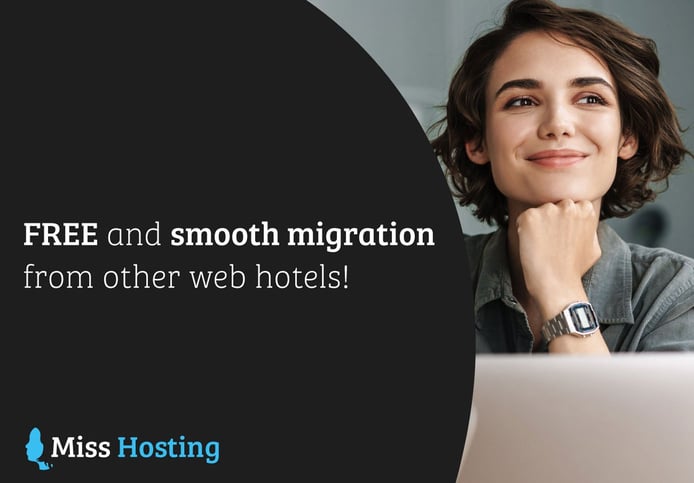 Miss Hosting's plans also include 200-plus applications, MySQL availability, a 99.9% uptime guarantee, and free email addresses. And it offers free site migration from a previous host to its servers.
But Miss Hosting doesn't only focus on products. Its mission is to be service-minded and help its customers in any way possible. Every package comes with several services that Miss Hosting offers free of charge. The company calls them extras, but these services are crucial to its success and its customers.
Miss Hosting provides additional services, including security, customer support, and backups. The hosting provider offers SSL certificates and monitors its servers 24/7 to maintain uptime and protection against DDOS. It also runs nightly backups to ensure customer data safety and restoration.
Moving Up the Ranks in the Swedish Hosting Market
Mattias Kaneteg, Miss Hosting Founder, set out to improve the hosting market when he created the company in 2014. As a veteran in the hosting space, he figured out what made hosting companies successful, and it wasn't long before Miss Hosting, now led by CEO Fredrik Björklund, took the market by storm.
Mattias, who has worked more than 20 years in the hosting industry, said he has realized that most companies emphasize product development instead of service. So he founded Miss Hosting with customer satisfaction and support in mind to bridge that gap in the market. Kameliya said the Miss Hosting team's focus on customer service plays a role in its competitive advantage.
"We have the perfect blend of people, processes, and technology which help us achieve our mission of becoming the best hosting provider there is. It does not matter if you are looking for a domain or the largest server we have to offer. There is a solution for every need," said Kameliya.
Its expansion into different countries is a testament to its success. Miss Hosting serves several Nordic countries and the US. And Miss Hosting's customers has shown their satisfaction by giving its services a 4.9 out of five on Trustpilot.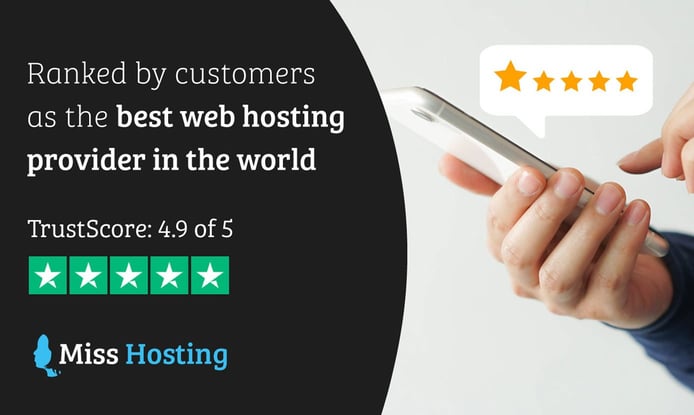 Its cloud VPS solutions run on high standard datacenters located in Phoenix and Chicago, Amsterdam, Singapore, and Stockholm.
"With our servers being placed around the world, we have the capability to provide our customers with world-renowned support and stable services, 24/7 every day of the year," said Kameliya.
Kameliya told us the Miss Hosting team is focused on expanding its reach in Sweden and exerting its influence in the hosting industry by increasing its customer base.
"We are fighting for our customers to be so happy that we are the obvious choice for them to recommend to friends and acquaintances," said Kameliya.
Providing Personalized, 24/7 Support for Every Customer
Although Miss Hosting has a broad customer base, that doesn't stop it from providing personalized support. Recently, the company underwent a website redesign to respond to customer needs.
"We redesigned the website and added other languages and landing pages so that we can access more customers, not only from Sweden, but from the other Nordics, the States, and the UK," said Kameliya.
Miss Hosting now has Bulgarian, Norwegian, Danish, Finnish, and English websites. Its customer service department also offers professional, localized support in these languages so clients can communicate freely.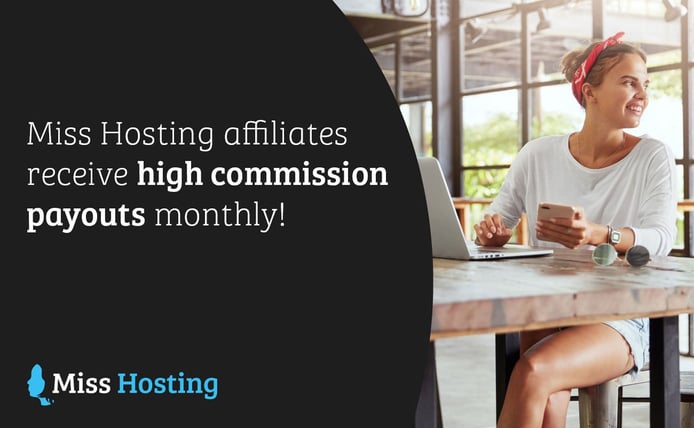 Kameliya said Miss Hosting caters to customers of all sizes and is committed to providing solutions to their questions and problems in quick turnaround times. The company also has a dedicated customer area and support portal where users can access a knowledge base and their accounts.
"Our skilled and experienced staff ensure our customers get the most out of their services without the need for extensive know-how," said Kameliya.
Going into 2022, Miss Hosting will focus on increasing its market share in Sweden and becoming a prominent competitor.
"Our goal for 2022 is to become the obvious choice in Sweden for the best web hosting company that provides reliable, high-quality services at affordable prices with excellent customer support," said Kameliya.