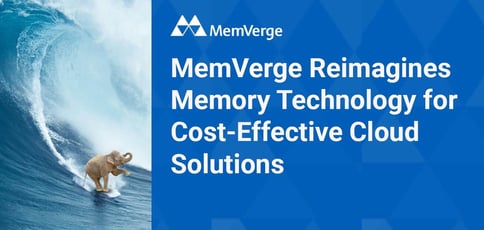 TL; DR: MemVerge delivers cost-effective cloud solutions to help power application workloads. Its magic lies in patented decoupling and big memory technology, which enables applications to shift between virtual machines and right size computing resources during run execution. MemVerge's WaveWatcher, WaveRider, and SpotSurfer allow users to monitor their usage metrics, migrate through the cloud, and leverage unused server capacity without the short-term eviction notice. MemVerge continues to harness its innovative power and culture to democratize cloud resources and help users beat computing waste.
Waves rise, and waves crash. Their fluidity is what makes them so fun to ride. But if you're a surfer, no matter how much you try to gauge the perfect timing to ride a wave, sometimes the open sea will suddenly crash without you realizing it. Fortunately, jet ski towing comes to the rescue of an unsuspecting surfer stuck in the middle of a progressing and unforgiving wave.
Waves can also describe the relationship between cloud usage and data applications. Many companies use cloud resources to power their applications because of the cloud's elasticity and ability to scale. Cloud usage comes in waves and troughs. But cloud users often miss their estimates when choosing how many resources they need to power their applications, resulting in higher expenditures.
MemVerge introduced a new way to use cloud computing by delivering automated cloud technology based on big memory innovation. Its patented Memory Machine Cloud Edition includes core functionality and capabilities that allow users to assess their resource usage rates and decouple their applications from VMs so they can surf compute instances for optimum cost.

"Once you've deployed, our big memory technology allows you to decouple the workload from the underlying virtual machine. Once it's decoupled, you can scale up or down resources used to run your application. And in the process, you're paying only for what you're using. We call this feature WaveRider," said Jon Jiang, COO of MemVerge.
MemVerge built its three leading solutions, WaveRider, WaveWatcher, and SpotSurfer, to help companies save on costs while optimizing their cloud utilization. The WaveWatcher allows users to profile their usage so they can leverage unprecedented granularity to change instances and resources during runtime. SpotSurfer freezes applications after a Spot termination notice, then restores the app on a new instance, and WaveRider rides large and small instances based on the need for resources.
"This is a whole new class of automation. While code is being executed and workloads are running, you tap additional cost savings from the newly invented ability to continuously right-size," said Frank Berry, VP of Marketing at MemVerge.
Riding the Big Memory Wave for Optimizing Cloud Costs
In December 2022, MemVerge launched the first version of Memory Machine Cloud Edition. The MemVerge team built this product to address the cloud market's cost savings challenges. Many customers began to realize that cloud expenditures were becoming less affordable than on-prem infrastructure, which became a barrier for companies to leverage the benefits of the cloud.
"We provide automation across several areas, with the goal being that we want to be the most efficient cloud automation platform for anybody who wants to run their application in the cloud," said Jon.
With MemVerge's Memory Machine Cloud Edition, companies can scale their computing resources with cloud automation or spot instances on demand. As the MemVerge platform decouples workloads from the virtual machines, its WaveRider solution can then toggle between machine types to the right size for workloads as the application executes. The WaveRider fits well into workflows since most users work in a granular fashion.

Another way MemVerge helps companies reduce cloud expenses is through its SpotSurfer solution. MemVerge leverages unused server capacity in the cloud to power other users' applications. Before SpotSurfer, certain users couldn't take advantage of spot instances without interrupting their application life cycle or getting evicted by cloud providers on short notice.
"​​We can move this application to another VM and continue from there. So our technology allows you to have application continuity across multiple VM resources. That means you can run almost all of your applications using spot resources, which are only 10% of the cost of regular on-demand instances," said Jon.
AppCapsules: The Foundation of Cloud Automation Powered by Big Memory
In 2018, storage technology experts Charles Fan, Shuki Bruck, and Yue Li created MemVerge as a response to the evolution of datacenters and the future of computing. They believed that the focus on datacenter innovation would shift from storage to memory because it is so crucial to computing. So they launched two product lines in the memory space.
"One product line focuses on applying memory technology to make cloud computing more accessible, efficient, and performant. We have another product line that focuses on CXL technology, which is next-gen memory hardware technology for making hardware more conducive for today's applications," said Jon.

MemVerge leverages memory snapshots to realize the decoupling nature of its Memory Machine. AppCapsules are patented MemVerge technology and a new type of snapshot that encapsulates an entire application state and saves it in persistent storage. AppCapsules enable a checkpoint and restore service for stateful workloads to recover rapidly from a crash or an infrastructure interruption and float workloads to larger and smaller compute instances and, soon, across clouds.
"To capture the state of the application, MemVerge first suspends the application in mid-execution. And we do that in a transparent fashion, meaning the application doesn't need to be aware that it's been frozen. It thinks it's humming along," said Jon.
After the application freezes, MemVerge uses capsules to copy and store everything the application needs to be restored, including the content of its memory and CPU. Once the application is moved to another machine and restored, it will continue from where the capsule was taken. MemVerge also has native integration with the cloud, which allows it to trigger the capsule process and work with the cloud to find new machines for applications to move into.
"This is how we realize the scale-up and scale-down feature. So we put the capsules together and can move them to another machine of the same or a different type. And then it'll continue. So this is how our patented technology enables us to do this," said Jon.
Creating Innovative Solutions to Beat Overprovisioning
Innovation is a crucial part of MemVerge's culture, starting with its founding story. By developing innovative solutions, the MemVerge team has addressed many issues challenging the cloud and application industry. Its SpotSurfer feature has also helped the company support sustainability and carbon footprint reduction.
"It's not increasing carbon footprint because the cloud provider has allocated these resources to other customers. Before, they were not being used and sitting idle, emitting carbon. Now, we are reusing them and generating output from them," said Jon.
WaveRider has also allowed users to stop overprovisioning. Before, users would overprovision to ensure that their workloads wouldn't stall in the middle of a task. They didn't want to underprovision, or they would have to restart from scratch and waste their resources. With WaveRider, users can under provision and scale on demand when the application needs it.
MemVerge's WaveWatcher also helps users monitor and check the peak and troughs of usage for better resource decision-making. "WaveWatcher is providing observability to all the workloads running on top of MMC. Users can then make smart decisions about what resources to use or how to run the application in the most optimized fashion," said Jon.
MemVerge works with various industries and data-intensive companies to fuel their operational output. Since these companies use high resources, they need the capabilities to accommodate that usage without breaking the bank. And that's what MemVerge helps them do. The MemVerge team plans to add predictive analytics and machine learning to its WaveWatcher solution later this year to help users predict their workload usage. This way, its solution will no longer be reactive with its migration decisions but proactive.
"We want to be the platform that enables users with fewer resources. With our technology, we are democratizing the high-performance computing area and allowing people to use cloud resources that can do high-income computation at a meager cost," said Jon.