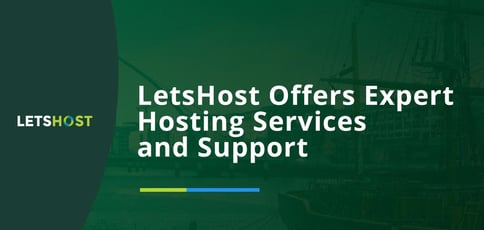 TL; DR: From its origins amid a maze of Irish internet regulations, LetsHost has emerged as a major provider of hosting services at all levels of resource complexity. The company, a leading registrar of the .IE domain name, prides itself on its knowledgeable in-house support. Moving forward, the host plans to implement a robust managed WordPress solution to accompany its portfolio of shared, virtual, and dedicated hosting plans.
When LetsHost launched in 2005, the Irish regulatory landscape wasn't exactly easy to navigate.
"The processes were a little bit more complex and convoluted back then," said Eamon Kelly, Director at LetsHost. "If you wanted to register an .IE domain, you had to show your connection to Ireland, show your connection to the domain name, have access to a fax machine, and explain why you should be allowed to register the domain."
Fortunately for LetsHost and its customers, the market has shifted significantly since then. Today, Ireland is a top European destination for tech companies because of the country's reputation for tax-friendliness and ease of doing business. Irish tech companies no longer deal with fax machines or restrictive rules, which is helpful for foreign companies that want to create a distinctive Irish brand identity.
The company was established in the homes of Co-Founders Graeme Conkie and Daragh MacLoughlin. LetHost remained faithful to the typical start-up model for years, only hiring its first full-time employee — Eamon himself — in 2009. His original role was in tech support.
LetsHost is now a major provider of hosting services for Irish companies. In 2017, the company registered more .IE domains than any other host. Its product suite has evolved over the years to include shared, virtual, and dedicated servers, plus reseller options.
Secure site creation is easy with a drag-and-drop website builder, robust SSL certificates, and a web installer for common server-based apps. Around-the-clock support and scalable upgrades are the icing on the cake.
A Local Team That Focuses on Irish Domains
LetsHost became a part of the team.blue family of tech companies in 2018. The group, which includes hosting companies right across Europe, runs 5 million domains, employs a staff of 1,500, and serves more than 2 million customers. Each company under the team.blue umbrella operates autonomously and emphasizes local connections.
"That's the ethos of the team.blue group," Eamon said. "Instead of just buying up companies and swallowing up their resources, every brand within team.blue is run locally, by local staff. That way, each brand has an on-the-ground perspective with access to corporate infrastructure. It works quite well for us."
One of the biggest differentiators for LetsHost is its deep commitment to Ireland. The value of the company's .IE domain goes beyond representing a company based in Ireland. Companies across the globe can use the domain to establish local credentials or set up Irish subsidiaries.
Of course, LetsHost delivers a lineup of hosting services in addition to domain registration. The company's shared hosting plan includes unlimited email addresses and automatic daily backups, while its scalable VPS solutions include an intuitive control panel and enterprise-grade hardware.
Finally, LetsHost's well-provisioned, Dublin-based dedicated servers, which are governed under European privacy laws, feature enterprise-grade hardware and, a 100% uptime SLA.
Superior Customer Support = Lasting Relationships
When Eamon was brought on as LetsHost's first employee, it wasn't an accident that he was assigned technical support. LetsHost prides itself on the depth of its support team. And the fact that the support staff is local helps build lasting connections and promotes customer longevity with Irish businesses.
"Sometimes we'll have customers call up, and they'll be speaking to a particular staff member from the same hometown as the customer, and they have a conversation," Eamon said. "They almost feel like they're friends. So when they call back again, they might ask to speak to the same person, which creates a personalized interaction between customer and business."
The support model goes beyond marketing. Eamon believes that it's critical that every person on the support team, from new employees to seasoned managers, understand what they're doing and how it can affect the customer. For example, a server administrator doesn't just update boxes. He or she must understand the effect of planned and unplanned downtime on customer operations and view maintenance operations from the lens of customer disruption.
The hosting industry has now evolved to the point where most providers offer substantially equivalent products at relatively similar prices. As a result, providers differentiate themselves not so much on pricing and features but on value-adds like service and niche tools. For LetsHost, service is a significant part of the value proposition and typically begins with product selection questions.
"If a customer orders a product, why do they want the product?" Eamon asked. "Do they want a fancy hosting account with 20 gigabytes storage and however many gigabytes bandwidth a month? Probably not. Do they understand that? Often, they don't. What they really want is to get their site online, sell products, share their blog, or maybe send emails in a business capacity. Understanding why people sign up and why they're a customer is more important than the specific product specs in our shopping cart."
A Responsive Host with Irish Flair
LetsHost has kept up its pace in the market as the complexity Irish-based internet companies initially faced subsided. The company has now been a market leader for more than 15 years.
LetsHost's biggest differentiator lies in its local and friendly customer support model. By keeping support in-house, the company effectively reduces customer churn and helps non-technical entrepreneurs establish an effective online business presence. This model allows LetsHost to help companies select the right products to facilitate their business needs.
Moving forward, LetsHost will maintain an eye on future market trends — and the company's product road map reflects that. "Managed WordPress is definitely something that we're looking into at the moment," Eamon said. "I think as the next couple of years go on, the idea of the managed service will become a big one. Gone are the days of customers saying, 'I'll just rent a physical server that's never going to change.'"
LetsHost — part of team.blue — is hard to beat for companies seeking a reliable hosting provider with a strong local presence and expertise on Irish domains. LetsHost's affordable pricing and broad product portfolio are suitable for companies of any size and technical complexity.
"We have the background in small business at the customer level," Eamon said. "We run as local businesses. We sit beside the customer; we understand their perspective. But at the same time, we have the resources, expertise, and clout of a major world player."