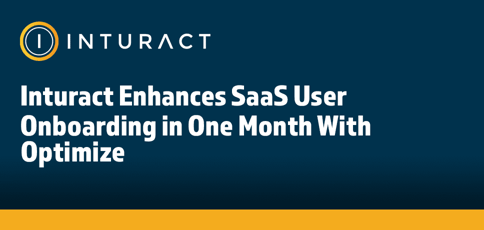 TL; DR: Inturact, a leader in SaaS growth strategies, is releasing its latest user onboarding service, Optimize. This new service will help companies reduce friction in the onboarding process by implementing a proven framework for user activation. The framework uses data analytics to track areas where potential customers drop off, so companies can rework their onboarding process. Unlike traditional activation strategies that take months to design and implement, Optimize gets companies ready for launch in one month.
Ancient Greek statues preserved in art museums are a testament to the talent and vision of famous sculptors. But having the skills and artistry to carve a life-like portrait of David doesn't happen overnight. The artist works away at a single slab of marble, little by little until a human form appears. Then details are added, such as the eyes, hands, and face. The sculptor steps back to assess the form taking shape and continues whittling away at the marble until the form is perfect.
This is how Inturact approaches the user onboarding experience. Leading with data and decades of industry expertise, the company developed its latest service, Optimize, to help its customers lower acquisition costs and increase retention. Optimize combines science and artistry to give customers something that doesn't exist in the market.
"When you have a SaaS business, it's a subscription model. And because of that business model, you can drive down the cost of acquisition by converting just a little bit more of those new users. And you can tie down that cost of acquisition by keeping them around longer. And so it's like everything kind of hinges, like a seesaw. That fulcrum point is user onboarding," said Joshua Waldman, Partner at Inturact.

Optimize is a byproduct of Inturact's decades of experience helping SaaS companies with their marketing and strategic growth initiatives. Everything the company does is based on its five growth pillars: acquisition, activation, revenue, referral, and retention. Optimize falls within the activation pillar, where leads turn into customers. This proven growth framework helps reduce friction in the activation process so companies can scale.
Inturact's User Onboarding Renaissance
User onboarding is one of the essential steps to operating a successful SaaS business model. Almost 70% of customers will abandon the onboarding process, so removing barriers to activation is one of the best ways to prevent revenue loss.
But Optimize does more than just funnel your prospects. Through decades of experience and research, Inturact's methods help customers increase conversions, retain customers, and extract more value from leads. Plus, they can do it in one month, which is much faster than other methods.

"If you were to work with an independent contractor or copywriter, they're going to spend a month just doing the voice of customer research. You're going to spend a month doing drafts, and you're not even going to get designed emails. You're just going to get a copy, then you have to go and hire a designer, or use your own designer, and then you have to go implement it yourself," said Joshua.
The traditional process of designing a user onboarding journey can take anywhere from three to six months, costing organizations time and money. Inturact's pre-existing framework serves as a vehicle to speed up go-to-market time.

"Every client starts out creating a Customer Journey Map. This allows us to focus on the right things with the business and spot issues. It reveals the actual definition of what 'Onboarded' means and the specific technical steps required by a user to get there. It also serves as a tool for team alignment. When a team has to get together and try to clarify the words they've been using all long, but it turns out, meant something totally different to each of them, teams get way more done, and do better work," said Joshua.
Inturact focuses on each customer's unique needs to create an onboarding process that works for them. And the Customer Journey Map acts as a blueprint to help them achieve the best user onboarding outcome possible.
Using Actionable Insights to Drive Change
What makes Optimize unique from other user onboarding services is the level of reporting that customers get. Inturact helps organizations analyze where their prospects are dropping off, so they can adjust their onboarding process.
"What's really cool about it is we're layering analytics on top of it so that we can plug into a Segment, Google Analytics, or others," said Joshua.
Through a cohort-based model, Optimize tracks what prospective customers clicked on and where they fell off. The service follows the outcome of each interaction 12 weeks later and identifies the number of successful conversions in that cohort.

"If we say, how do we describe the types of people who stick around after 12 weeks? Or what did they all do? They took action A. So we know that action A correlates to retention at the moment of onboarding. Now we have a data point to say this action A is actually the most important part of your onboarding. And you didn't know that before because we didn't have data. So, let's bring that up. Let's do it sooner," said Joshua.
These small adjustments can significantly impact a company's bottom line. Even a 1% increase in customer conversion affects revenue long term. This feedback and layered analytics means the customer is maximizing their pipeline where it matters most.
SaaS Industry Expertise Reduces Go-to-Market Time
Inturact has been helping SaaS businesses with their growth and productivity for more than 16 years and has carved out a niche of its own. This new service will allow the company to provide a faster and more affordable service than its competitors.
The team members at Inturact show expertise and passion in helping SaaS businesses maximize their potential. Joshua told us that one of the most important things a business can do to improve its user onboarding is to focus on the problem you're solving for the potential customer.
"User onboarding is not about getting someone to use your product. It is about getting that person to solve their problem. So it's reversing the context in which you're communicating and the way the flows are designed. Everything completely shifts around that mindset. It's not your product that you want someone to use. It's their problem you want to solve," said Joshua.
By focusing on the user's problem, businesses let the value of their product speak for itself. As for plans, the company expects to focus on more ways to provide value to its customers in the coming year.