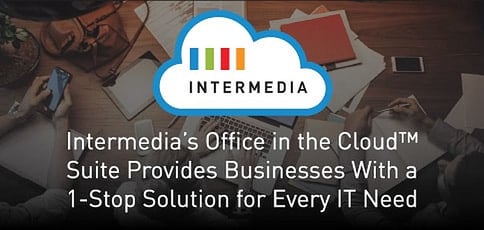 TL; DR: From SMB to enterprise, as businesses grow, executives have far more interesting things to do with their time rather than spend their days dealing with IT issues. Intermedia's Office in the Cloud™ offers every IT element companies need by integrating into one control panel 30 curated types of business applications. It's all part of the Worry-Free Experience™, which assures customers and partners have SOC 2 audited security, a 99.999% uptime SLA, 24/7 efficient tech support, hassle-free onboarding and migration, and the confidence that they're in compliance with financial and healthcare-related regulations. Intermedia even has a Worry-Free Committee, designed to ensure that every company decision revolves around customer satisfaction.
When you're running a company, there is plenty to worry about. Between finding customers, developing innovative ideas, ensuring employees are paid, and the many other essential elements of a successful business, you have your hands full.
Keeping up with IT issues, such as email, file and backup sharing, and encryption, can be a major time-consuming effort for a company's leadership. Mountain View, California-based Intermedia has developed a platform called Office in the Cloud™ that tightly integrates 30 cloud-based business applications — all with one login, one password, one bill, one source of support, and one control panel.
Intermedia's Worry-Free Experience™ delivers exactly what it promises, giving more than one million customers and 6,000 active partners the freedom to focus on all of the other essential elements of running a successful business. Let's be honest — entrepreneurs don't open new companies to agonize over IT solutions.
"This core IT is something every business owner needs," Intermedia Senior VP of Marketing Eric Weiss said. "It's critical to their business, but they don't want to have to worry about it."
An important thing to remember when choosing IT services is that going cheap can often cost you in the long run, and Intermedia offers different tiers of their Office in the Cloud™ plans to meet the needs of companies and partners of every size.
"When choosing a hosting provider, you need to consider other factors, such as reliability, security, and deployment models. Integration and helping customers navigate through those differences can otherwise be challenging," Eric said. "Sometimes they might gravitate to the lowest price. Well, that's not always the best solution."
One such company that has benefited from Intermedia's tightly integrated IT solutions is managed service provider Technology & Beyond out of Midlothian, Texas. They began as a traditional break/fix company, but they quickly realized there was greater success in a more proactive approach to client services.
Technology & Beyond partnered with Intermedia because they were looking for a company that provided reliability, 24/7 support, ease of control, and simple onboarding and migration.
"Intermedia's onboarding and migration tools don't compare to any other provider," Technology & Beyond CEO Mike Maendler said. "They've gone to such an exceptional level to think out all the challenges. Rollouts and integrations at our clients' locations are incredibly simple."
5 Pillars of Intermedia's Worry-Free Experience™
Intermedia detailed what Worry-Free is about within the five components they focus on to ensure that customers and partners have more time to do business.
1. Worry-Free Security
A large portion of a company's intellectual property and know-how can be found in their email. Even the largest and most protected government and business entities have been hit with breaches in recent years, making it clear that email security is crucial.
"Security is a big concern and you need to invest millions and have decades of expertise in security to keep up with the bad guys," Eric said.
Intermedia is a SOC 2 audited cloud provider, ensuring full confidence in the security of their products, network, and infrastructure.
"That's a big part of the Worry-Free Experience™," Eric said. "You don't want to worry about the security of your data."
2. Worry-Free Reliability
The impact of lost time on a company can really make a difference, and that's why Intermedia has a 99.999% (five nines) uptime SLA, which translates to less than 26 seconds of downtime per month.
Most companies promise 99.9% uptime, but those two extra nines can mean the difference between minutes and days of downtime per year. The impact of lost time can cost your company in potential lost revenue, customer satisfaction, brand impact, and productivity.
"If you're a law firm, and you're down the day before a court trial and you can't communicate with your client or the other side to settle a case, you've got a problem," Eric said. "If you're a hedge fund where multimillion-dollar decisions are made in seconds, you can't afford to be down."
3. Worry-Free Support
Intermedia offers 24/7 phone support and they try to answer the line in less than a minute.
"We aim for typical hold times of 60 seconds, as opposed to tens of minutes, which is irritating when you're in the middle of a problem that you want to get solved immediately," Eric said.
Intermedia doesn't outsource their tech support either. Every member of their support team is a full-time employee, sitting near the engineers who integrated and developed the technology.
4. Worry-Free Onboarding and Migration
Intermedia really shines with their Cloud Concierge™ team, who typically oversee the migration of 15,000 hosted Exchange mailboxes per month (500,000 since 2010) and the porting of 4,500 hosted PBX phone lines per month (200,000 since 2010).
As much as the term "cloud" gets thrown around these days, you would think every business was already using cloud services. Eric said, however, only about a quarter of companies have moved to the Cloud.
"The mass migration to the Cloud is only beginning," Eric said. "It's a very exciting place to be because you have a whole industry in transition."
The last thing a company wants to worry about is losing or compromising data during the migration to cloud services, so using a company with the experience of Intermedia ensures that it's a smooth and easy process. And unlike some other companies, the onboarding and migration are built into Intermedia's price.
5. Worry-Free Regulatory Compliance
Intermedia's security measures and privacy controls help customers and partners remain in compliance with a variety of financial and healthcare-related regulations.
Many of their clients are in finance, healthcare, and legal firms, and Intermedia's services help ensure that compliance issues are no longer issues.
When you're a managed service provider that sells IT services in multiple states with different taxation schemes, it can get confusing. Intermedia assists MSPs by knowing each state's unique taxing and building that into their pricing system.
HostPilot Control Panel Oversees Tight Integration of Applications
Intermedia uses a centralized control panel called HostPilot® to make the cloud-based apps easier to use for all of your users on all of their various devices. They have built a platform that tightly integrates a suite of 30 applications to help you do business.
Other companies out there provide a marketplace of hundreds or even thousands of applications, but that is the opposite of Intermedia's approach.
"We think the best strategy is to have tight integration with a fewer number of applications because that provides more value for the customer," Eric said. "You get applications talking to each other, playing nicely with each other, integrating well with the control panel, and that's where we invest a lot of our time."
Another part of the Worry-Free Experience™ is having fewer apps to worry about. They find the best application for each purpose — whether that means buying it externally, licensing it, or building it in house — and use that app in their carefully curated suite.
Depending on which plan a company signs up for, the Office in the Cloud™ includes applications for email and voice services, backup and file sharing, productivity, collaboration and instant messaging, archiving, identity and access management, business infrastructure, conferencing, security, and mobility, among others.
Worry-Free Also Describes Intermedia's Company Culture
Intermedia has more than 700 employees, with the most significant portion in the areas of engineering and operations, and they're growing. In fact, they're hiring.
While Intermedia's headquarters is in Mountain View, California, they also have offices in Bellevue, Washington; New York City; St. Petersburg, Russia; Sydney, Australia; and two offices in the United Kingdom (Reading and Bristol).
Eric vouches for his company's collaborative culture with employees at every level, including senior management, working together to solve problems.
"We're all focused on doing one thing, and that's serving the customer and the partner," Eric said, "and if you're collaborating internally then you can collaborate externally."
Intermedia even has a Worry-Free Committee that ensures every decision is made with the Worry-Free Experience™ in mind.
"Sometimes as you grow you might try to implement a process that isn't great from a customer point of view," Eric said. "So the committee will pump the brakes on that and say we can't do that."
"For example, sometimes a prospect comes directly to Intermedia to purchase some of our solutions. We could take the sale directly and maximize our short-term margins. Instead, we will not hesitate to refer the customer to a partner who can provide local service, specialized technical expertise, or other services that Intermedia does not provide, but the customer requires. Here, 'Worry Free' means using our network of more than 6,000 partners to ensure the customer has the right support servicing their unique requirements."
Power of One: 1 Login, 1 Bill, 1 Source of Support, 1 Point of Control
The efficiency provided by using one integrated source for all of your IT needs is really all about giving you more time to concentrate on business.
"We call that freedom to focus," Eric said. "Business owners want to focus on serving their clients, taking care of their patients, and acquiring new customers. That's what they care about."
Don't spend your entire day logging in and out of different control panels and inputting multiple passwords. Don't worry about multiple bills for your phone, email, and file backup services when you can pay one bill that covers all your needs. Don't clog up your contact list with multiple email addresses and phone numbers for various IT departments when you can turn to one company to solve all of your problems.
Intermedia's Office in the Cloud™ makes doing business easier than ever and gives you more time to focus on the things that really matter to you.
Advertiser Disclosure
HostingAdvice.com is a free online resource that offers valuable content and comparison services to users. To keep this resource 100% free, we receive compensation from many of the offers listed on the site. Along with key review factors, this compensation may impact how and where products appear across the site (including, for example, the order in which they appear). HostingAdvice.com does not include the entire universe of available offers. Editorial opinions expressed on the site are strictly our own and are not provided, endorsed, or approved by advertisers.
Our Editorial Review Policy
Our site is committed to publishing independent, accurate content guided by strict editorial guidelines. Before articles and reviews are published on our site, they undergo a thorough review process performed by a team of independent editors and subject-matter experts to ensure the content's accuracy, timeliness, and impartiality. Our editorial team is separate and independent of our site's advertisers, and the opinions they express on our site are their own. To read more about our team members and their editorial backgrounds, please visit our site's About page.