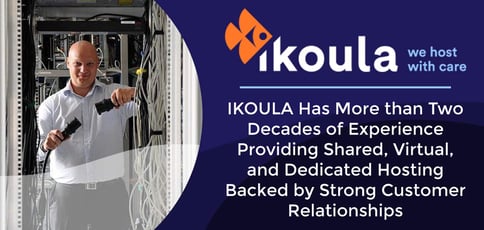 TL; DR: France-based IKOULA has been on a mission to highlight the humanity behind technology since its founding in 1998. Around-the-clock customer support is the highest priority for the company, which offers a wide range of managed shared, virtual, and dedicated hosting solutions. IKOULA's emphasis on care is also illustrated in its philanthropic portfolio, which is centered on sustainability and education.
Google asks me at least three times a week to verify that I am not, in fact, a robot. At the same time, it seems I'm surrounded by unsettling AI technologies masquerading as humans in the name of customer service.
IKOULA, a France-based provider of shared, virtual, and dedicated hosting, is bucking this trend with solutions created for people, by people. The company's tagline, "We Host with Care," reflects this customer-first approach.
"We like to emphasize the human behind the machine, behind the server, behind the support services," said Lucas Fourre, in charge of communications at IKOULA. "This is how we forge our own path through the market."
Founded in 1998, IKOULA now supports customers in more than 60 countries via a passionate team with a long history of expertise that is on-hand 24 hours a day, seven days a week. To that end, the company offers four tiers of managed support that customers can leverage as an extension of their staff.
IKOULA's commitment to outstanding support includes its promise to guarantee a continuous, high-quality service via redundant systems run out of two fully-owned datacenters in the French cities of Reims and Eppes, plus additional points of presence internationally. The company also cares about giving back to the communities it serves with a focus on eco-friendly infrastructure and educational initiatives.
The combination of high-performance hosting, responsive customer service, and corporate social responsibility initiatives seems to be a winning combination for the host, which is well-positioned to continue delivering innovative technology for decades to come.
High-Performance Hosting Solutions Delivered with Care
When IKOULA first entered the market in the early days of the internet, its sole focus was providing dedicated servers — a specialty that the company has honed over more than 20 years. Today, the company's dedicated server catalog is grouped into six tiers and includes multiple configuration options designed to meet specific needs.
IKOULA's Starter plan, for example, is recommended for those seeking a small, commitment-free backup or storage solution. Its Agile range, on the other hand, features servers with the ideal quality-to-price ratio for gaming, storage, emails, and even testing artificial intelligence and blockchain projects.
If you're looking to host more critical services, IKOULA's Power collection of professional servers is a good bet, all of which feature RAID cards and built-in IP-based KVM switching. For virtualization or large computing projects, the company recommends selecting from its Xtreme range, which provides ample power, RAM, and storage.
Finally, IKOULA rounds out its solutions set with its Master range, a selection of high-performance dedicated services with powerful graphic cards and Flash storage.
Lucas told us that, over the years, IKOULA has broadened its hosting offerings to include affordable shared plans, flexible virtual machines, and pay-as-you-go cloud platforms.
"We just refreshed the entire customer path for the cloud, so when you create an account, you receive 100 euros worth of credit offers to create your first virtual machines, which you can then manage or close using the Plesk control panel," he said. "It's similar to the credits AWS offers."
Unlike Amazon, however, IKOULA's infrastructure comes backed with personalized support from a dedicated professional. "We like to create a personal relationship based on confidence and communication," Lucas said. "For instance, if we perform an update, we will always check in to ensure everything is OK."
Choose from Four Levels of Managed Services on Each Product
All of IKOULA's hosting products are available via an intuitive ordering system that makes it easy to select services that precisely fit your needs.
"It's like a classic ecommerce company — you select your product and choose an outsourcing level, check out, receive a confirmation email, and get your delivery in 48 hours or fewer, depending on the product," Lucas said.
The company's managed outsourcing service includes 24/7 maintenance, monitoring, and support, documentation of reversibility clauses and load increase tests, reporting tools, advice, and personalized offers. Lucas said outsourcing these tasks to IKOULA affords customers the peace of mind to focus on their core business objectives, rather than worry about the costly impact of downtime.
The IKOULA team is also well-versed in the security issues that commonly affect businesses and is dedicated to protecting customers from online threats. Finally, via a secure Extranet, the service allows users to monitor the performance of their platforms and infrastructure in real time.
The company offers four tiers of outsourcing support for each product. The Liberty level, included with all IKOULA services, includes basic monitoring. The Prime level adds expert supervision and platform monitoring, while the Business level includes personalized monitoring and interventions.
There's also a Shared option in which the client maintains infrastructure during the day, and IKOULA ensures availability during non-business hours. Finally, the all-inclusive First level encompasses the entire scope of management and administration.
"Every product includes a basic outsourcing level, but our highest tier offers the most support — we proactively manage the entire path, and you don't have to do anything," he said. "In terms of response times, we generally respond within just a few minutes."
Lucas told us IKOULA provides these services to a broad customer base that includes everything from small and mid-sized companies to large enterprises, such as the French Basketball Federation. IKOULA's talented team members leverage their ability to speak 13 languages when serving clients across more than 60 countries worldwide.
Giving Back: A Focus on Sustainability and Educational Initiatives
IKOULA's philosophy on care doesn't end with paying customers — it also involves hosting with a conscience. Environmental responsibility is near and dear to the company's heart, and it works hard to reduce its carbon footprint by limiting energy consumption in its data centers and taking advantage of green energy sources.
The company also goes out of its way to highlight and promote the innovative, sustainable, and educational organizations it serves via its Boost Your Startup Program, which awards small businesses 1,200 euros worth of free cloud platform credits. The program also includes a free, one-year hosting package, five hours of free migrations, the help of dedicated sales and support agents, and premium access to managed services at the Prime level.
In addition, IKOULA will train the company on how to efficiently leverage the cloud and market the company using various communication channels. Any business with less than five years under its belt that does not currently use IKOULA's cloud services may register for the free program using a simple online form. In less than three working days, the IKOULA team will contact the company and move the plan forward if all requirements are met.
"Our goal is to show both customers and prospects that we care about giving back and strive to form true relationships with our clients," Lucas said.