TL; DR: Cayan began with a desire to help small businesses process credit card payments without being overcharged. Nearly two decades of growth later, the company is on the cutting edge of the payment processing industry. With new features like Automatic Account Updating for recurring payments, customer transaction tracker Unified Commerce, and a line of POS products that update from the Cloud, Cayan is helping hosts make the most of eCommerce by putting big business payment tools and features in the hands of anyone with a website. The company's success is a direct result of always looking out for the little guy.
About a year ago, I decided to buy a pair of new running shoes. After reading all of the reviews, checking out all of the styles, and comparing all of the prices, I added a pair of shoes to my online shopping cart and clicked "Order." Within seconds, I had a confirmation that my payment was received and I was told that my shoes were on the way.
The first pair of shoes I received were the wrong size. The second pair were the right size, but the wrong color. The third pair were the right size and color, but the wrong style. After boxing up and returning the shoes three times, the next pair I received were the ones I had ordered weeks before. By then, the transaction was already memorable for all of the things that had gone wrong.
However, through all of my frustration, the most complicated and crucial aspect of the process had gone flawlessly — and completely unnoticed. That was my credit card transaction.
Whether online, at a gas station, or at the grocery store, payment processing is often taken for granted. Cayan, an award-winning payment processing company, wants to keep it that way.
At HostingCon, we sat down with Brad Wand, Cayan's Marketing Manager, who explained how the company is helping hosting providers integrate the latest in payment technology for today's connected consumer. Through innovation and simplification of payment processing, Cayan's approach can net a host or small business more money, while providing customers a flawless and speedy transaction.
How Hosts Attain a Seamless Revenue Stream By Partnering With Cayan
When a host is looking for a processing company to recommend to users, Cayan wants to be the first name on the list. To accomplish that, they have developed some host-specific tools that allow for a simpler user experience. A pair of these features should put hosts in Cayan's corner by helping boost revenue and keep the stream flowing.
Cayan's Cloud-Based Updates Are Future-Proofing Commerce
One of Cayan's most unique qualities is how they allow a business to grow from an eCommerce site to a brick-and-mortar store or the other way around. The POS software and functionality are just as advanced as the eCommerce options. One of the crown jewels, according to CEO Henry Helgeson, is Cayan's Genius platform.
The platform allows a POS business to accept any type of payment and adapts to the payments of the future by allowing updates and new functions to be downloaded to a device from the Cloud — without swapping any hardware. The company's terminal software is already on the front line of the EMV (chip card) revolution. Cayan's EMV chip readers already see speeds of 4.03 seconds per transaction, which is comparable to that of a card swipe, but with a much higher level of security. Cayan was also one of the earliest payment processors to adopt the popular Apple Pay.
"Small retailers are struggling to modernize in the fast-changing world of payments. Having a future-proof payment system in place, like Genius, is quickly becoming a necessity as the mobile payments and EMV revolution marches on," Henry said after the company launched Genius STX, a version for smaller retailers who do not have a POS system.
Being at the forefront of payment technology is essential for retailers today. Whether the next trend in POS security is retina scan, fingerprint, or voice recognition payment is next, expect Cayan to process it before you even have a chance to ask.
Auto Updates Save Businesses and Customers From the Hassle of Expired Cards
Another new feature is Automatic Account Updating, which allows expired credit card information to be updated automatically, so there is no lapse in service. This saves time for the business which would need to track down the individual to update the information after realizing the card had expired.
The impact this feature can have on the consumer experience is just as dramatic.
I have had recurring automatic bill payments set up for my car insurance, utilities, cable, and Internet service for a few years now. Last summer, while on a 2-week trip, one of my credit cards expired. The new one was at home sitting in my mailbox and the one in my wallet was useless. It was also the very same card that was tied to all of those bill payments. When I returned home, I was greeted with around $125 in returned payment fees and a letter from the utility company detailing my options if I chose to disconnect my service. All of this happened because each company had charged my expired credit card.
I wish that every one of those corporations had had access to Automatic Account Updating, which could have updated my account with new information directly from my banking institution to keep everything running.
Through Cayan, hosting companies already have access to this feature.
"Right now, 17 percent of credit cards expire each year," Brad said. "Hosting space is very similar to a gym membership. You put your card down and you pay a monthly fee. If you're a host, when that credit card expires, you have to go track (the customer) down, have a back-and-forth, and get the new information"
"We have connections with the nation's largest banks, and they actually pass us the new information when the card expires, so the continuation of payment is a seamless process."
The process can drastically reduce the amount of business and revenue lost to what used to be one of the most common scenarios in the payment processing industry.
These aren't the only features that should have hosting services in Cayan's corner.
The simplicity of use for eCommerce merchants, where a huge chunk of a host's revenue can be made, is also an incredible draw.
While compatible with a number of control panels, Cayan is fully integrated into cPanel, making the account application process incredibly streamlined. Because Cayan does their own underwriting and risk assessment, a typical merchant can be approved for payment processing in under 24 hours. After approval, an eCommerce site can use Cayan instantly with access to 125-plus shopping carts.
These features are just part of the reason why Cayan was named Best Channel Vendor for 2016 by Business Solutions Magazine.
Cayan Unified Commerce™ Makes Costly Tech Affordable for SMBs
Combining the functionality of in-store and online purchases has long been a luxury only big businesses could afford. But true to their roots of making costly technology affordable to small businesses and eCommerce sites, Cayan introduced their Unified Commerce Suite.
The Suite gives more options to both the customer and the business. The consumer benefits include buying online and picking up in-store, while the business benefits include the ability for targeted marketing.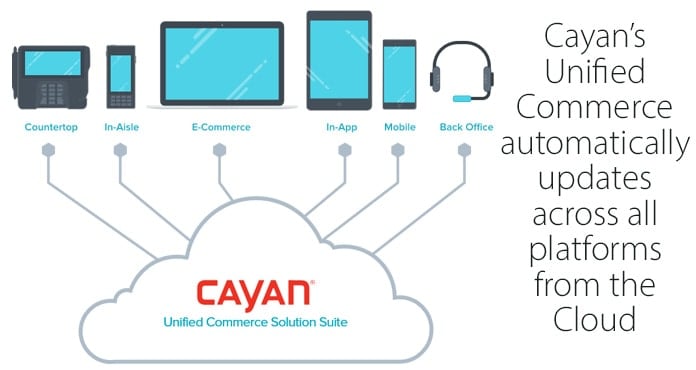 "Small businesses have a lot of things on their plate," Brad said. "That's why we are moving to Unified Commerce. People want to be able to buy online and return in-store, but the systems don't connect. Logistically, it is a big problem. Our solution can be used across the different platforms. You can follow the transaction."
The Unified Commerce Suite is also fully customizable and provides integrated reporting.
Company Built On Saving SMBs From High Credit Card Processing Fees
When Cayan began in 1998, they were called Merchant Warehouse and the company's mission was simple: Streamline the complex process of accepting credit card payments and make it more affordable for small businesses. The company entered the land of commerce just as the dynamic payment landscape was beginning a seismic shift.
"The beginning seems almost prehistoric now," said Cayan CEO Henry Helgeson.
"With eCommerce just gaining momentum, we relied on organic search and purchasing keywords from the leading search engines at the time — remember Alta Vista? — to drive traffic and sales for the company."
With the name change in 2015 and the company's Boston headquarters recently getting a redesign, Cayan is not only focused on the future, but also their own culture.
"We are 400 people now, but haven't lost the family feeling," says Brad. "It is a very collaborative atmosphere." That atmosphere includes ping-pong tables, pool tables, and a collaborative layout. And while you may have seen the Boston Globe article touting the office's napping rooms, Cayan's staff is hard at work perfecting many of their game-changing features.
Through all of the innovations and change, Cayan has stayed true to their core mission to make payment simple for everyone, but especially the little guy.
If my botched online shoe transaction had gone through Cayan, I may have had the option of returning the shoes to a store in my town on the very same day. If my bills had been processed through Cayan, I could have saved not only $125 but plenty of hassle in setting up all of those accounts again.
Cayan is trying to revolutionize the payment process on both ends, and the greatest measure of the company's success is when they go completely unnoticed during a transaction.
Advertiser Disclosure
HostingAdvice.com is a free online resource that offers valuable content and comparison services to users. To keep this resource 100% free, we receive compensation from many of the offers listed on the site. Along with key review factors, this compensation may impact how and where products appear across the site (including, for example, the order in which they appear). HostingAdvice.com does not include the entire universe of available offers. Editorial opinions expressed on the site are strictly our own and are not provided, endorsed, or approved by advertisers.
Our Editorial Review Policy
Our site is committed to publishing independent, accurate content guided by strict editorial guidelines. Before articles and reviews are published on our site, they undergo a thorough review process performed by a team of independent editors and subject-matter experts to ensure the content's accuracy, timeliness, and impartiality. Our editorial team is separate and independent of our site's advertisers, and the opinions they express on our site are their own. To read more about our team members and their editorial backgrounds, please visit our site's About page.