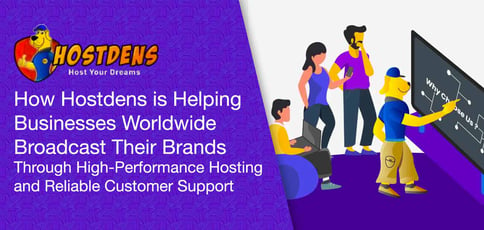 TL; DR: Hostdens is a web hosting company that is based in India, but it serves businesses all over the world with datacenter locations in Singapore, Australia, Germany, and the United States, among other countries. That vast network allows Hostdens to offer many infrastructure options — from VPS to shared hosting — along with consistent reliability and performance. The company also offers responsive support services to help companies quickly get up and running — and stay online. And Hostdens is focused on providing the tools that SMBs need to build a web presence, no matter their technical skill level.
Any size business can boost brand awareness and revenue by developing a presence online. And according to research by Verisign, 65% of small and medium-sized businesses (SMBs) believe that a web presence makes them look more credible to customers.
Internationally, SMBs have been carving out space online for years. Indian businesses, however, have lagged behind the world market in creating websites. One study showed that, out of more than 51 million SMBs in India, only about 5 million had domain names and only 1 million had registered websites.
That's why Hostdens, an Indian web hosting company with a worldwide datacenter presence, wants to help its clients understand how important having an online presence can be.
"Many businesses need opportunities on the internet, so we want to bring those to our customers," said the Hostdens VP of Marketing. "Every small business needs a website these days."
Hostdens aims to deliver low-cost, high-quality hosting services to SMBs that may not believe they have the budget for a website. So the company offers Linux shared hosting plans for as little as $1 per month and WordPress hosting for only $2 per month.
And the company is committed to providing SMBs with technical resources and the tools they need to build websites that can help grow their businesses. That's why Hostdens also offers 24/7 support for its users — no matter how small their plans or sites.
Hosting Infrastructure Tailored to the Needs of Any Business Mission
When Hostdens launched in 2012, its primary goal was to offer a variety of services to clients worldwide. The company believed that, if SMBs had a variety of options from which to choose, they would be more likely to develop an online presence that fit their expectations.
"We wanted to offer low prices to both Indian customers and global customers," said the Hostdens VP of Marketing.
Variety is part of the reason why Hostdens can compete with many other international web hosting companies.
That's why Hostdens offers a range of tiers in its shared hosting plans. Its shared SSD plan includes free data migration, 99.9% uptime, unlimited bandwidth and email accounts, and a free domain name for a low monthly price. The more space a company needs, the more it pays per month, but Hostdens is committed to keeping all of its price points reasonable and competitive.
A Linux shared hosting package is also affordable with 40GB of storage and 100GB of monthly bandwidth for as little as $1 a month for three years. This plan is perfect for companies that already have their own domain name.
Other clients prefer to use virtual private servers (VPS) for their hosting needs, and Hostdens provides an affordable selection. A Linux Cloud VPS offers 2GB of RAM, 1000 Mbps of bandwidth, and a 25GB hard drive. The company makes the same feature set available on the Windows Cloud VPS, as well.
Other options for SMBs include dedicated servers for hosting either single or multiple websites. In the United States, for example, a company could secure a 100 Mbps speed, 15 TB Bandwidth, and 8 GB of RAM on a dedicated server plan for a competitive monthly rate.
Globally Dispersed Datacenters Guarantee High Uptime & Performance
Hostdens has always had high standards and ambitious goals, and believes that innovation is vital to competing with global hosting brands.
"We are constantly developing as a company, and we want to compete with the major data hosting companies around the world," said the Hostdens VP of Marketing.
Though it started in India, Hostdens began building new datacenter locations in 12 countries soon after it launched. These datacenters are in India, Singapore, Australia, the U.S., and Canada, along with many European countries including Ireland, the U.K., Italy, and Spain, among others.
"Right now, we host in more places than most larger companies do," said the VP.
Each datacenter location was selected carefully and thoughtfully constructed. And they all have comprehensive environmental controls, including air conditioning, fire suppression, security, redundant power, and data backup capabilities.
Power at each location is provided using redundant diesel generators with a capacity for 2,700 gallons of fuel, multiple Powerware units, and five battery strings.
Hostdens also takes security at its datacenters seriously. Video surveillance and security guards protect the datacenter's sensitive servers, and access to the premises is restricted. In many locations, fingerprint recognition is required for entry.
"We are constantly developing our resources and our security practices all over the world," said the Hostdens VP. "That helps us compete with the major hosting giants while offering the lowest prices."
A Commitment to Empowering SMBs to Build Online Presence
In the last decade, internet usage in India has skyrocketed, and the trend looks to continue. In 2011, nearly 125 million people in India were using the internet, but that number is predicted to rise to 635.8 million users by 2021. Already, India is the second largest online market in the world, second only to China.
That means SMBs in India need to start growing their online presence to attract a share of those visitors.
And Hostdens ensures that businesses don't have to build their online brands alone through a robust 24/7 expert support system to address their concerns. Users can choose to discuss issues over the phone, via live chat service, or through email.
"Anyone can contact us for customer support," said the Marketing VP. "If someone is not satisfied, then we give them their money back. We also have a lot of resources to offer."
That money-back guarantee not only ensures customer satisfaction, but it also demonstrates Hostdens' commitment to addressing any issues that an SMB might have in developing an online presence for the first time. Companies can't afford to wait for days for a hosting issue to be resolved.
Hostdens is now primed for a global expansion of its base of business clients — a natural next step for a company that's already done so much to bring SMBs around the world online.
"We work with SMBs, but we are starting to focus on the larger businesses now," said the marketing VP. "We want to help the customers that we haven't reached yet."