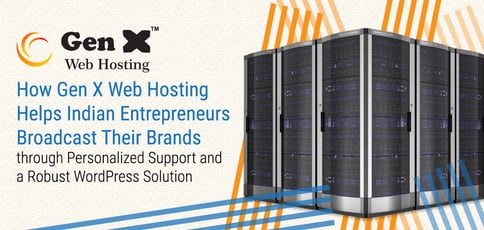 TL; DR: Gen X Web Hosting wants to help Indian businesses tap into the country's booming economy by getting them online. The company provides solutions for a wide variety of clients, from SMBs to government-owned entities. Gen X also offers tools that can automate some of the most tedious aspects of maintaining a website, including updates and backups. And the host's personalized approach to customer support makes it simple for organizations to set up and maintain their web presence.
India has the world's fastest-growing major economy with predictions forecasting it to scale at an annual rate of 7.5% for the next two years. And India's booming ecommerce sector is poised to contribute to that rapid growth.
That's why Gen X Web Hosting focuses on helping Indian businesses break into ecommerce and bring their services to a rapidly expanding online audience.
"For India to maintain its meteoric economic growth, Indian companies need partners that will help them thrive online. And Gen X is that partner," Gaurav Singh, the Affiliate Programs Manager for Gen X Web Hosting. "We already support more than 20,000 websites, and we're supporting more every day."
Gen X has made a name for itself by providing the secure, high-performance solutions that businesses need along with domain or hosting packages that fit their budgets. Going online can expand an SMBs reach exponentially, especially considering that India is home to 500 million people who are connected to the internet.
India is also home to more than 900 million people who don't have internet access. When those users come online, companies that don't have fast, secure hosting could lose out on the chance to reach them.
Even global tech companies are racing to connect those people. Google has invested in wifi services at 400 Indian train stations, and Facebook is planning to set up 20,000 hotspots in the country. And India's richest man, Mukesh Ambani, launched a $20 billion mobile network in 2016 that already has more than 250 million subscribers.
Gen X recognizes this opportunity and stands ready to help entrepreneurs tap into the country's digital economy that's predicted to be worth $1 trillion by 2025.
Empowering SMBs and Supporting India's Public Sector
Gen X is a hosting company that was designed to thrive in the Indian economy by serving small entrepreneurs and helping them grow.
"We started in 2011 by offering hosting services to a variety of small companies, but that changed as we grew," Gaurav said. "Today, we work with a lot of medium-sized private business as well as larger companies in the government sector."
Every business needs to know its marketplace, and in India, that means understanding the unique role the government has played in the economy since the country gained its independence in 1947. At the time, the country's economy was based on agriculture, and it had a weak industrial base. The nation's first prime minister, Jawaharlal Nehru, effectively implemented the Bombay Plan, a series of proposals that helped boost the economy through state intervention. Today, the Bombay Plan's legacy is alive and well.
Companies majority-owned by the Indian government still contribute to the country's economy. Private companies aren't allowed to operate at all in three sectors — railroad, atomic energy, and explosive materials — that play a significant role in fueling India's economic growth.
For example, private banks wouldn't give startups the same low interest rates that India's publicly run banks can provide.
And being a player in India's internet economy means supporting more than one kind of business. Gaurav and the Gen X team want to help those entrepreneurs who are building the nation's newest startups and the public sector companies that are a cornerstone of India's economy.
The company offers a wide variety of solutions to accomplish that including Linux shared hosting, reseller hosting, and specialized WordPress hosting. It offers virtual private servers well and Linux and Windows dedicated servers. That means any size business or government-controlled company can find the right fit for its needs.
Gen X's security solutions include SSL certificates, domain validation, site lock, and Cloudflare. No matter the business model, the hosting company has a product that fits.
Offering a High-Powered Managed WordPress Solution
Helping Indian businesses also means catering to the needs of Indian developers — and more than ever, they desire intuitive WordPress solutions. Today, 34% of all websites use WordPress, including nearly 15% of the world's top 100 websites. The WordPress WooCommerce plugin powers almost 30% of online shops. But the Gen X team noticed that WordPress developers often ran into the same challenges.
"Many WordPress developers struggle with support. They want automatic updates and backups. So we decided to create a product that would give those tools to our users," said Gaurav .
So Gen X created the WP Canvas managed WordPress solution.
Some of the best software available powers WP Canvas — including Plesk, NGiNX, BoldGrid, and Cloudflare. Users can manage up to five websites with 100GB of space and 1TB of bandwidth. WP Canvas also takes care of all the technical aspects of running a WordPress site, making life easy for clients.
When creating new products, including WP Canvas, Gen X doesn't just focus on the latest trends. It actively listens to its customers and meets with users face to face to find out what developers want and need.
"We know what the trends are, but we don't want to follow them blindly," Gaurav said. "The most important part of our development process involves in-person customer feedback. It's the best way not only to identify problems and trouble spots but also to fix them."
And the Gen X development team maintains that same level of commitment.
"The people who create our tools are highly proficient technicians with strong development backgrounds," Gaurav said. "We're not just hosting providers, we're innovators, and they're the reason that we can create such cutting-edge technologies."
Operating in a Diverse Nation Helps Gen X Succeed in the Global Economy
Everyone knows that the world of online business is becoming more global. And Gen X offers valuable lessons for companies planning to expand across borders.
A 2019 survey from India's Registrar General and Census Commissioner found at least 12 languages with more than10 million native speakers within India. While many Western companies don't consider how to run a multilingual enterprise until they want to expand internationally, Gen X has done that since its inception.
The team didn't want to start by focusing exclusively on English — which nearly a third of Indians speak. Instead, the company wanted to ensure that all Indian entrepreneurs could use its products.
"Other hosting companies don't provide the kind of support that all Indians need," said Gaurav. "We do. We provide all of our services, including phone support, in local languages. We want our customers to speak to us in their mother tongue."
That forward-thinking customer service approach is an effective strategy for any business that has international aspirations. And Gen X wants to foster those connections by adapting to meet the needs of its clients.
"Reaching customers isn't about them coming to you," said Gaurav. "At Gen X, we do what it takes to meet our customers where they are."