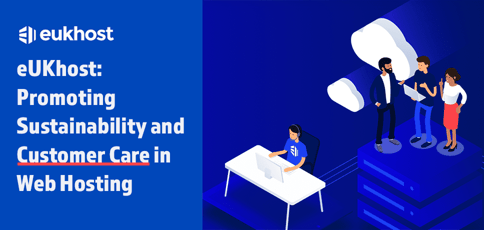 TL; DR: In the world of website, application, and server hosting, standing out among the competition is challenging. How does a company set itself apart and attract and retain customers? For eUKhost, the answer lies in its basic tenet of prioritizing customer care. That translates into delivering reliable service and security since its founding in 2001. Robert King recently talked to HostingAdvice about eUKhost's philosophy, adaptation to technological advancements, cybersecurity measures, and future plans.
One primary way eUKhost stands out from the pack in the crowded hosting world is by putting its customers first and always delivering the top-notch service they deserve.
eUKhost's philosophy of customer care, reliable service, and security has been its guiding principle since its founding. The company's commitment to providing quality services and excellent customer support has allowed them to serve customers in more than 120 countries worldwide.
Robert King, Founder of eUKhost, said one of the standout features of eUKhost is its customer support with live chat service.
"With live chat support available around the clock and an average wait time of 36 seconds, no matter what time of the day, eUKhost continues to provide the quality of service all website, application, and server owners deserve."

This quick response time demonstrates the company's dedication to providing timely support to its customers, no matter the time of day. In a world where businesses operate across different time zones and schedules, having access to reliable and responsive customer support can be a make-or-break factor.
"eUKhost has the tools and service to help anyone succeed online," King said.
Sustainability and Carbon Neutrality
Sustainability has become a buzzword in recent years as individuals and organizations alike have become more aware of their impact on the environment. The company is committed to promoting sustainable growth and reducing carbon emissions in its operations.
eUKhost prides itself on being an advocate for sustainability and strongly believes that technology can lead the way.
The company's aim is to cause no harm to the environment, King explained.
He said the plan is to do this not just by being carbon neutral, but by offsetting all of the company's past usage with the goal of being carbon positive by the end of 2024.
"In order to achieve this, we have already set the foundations for environmentally responsible operations," King said.

For instance, the company's datacenters are ISO 14001 certified, demonstrating its commitment to reducing the environmental impact of its operations. Additionally, eUKhost is ISO 50001 accredited and compliant, which means that it has a comprehensive energy management system in place. The company is also compliant with the Streamlined Energy and Carbon Reporting (SECR), Energy Savings Opportunity Scheme (ESOS), and Renewable Energy Guarantees of Origin (REGO), which further highlights its commitment to sustainable operations.
But eUKhost's commitment to sustainability goes beyond compliance with standards and regulations. The company is constantly looking for innovative ways to reduce its environmental impact. For instance, eUKhost has implemented a number of measures to reduce energy consumption in its datacenters. These measures include the use of energy-efficient hardware, virtualization, and server consolidation. By reducing energy consumption, eUKhost is not only reducing its carbon footprint but also lowering its operating costs.
Furthermore, King said eUKhost fully supports the United Nations' 17 Sustainable Development Goals (SDGs) and aligns its operations at local and national levels to these goals. This level of commitment to sustainability is rare in the web hosting industry and demonstrates eUKhost's leadership in promoting sustainable growth.
Evolving With the Technology
Keeping a technology services company that started more than 20 years ago in line with the fast-changing tech world is no small feat.
"We at eUKhost are constantly looking at the latest technological advances, whether it be artificial intelligence or the latest in software development," King said.
He said that eUKhost recently implemented its state-of-the-art Hyperslice® Cloud which enables users to benefit from the latest in hardware and software redundancy, security, and service quality. This cloud platform can match hyper scalers in its ability and offer users unmatched performance to push their server, application, and website to the forefront of their industry.

Cloud technology in web hosting has become a staple of the industry in recent years, as it replaces the unreliability of physical servers with multiple servers and datacenters. That means that if one server goes down, others can take its place, ensuring that websites remain accessible to users at all times.
Not only that, but cloud solutions often offer advanced security measures, including firewalls, encryption, and regular backups, which help protect websites from cyber threats and data loss.
"By investing in the latest generation in hardware and software, eUKhost can bring its customers the best in the industry and most sustainable offerings, we understand that technology keeps advancing, and so does eUKhost," King said.
The Importance of Cybersecurity
Distributed Denial of Service (DDoS) attacks have become increasingly prevalent in web hosting over the years, as more businesses and individuals rely on the internet for their operations. DDoS attacks involve overwhelming a server with traffic, rendering it inaccessible to legitimate users, and causing serious disruptions to websites and online services.
With the rise of cyber threats and attacks, cybersecurity has become a crucial aspect of web hosting services. eUKhost understands the importance of keeping its customer data and information secure and has partnered with some of the best cybersecurity companies in the world, such as Fortinet, Acronis, and Rapid7.
Through these partnerships, eUKhost offers a portfolio of security products to its customers backed by its exceptional around-the-clock support.
"With constant threats, eUKhost can monitor services live and make constant adjustments to enable high security and service quality," King said. "eUKhost has a dedicated security team working around the clock monitoring, patching, and improving its services."
Overall, King said the future is bright for eUKhost.
"With the recent launch of Hyperslice® Cloud, eUKhost intends to give users more localized datacenter options, this will help customers get the speed of service no matter where their end user is located," King said.
He said the company is also working on plans to build its own fully sustainable datacenter in Northern England that uses the latest in solar, wind, and heat disbursement technology to ensure the datacenter is one of the most sustainable in the world.