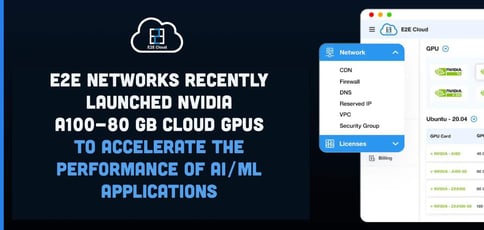 TL; DR: E2E Networks operates one of the largest accelerated cloud computing platforms in India. As an Elite NVIDIA partner, E2E Networks delivers high-capacity performance with NVIDIA-powered A100 80 GB Cloud GPUs. E2E Networks is the accelerated computing platform of choice for global Cloud GPU needs for both training and inference needs for NLP, computer vision, machine learning, and data analytics workloads. Data scientists and engineers can quickly build machine learning and deep learning pipelines for data analytics by using pre-installed containers with appropriately matched versions of system libraries and open-source software on the E2E Networks accelerated computing platform.
Cloud computing is no longer the way of the future because it's already here. In 2020, 61% of businesses moved to the cloud to power their operations, and within two years, this number jumped to 94%. Cloud adoption has skyrocketed, and the reasoning behind this growth lies in the value it provides for businesses. In fact, 80% of companies using cloud infrastructure have credited the cloud's flexible infrastructure for the operational improvements they have seen since its adoption.
Many customers migrate to the cloud for its flexibility. Cloud computing offers a mix of scalability, convenience, and performance that users can't find anywhere else, also making its range of alternative use expansive. The cloud's makeup and performance capability allow users to build various applications and run intensive, multi-purpose workloads across industries and the globe.


E2E Networks, located in India, provides its customers with a much easier learning curve and allows rapid deployment of their workloads on a secure, high-performing, scalable accelerated computing platform. Its infrastructure offers a reliable and secure network that provides capabilities that cover a range of use cases. Data scientists and engineers can appreciate its latest release, A100 Cloud GPUs with 80 GPU RAM, featuring hourly, weekly, monthly, 6-monthly and yearly committed instances providing higher value for cost when compared to competitors.
"Customers who are in the domain of artificial intelligence, machine learning, and natural language processing will need such Cloud GPUs to accelerate the training of models so that they can go to production faster," said Ashish Charan, Assistant VP of Sales at E2E Networks.
Enabling Developers to Run Compute Workloads with Ultra-Fast Cloud Services
Since 2009, E2E Networks has provided value-driven pricing and solutions to thousands of satisfied customers. E2E was the first to bring contract-less computing to Indian startups and SMEs. Although the company offers a variety of services, its main strength is accelerated computing. This has allowed E2E to differentiate itself from the competition.
"Our competitors don't have A100 80 GB Cloud GPUs in India. We are the only provider offering this. E2E Networks is also the largest NSE-listed Accelerated cloud computing provider," said Ashish.
E2E Networks is a developer-centric cloud infrastructure provider which offers robust APIs for developers to run code as infrastructure on its cloud platform. Companies can leverage its ultra-fast GPU performance to consolidate training, inference, and analytics while deploying at a higher rate. But its acceleration doesn't only end with its solutions. E2E Networks is also the fastest-growing accelerated cloud computing platform in India.
Ashish also told us E2E Networks has the best price-to-performance ratio in the country. Developers and Data Scientists can use the various cloud products and services available on the E2E Cloud, including but not limited to its 3rd Generation Compute Intensive, High Memory, and Smart Dedicated Compute series featuring, amongst other innovations the ability to quickly recover from underlying hardware failures, Global CDN, Cloud GPU instances, and storage cloud with a better price to performance ratio than competition. A longtime customer, Arvind Saini, VP of Engineering at Crownit, only had great things to say about the E2E Networks' service.
"E2E GPU machines are superior in terms of performance, and at the same time, you end up saving more money compared to AWS and Azure. Not to mention the agility and skilled customer support that comes along," said Arvind.
Partnering with NVIDIA to Meet Industry Needs
E2E Networks partnered with NVIDIA for its A100 Cloud GPUs, the first for an Indian Cloud Provider. Their partnership journey began in 2019, and shortly after, E2E Networks started selling their first NVIDIA GPUs as Cloud GPU instances. These GPUs offer excellent processing power that answers multiple industry needs.
E2E Networks' resources help power the workflows of various industry verticals, including HealthTech, image processing, and data science. Current customers have used its resources to design and implement data-parallel algorithms, accelerate convolutional neural networks-based deep-learning workloads, and perform real-time tracing, for example. As the tech landscape shifts, E2E Networks also looks to use its services to equip those growing markets.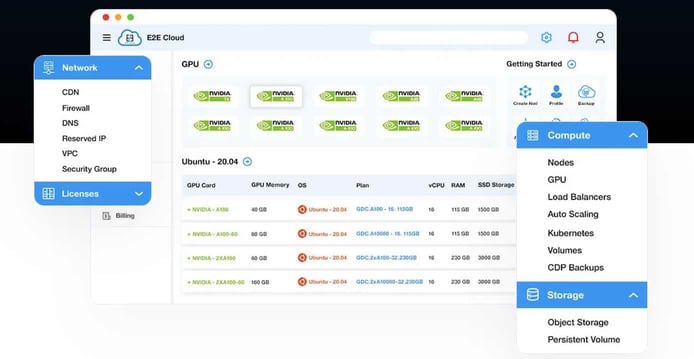 "The industry is moving toward AI, ML, and NLP, which is why we are seeing a surge in demand for data scientists. E2E Networks is well geared to tap this growing market," said Ashish.
The E2E Cloud GPU helps developers in these industries build and launch applications without worrying about performance hiccups. Its partnership with NVIDIA ensures that its infrastructure can handle developers' most intensive workloads. The A100 Cloud GPU with 80 RAM gives users up to seven times higher performance than previous generations. It also allows data scientists to enhance their environments with access to machines with hundreds of gigabytes of storage.
Offering A Full-Feature Platform Powered by Battle-Tested Infrastructure
More than 15,000 clients across 10 countries trust E2E Networks to power their cloud services. The cloud computing company's reliability lies in its battle-tested infrastructure. Its high-value server network allows users to scale and run workflows within a secure and simplified atmosphere. E2E also offers containers pre-configured with industry-leading frameworks, including Apache Spark and TensorFlow.
E2E Networks developed a new Linux Server solution to further enhance the developer journey by improving their setup and workloads for better scalability and performance.
"We have recently launched the C3 series, which is based on quick service recovery architecture. Clients can add additional storage to their virtual machines, take snapshots without switching off the machines, and upgrades are supported by the platform itself," said Ashish.
The C3 series' quicker launch times, accelerated CPU, and self-service upgrade capabilities make it a standout choice in the market. Users can also appreciate the benefits the series brings in quick service recovery for their nodes, live image creation, and block storage compatibility.
And the improvements don't stop there. The E2E Networks team also released other features, including notifications via WhatsApp, USD billing, load balancers, and an active control list. The cloud provider also made object storage accessible in the Mumbai DC region.
As for what's next for E2E Networks, that road map will feature its customers as the focal point.
"E2E Cloud is focusing on building its platform and introducing various new features as requested by the clients," said Ashish.